Daniela from Colombia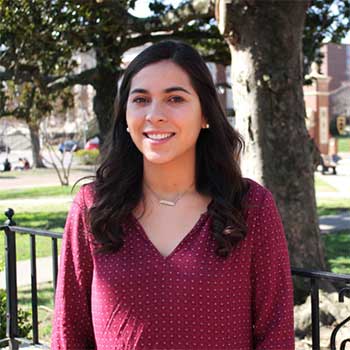 Want to talk with Daniela? Contact us at: msu.intl@murraystate.edu.
Why did you decide to study outside of your home country?
When I was younger, some of our vacations were to the States. Ever since my first trip, I have wanted to come study here. I have always had the desire to learn the language and learn more about the American culture.
How did you choose Murray State University?
A few of my relatives came to Murray State University to pursue their master's degree. They had nothing but good things to say about the university as a whole, as well as the environment in Murray, Kentucky. After hearing about what they had to say, I began to look more into the university and what the ESL program had to offer. When I graduated high school, I wanted to improve my English and I was impressed by the curriculum in the program and the affordable prices. A small city was also a great aspect because I thought that would be best for me in the transition of leaving home at the age of 17.
Why did you choose to study biology?
Ever since I was little, I have always been intrigued by the human body and how it operates. This is why I chose to study biology. I have had many different opportunities to volunteer in medical missions growing up. I feel like I can achieve my goal of helping others through improving their health by obtaining a degree in Biology. After I finish my Bachelor's degree at Murray State, I want to continue my education and attend medical school here in the States.
What do you enjoy most about being a student at Murray State University?
I love the community. You can walk around campus and everyone is so friendly. The class sizes are small, but I feel like you can learn better in that small environment, and there is a relationship with the professors. When you get the opportunity to have that relationship with your professors, the experience is more enjoyable. They truly care about your success, not only in your professional career but also in your personal life.
What is your favorite thing about Murray State University?
One of my favorite aspects about Murray is the diversity. During my time here at Murray State, I have been able to meet people from all over the world. Also, Murray State University has given me the opportunity to get involved on campus and hold different leadership positions in the different organizations. It has had a big impact on my personal growth.
How is studying in the USA different than Colombia?
Unfortunately, I cannot compare USA and Colombia because I came to the states straight after my high school graduation. I know the colleges in Colombia do not have dorms like here in the States. I got to experience the college dorm life for three years. I lived in Elizabeth College — Lizo, you know — and it was a great experience. Each residential college has the sense of family environment. That is really comforting to have when you enter the atmosphere of college life.
What do you plan to do after you graduate from Murray State University?
After I graduate, I plan to attend to medical school. I want to pursue a medical degree and hope to become a successful pediatrician.
What was the biggest challenge that you faced as a new student?
When I first arrived at Murray State, I did not speak English. Not being able to express myself was definitely one of the biggest challenges. The people at Murray made this transition very smooth though. Everyone was so welcoming and friendly. After a few months, Murray State felt like home.
What would you tell students in Colombia who want to study in the US?
As my chapter at Murray State University is coming to an end, I begin to realize all the opportunities Murray State has offered me. These opportunities have opened so many doors while I was a student and provided different opportunities that will benefit my future. Being a student here has enabled me to become a well rounded person. It can feel daunting to take those first few steps in your professional career, but anything is possible if you set your mind to it. I often thought that studying in the United States was impossible, but the opportunity and scholarships provided a way for me to achieve my dream.
Are you a member of any clubs or student organizations?
Member of Kappa Delta Sorority. Fall 2016- Present
Member of Tri Beta Biology Honor Society
Member of Pre-Health Professionals
Member of Executive Board Up Til' Dawn Murray State University
Member of ISO- International Student Organization at Murray State University
Member of Residential College Council as an international representative 2014-2016
Vice President and founder of Rotaract Club at Murray State University 2015-present
Member of Sigma Alpha Lambda 2015-Present
Member of Diversity Council at Elizabeth College 2015-2016