Davaasuren from Mongolia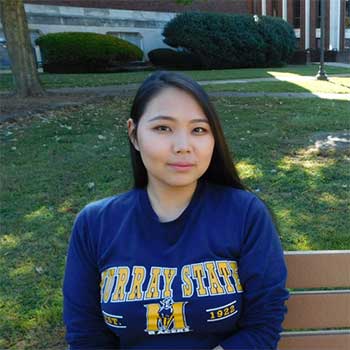 Want to talk with Davaasuren? Contact us at: msu.intl@murraystate.edu.
Why did you decide to study outside of your home country?
I wanted to meet a diverse range of people and study and learn differently.
How did you choose Murray State University?
I was an exchange student in my senior year at Calloway County high school. So, I was already in Murray and my host mother works at Waterfield Library. Therefore, I got an opportunity to meet some professors and go to campus events. And I liked the people and the area so I decided to stay.
What is your field of study? Why did you choose to study this?
I am majoring in Accounting. I chose it because it is a language for business. So, I thought if I could learn how business people communicate and share information it would open more doors for me.
What do you enjoy most about being a student at Murray State University?
I like how everyone is willing to help everyone as much as possible.
What do you plan to do after you graduate from Murray State University?
I would like to obtain an internship so I can see how accounting works in real life. Also, I want to get my Master's degree and become a CPA. However, I think in the long run I will go back to Mongolia.
What would you tell students in Mongolia who want to study in the US?
I would tell them it is a challenge but it's worth it. They can learn a lot more than just academic skills and English, so be spontaneous and adventurous. Also, you will be able to network with people from all over the world.
Are you a member of any clubs or student organizations?
I am a member of Beta Alpha Psi and Accounting Society student organization.
"It has been some of the most memorable years of my life! I received a great education and met wonderful people. Murray State is a very welcoming place and I am grateful to everyone who helped me to come this far. I am honored to be called Murray State Alumni."