Joao from Brazil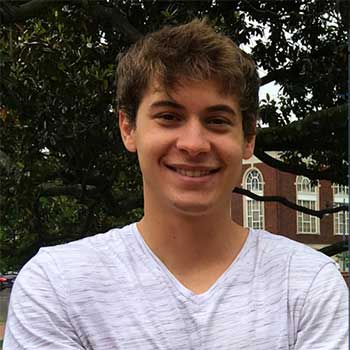 Want to talk with Joao? Contact us at: msu.intl@murraystate.edu.
What do you enjoy most about being a student at Murray State University?
I enjoy the relationship with the teachers. They are here to really help you, and since the classes are not too big, you get to know them on a personal level if you wish to. Also, the opportunities to be involved on campus. There are many clubs and organizations around campus that everyone can choose from.
Why did you choose to study international relations?
I have always been interested in other languages, other cultures, and the interactions that happen between countries. I think it is an amazing area, where you get to travel around and learn to view issues in different angles.
What is your favorite thing about Murray State University?
The campus size is one of my favorite things. It's not too big that you have to walk long distances to go to class and you don't recognize anyone, but it is also not too small where you see the same faces every day.
How is studying in the USA different than Brazil?
The biggest difference is how in the U.S. students are encouraged to take part in extracurricular activities and how valuable those are in searching for a job. In Brazil, the load of hours you take is huge so you hardly ever have time to do things outside of the classroom, and when you graduate, most extracurricular are not considered when you look for a job.
What do you plan to do after you graduate from Murray State University?
In the short run, I plan to get a job in the U.S. for a few years. In the long run, I want to go back home and apply to the grad school of diplomacy in Brazil and become a diplomat, foreign agent, etc.
What was the biggest challenge that you faced as a new student?
The biggest challenge by far is to meet people. You must put yourself out there, introduce yourself to people, go to gatherings, events, etc. Many international students are afraid to introduce themselves to people, or they stay most of the time in their rooms, which makes it real hard to meet new people.
What would you tell students in Brazil who want to study in the US?
The biggest thing is to start early and be well organized. You have to meet the various deadlines, send in paperwork, documents, past grades, get your passport, visa, and many other things. It's overwhelming at first, and a mistake might not allow you to travel, so try to be on top of it and early.
Are you a member of any clubs or student organizations?
I am the vice president for the Model United Nations Club, and I am a member of Alpha Sigma Phi Fraternity.