Lana from Vietnam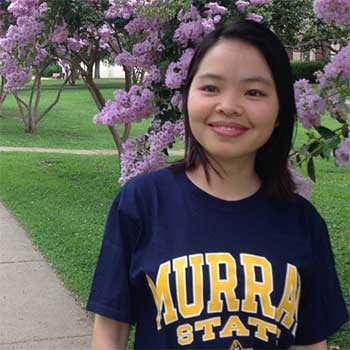 If you would like to talk with Lana, please contact us at: msu.intl@murraystate.edu.
Tell us about yourself:
I'm a graduate student at Political Science and Sociology Department, majoring in Public Administration. I would describe myself as an enthusiastic, self-motivated and energetic person. Among my hobbies, I can name cooking, traveling, reading, and enjoying nature. I believe that life is like a coin, you can spend it any way you wish, but you only spend it once. So, I enjoy every moment of my life. I respect every single decision I've made. And I am always open to new experiences and challenges.
Why did you decide to study outside of your home country?
I yearned to study abroad because I wanted something new, something different from Vietnamese education system. I applied and received two full scholarships for master degree, one for master in the US and other one in Korea. I chose to study in the US for three reasons: the first is because the US has one of the best education systems in the world. The second is to improve the ability to use English fluently, which is very necessary for my work in the future. Finally, I want to travel across the US and learn more about American culture and society.
How did you choose Murray State University?
I applied for admission of MPA program in different universities. I chose Murray State University because the university was the first one who sent me admission letter. So, I had more time to apply for visa and to prepare before departure. Another reason is that MSU has friendly and responsive staffs. They replied me really quick and provided all information I requested. They made me feel very welcomed. When I came here, I knew I had made the right decision. Even though MSU is not one of the biggest campuses in the nation, the university still provides high-quality programs and is home to a diverse community of students and professors. I believe that it doesn't matter what ranking of university is or how big the campus is. As long as you put effort in what you want to achieve, you will see the result.
Why did you choose to study Public Administration?
Before I came here, I had worked as a reporter, a researcher in Vietnam for 5 years. However, 2 years ago, through working process, I realized that with the current knowledge, the work targets that I set out hadn't achieved the maximum efficiency yet. Graduated from an university for journalism, working in a research institution of state policy making and management, although I had tried to self-study and self-improve my knowledge, I still needed to study in a more standard and intensive way. That's why I decided to study Public Administration which provides me skills and knowledge needed to succeed in public sector.
What do you enjoy most about being a student at Murray State University?
The people at Murray State University are great. There are a lot of students from different countries, which allows me to learn more about the world's different cultures. MSU's staffs are friendly and helpful to me. They have provided me needed information and valuable advices. Professors not only demonstrate that they have a deep knowledge and understanding of their subject but also care about their students. I have been lucky to have professors who have seen my abilities and encourage me to be better.
What is your favorite thing about Murray State University?
The thing I love most about Murray State University is Waterfield Library where I have spent most of my study time. I have free access to computers and study materials such as books, magazines, programs, and more at the library. The second floor is perfect place for doing self-study. In additional, the library has free public meeting spaces where I can hangout with my friends.
How is studying in the USA different than Vietnam?
As a person who experiences master program in both countries, I would say that studying in the USA is much different than Vietnam. America uses Canvas, the learning management system, that allows students keep track of study progress. Canvas integrates nicely with so many of the tools that are really helpful to students, such as easy to access course's materials, tracking your grades, the ability to view the entire semester's worth of work, the calendar, having the to-do list of upcoming assignments, and so on. The syllabus and assignment design help students understand what instructors expect their students to have learned by the end of the course. That makes it easy for students to perform well in the course. Another difference is that library in the USA open until midnight and 24 hours during final weeks. This allows students to access the library at a time that suits them. Finally, studying in the US also gives students the unique opportunity to work part-time from the moment we arrive on campus. Currently, I'm a Graduate Assistant at Political Science and Sociology Department where I assist and learn from some of the best in my field. Working part time while studying is truly a rewarding experience.
What do you plan to do after you graduate from Murray State University?
I'm seeking an opportunity for higher education. If I can find a sponsor for my studies, I will stay here for a couple of years. If not, I'll get back Vietnam and continue working for the organization where I used to work for before I came here.
What would you tell students in Vietnam who want to study in the US?
I would say that studying in the US doesn't just give you tangible degrees. You will receive more than that, such as advancing your English language skills and experiencing intercultural communication. So what are you waiting for?