Henderson Regional Campus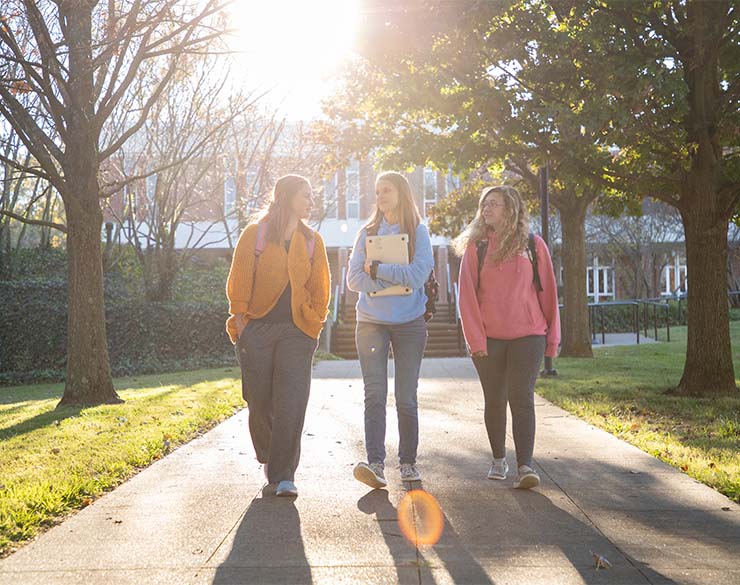 Complete your degree in Henderson
Need a flexible way to complete your degree in Henderson? We offer a variety of courses and programs taught by Murray State's talented faculty right here in Henderson for students who do not have access to the Murray campus. Our programs are offered in convenient formats and start times, including evenings and online.
Our advisors are here to assist you with the admissions process and planning your course schedule for graduation. Whether you want to transfer to Murray State or earn your master's degree, we want to help you get started on reaching your personal goals.
Explore your options
Earning your degree does not have to require travel or changing your already busy schedule. Our programs are catered to those who work full-time or have family commitments outside of school. Contact an advisor today if you have any questions about our degree programs!
Bachelor's degrees
The Interdisciplinary Early Childhood Education (IECE) is a CAEP-accredited program which prepares our graduates to provide early intervention, care, and education for infants, toddlers, preschoolers, and kindergarten children with and without disabilities, and their families.
VISIT OUR WEBSITE FOR PROGRAM DETAILS
Contact
Adam Blair
Education Coordinator
Henderson Regional Campus
ablair7@murraystate.edu
270.831.9689 or 270.809.1630
The Special Education Learning and Behavior Disorders Program (LBD) is a Bachelor of Science degree program that offers dual certification in special education/elementary education and special education/middle school. This program will prepare you to become a certified special education teacher in primary through grade 12, certified in elementary education primary through grade 5, or certified in middle school education grades 5-9. Some courses may require travel to the Madisonville Regional campus.
Visit our website for program details
Contact
Adam Blair
Education Coordinator
Henderson Regional Campus
ablair@murraystate.edu
270.809.9689 or 270.809.1630
Are you looking for a flexible career path that allows you to grow both economically and professionally? The Organizational Communication and Leadership program is designed for students looking to build the skills needed for their future career, as well as for the experienced professional looking to gain the skills necessary to advance their career. This program instills the intangible qualities that employers increasingly seek. Upon graduation, you will have gained exceptional knowledge and "real world" application in team building, conflict negotiation, organizational leadership, organizational hierarchy, managerial strategies, training and development, and persuasion techniques (sales). Students acquire skills for assessing communication problems, designing communication systems, and improving communication quality. Our program provides a versatile career path, while arming students with the essential skills every professional needs to excel in business, non-profit organizations, and a variety of management, marketing, sales, and human resource areas.
Visit our website for program details
Contact
Dr. David Gesler
dgesler@murraystate.edu
270.809.4463
The Bachelor of Science in Public and Community Health at Murray State University is a dynamic major that is interdisciplinary in nature and provides options that allow students to prepare for various careers in public and community health organizations, such as hospitals, governmental agencies, non-profits, and worksite wellness programs.
Visit our website for program details
Contact
Dr. Elizabeth Gordon
Program Director
egordon5@murraystate.edu
270.809.5745
The Department of Community Leadership and Human Services offers a BSW where social workers display an informed passion to improve the quality of life for others, especially for vulnerable populations. The BSW degree program prepares students for professional entry level generalist practice in the social work profession, for entry level state licensure and for further education.
Visit our website for program details
Contact
Dr. Peggy Pittman-Munke
Program Director
pmunke@aol.com
270.809.3055
Master's degrees
The Master of Public Administration (MPA) degree program prepares students for leadership careers in public service organizations. The degree is appropriate for people already working in these fields as a means of advancement and also for pre-service individuals looking to develop the skills and knowledge to enter into an administrative position.
Visit our website for program details
Contact
Dr. James Clinger
Program Director
jclinger@murraystate.edu
270.809.2706
The Master of Arts in Education in Teacher Leader is 30 credit hours and is designed to prepare individuals to work in leadership positions in P-12 school settings. Upon completion of coursework, candidates will be eligible for rank change in Kentucky.
Visit our website for program details
Contact
Dr. Melissa Chapman
Program Coordinator
mchapman11@murraystate.edu
270.809.4669
Online degree programs
Our advisors at the Henderson campus can help you complete your degree online.
Learn more about the online programs offered at Murray State University
Important dates
View application deadlines or create an account to begin your admission process. Contact us today and we can help you get started!
Helpful resources
Contact us
Let's talk about your options! We have staff available to help with program advising, registration and admissions. We are conveniently located on the campus of Henderson Community College in the Administration Building, Suite 121. Give us a call at 270.831.5111, e-mail us at msu.henderson@murraystate.edu or complete this short form to get in contact with an advisor.
Murray State - Henderson Regional Campus
On the campus of Henderson Community College in the Administrative Building, Suite 121
2660 South Green Street
Henderson, KY 42420
Office hours: 8 a.m. to 4:30 p.m., Monday through Friday