HRSA/AHEC Scholars Program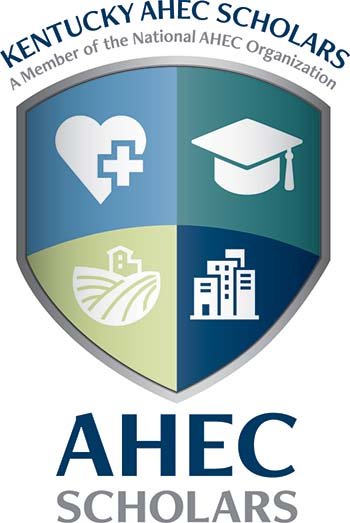 The AHEC Scholars program is a national Health Resources & Services Administration (HRSA) program, aimed at strengthening the healthcare workforce.
Do you want to be a leader in providing care to rural and underserved Kentucky populations? Are you ready to set yourself apart from your peers? Do you want to work alongside students and professionals from across the state to understand Kentucky's greatest healthcare challenges? If you answered yes to any of these questions, then apply for the AHEC Scholars program!
The Kentucky AHEC Scholars Program is a new 2-year advanced learning opportunity which prepares health profession students to be leaders in their fields. Throughout the program, students will collaborate across health disciplines and geographic regions as they prepare to practice in the ever-evolving healthcare field.
Participation in the program is free and will confer a variety of benefits including: certifications, professional experience, recognition at graduation, and more! The AHEC Scholars Program is comprised of 40 hours of community and clinical training and 40 hours of didactic training each year. All content focuses on rural and underserved populations. The Scholars Program will supplement a student's existing health professions program. Participation in this program is voluntary. AHEC Scholars will gain exposure to the following core topic areas:
Inter-professional Education
Behavioral Health Integration
Social Determinants of Health
Cultural Competency
Practice Transformation
Current and Emerging Health Issues
Program Mission
To enhance the development of future healthcare professionals.
Program Eligibility
Students must be entering their final two years of a health profession program. Examples of health profession programs include: nursing, healthcare administration, speech pathology, physical therapy assistant, radiology technician, occupational therapy, etc.
Students must commit to completing the required 80 hours each year.
Students must commit to be in the program for 2 years.
Students must be local or willing to travel to the Purchase Area several times a year.
Program Specifics
The program requires a two-year commitment and participation in a variety of in-person and online trainings, discussions, certifications, and experiences.
Each month (Sept. - April), students will participate in 5 hours of online lectures, discussions, and readings with students from across the state.
In addition to monthly online content, students will be required to complete community and clinical trainings, workshops, and projects.
Program participants will interact with and learn alongside students from across Kentucky.
Mandatory In-Person Program Dates - Year 1
AHEC Scholars Orientation – Coming in September (Saturday)
Poverty Simulation – Friday, October 19
AHEC Scholars Academy (intensive hands-on, experiential, inter-professional, team-based training) – January 2019
AHEC Scholars Retreat (1 Day) – Spring Date TBD
How to Apply
Applications are now being accepted for the 2018-2020 AHEC Scholars program.
Application deadline:

The admissions process is rolling. Get your applications in early.

Interviews:

Applicants who meet the program requirements will be invited to interview for the program.
Questions
If you have questions regarding the AHEC Scholars program please contact Shanna Burgess (270-809-4123) or Missy Stokes, Center Director (270-809-4122) or email the program at PurchaseAHECky@gmail.com
©