Phi Kappa Phi

The Honor Society of Phi Kappa Phi is the nation's oldest, largest and most selective all-discipline academic honor society. The Murray State University Chapter 302 received its Phi Kappa Phi charter in 2007. On campus, it is the highest academic honor society because it is interdisciplinary. Membership is by invitation only to the top 10 percent of seniors and graduate students and 7.5 percent of juniors.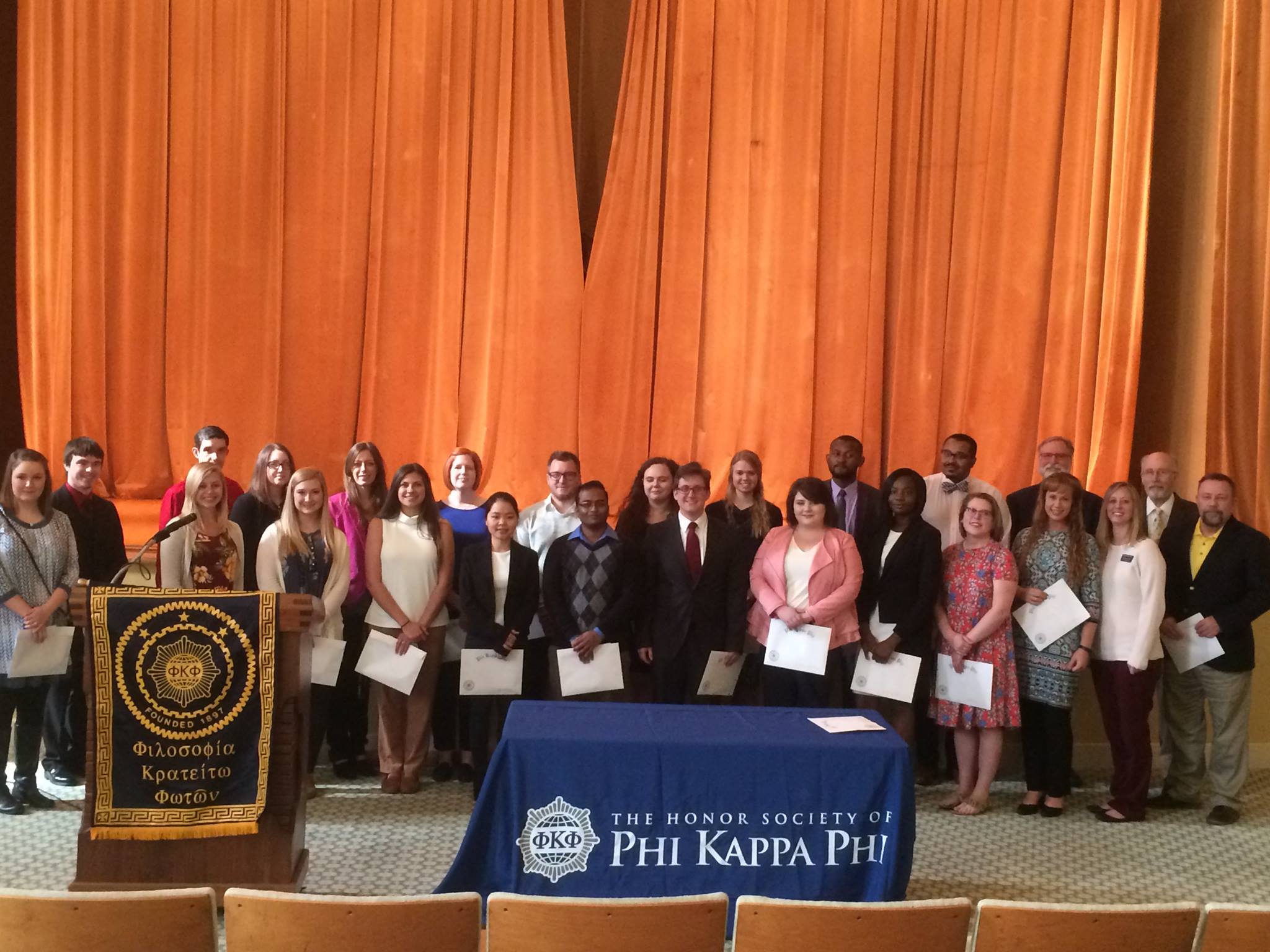 The Murray State chapter promotes the Society's motto, "Let the love of learning rule humanity," by conducting a children's book drive and sponsoring a campus lecture, both in the spring. Chapter members also helped the local Needline community food bank in fall 2015 by collecting personal care items. The chapter has been recognized by national headquarters as a Chapter of Excellence and a Chapter of Merit. Finally, the chapter organizes presentation panels for the fall and spring Scholars Week for its members to present their research and creative activity.
Chapter officers for 2018-19 are Dr. William H. Mulligan Jr., president; Dr. Melony Shemberger, vice president; Dr. Miranda Terry, secretary; Dr. Renee Fister, treasurer; and Dr. Sidney Martin III, Anthony Prewitt, and Elizabeth Thomas, at-large representatives. Student vice-presidents are Dinesh Kumaraswamy, Emeline Ojeda, and Amanda Sadler.
Dr. Bill Mulligan was elected at the 2018 biennial convention in Minneapolis, Minnesota, in August 2018 to serve as Division III vice president. In addition, Dr. Melony Shemberger, who was the first member of Chapter 302 to be elected to a national office, completed a two-year term from 2016-18 on the national Phi Kappa Phi board of directors.
Several Chapter 302 members have received national ΦΚΦ awards and recognition for research and service.
Make sure to "like" Chapter 302 on Facebook.