Pride Center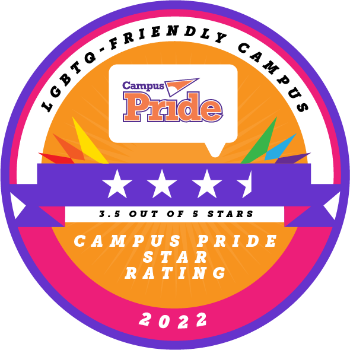 Mission
The Pride Center works to provide a space for connection, growth and engagement for the LGBTQ+ student community through activities, services, support, training and social events. The work of the Pride Center fosters a stronger campus environment that is inclusive and supportive of all identities.
The Campus Pride Index is an overall indicator of institutional commitment to LGBTQ-inclusive policy, program and practice. The index is owned and operated by Campus Pride, the leading national nonprofit organization for student leaders and campus groups working to create safer, more LGBTQ-friendly learning environments at colleges and universities. The index is supported under the Campus Pride Q Research Institute for Higher Education as well as benefits from strategic partnerships with professional organizations in higher education and related LGBTQ nonprofit organizations.
Seniors, sign up for the Lavender Grad Reception! Held each winter and spring term, the reception is a time to celebrate with your Pride Center family. Each participant will receive rainbow cords to add to their graduation regalia.
Alliance - social student organization for LGBTQ+ Racers
oSTEM - professional development organization for LGBTQ+ Racers in STEM fields
Cultivating Change - professional development organization for LGBTQ+ Racers in Agriculture fields
Tea Party - a peer group for trans and nonbinary students
Ally Hour will provide a monthly space for faculty and staff to engage in ally-centered discussions. This will be an open forum for questions and discussion providing individuals with the opportunity to learn from one another and ask questions in a safe space. Sign up for Ally Hour today.
Contact Us
Abigail K. Cox (she/her/hers)
Director
Pride Center
N101 Oakley Applied Science