Marching Band
Racer Band
Is college marching band for music majors only?
No! Racer Band consists of members from all university majors. College marching band is a great place to make friends and provides a social / peer group for all its members.
What is the time commitment for Racer Band Members?
Most Racer Band members have not found time management to be a problem even with the largest of academic loads. Racer Band rehearses from 4:45 - 5:45 p.m. Monday, 6 - 8 p.m. Tuesday - Thursday, and 6 - 8 p.m. Friday. Few classes conflict with these time slots. Racer Band offers ways to resolve minor conflicts, and on occasion, our performance schedule will allow some well-deserved time off.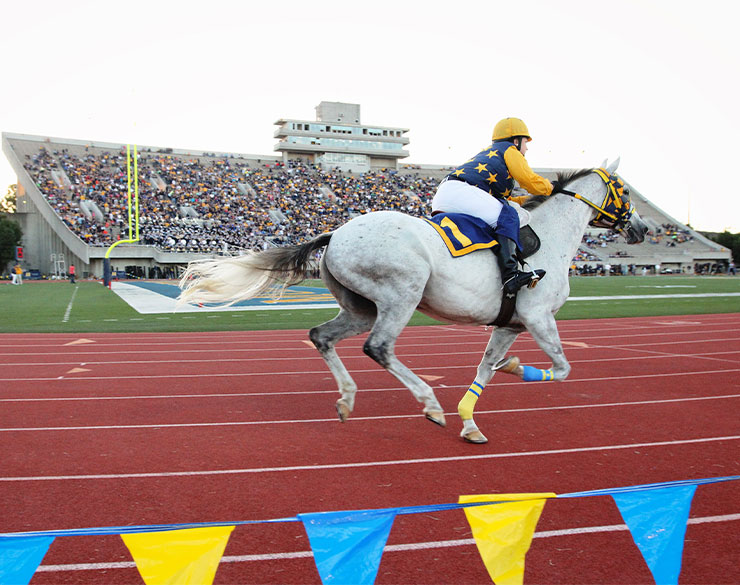 Does Racer Band have a "band camp?"
Yes! Racer Band Camp starts a week before schools starts. Camp information is mailed the first week of August to all members who have registered on racerband.com. Guard and percussion come to Murray State ten days before school starts. Students are able to move in for the semester the day of camp registration. Music rehearsals are held in the mornings and afternoons and marching rehearsals are at night. There is free time to set-up checking accounts, get to know campus, and have fun. Meals and dormitory lodging for camp are paid by Murray State.
How much does it cost to become a member of Racer Band?
Racer Band pays for all trips, meals, banquet and other fees.
Do I get credit and how am I graded for Racer Band?
Racer Band is a scheduled class for 1 credit hour. You are graded primarily on attendance at rehearsals and performances. Released time for university-sponsored events can be arranged through the director. Every member receives a handbook, music and drill the first day of camp. Learn more about detail policies, performance schedules and more.
How do I audition for Racer Band?
If you have been a successful member of your high school band program, you will be a successful Racer Band member. No audition is necessary. There is a brief screening for part assignments during band camp.
To be a member of Racer Band:
Sign up for MUS152 when you register for classes
Attend camp
The Racer Band website is created and maintained by Racer Band Members.