Murray State Advance
Temporary Job Opportunity
Spring Break Camp Counselor at Murray State University
Monday through Friday, April 3rd-7th from 7:00-5:00
Work times are flexible for classes
Camp counselors will be responsible for supervising 14-18 children ages 5-12 with the assistance of an additional counselor under the direction of the camp director. Counselors will plan, lead and implement camp programs for children. Provide high-quality educational and recreational opportunities and enjoyable experiences for camp participants. Supervise campers and ensure their safety, development, growth, skill achievement, and general well-being.
Camp Counselor Responsibilities:
Working with other camp staff members to plan and coordinate camp events.
Leading and supporting campers as they participate in age-appropriate activities.
Monitoring campers to ensure compliance with camp rules and prevent accidents.
Cleaning, maintaining, and ensuring proper use of camp facilities and equipment.
Reporting and recording details of incidents, such as accidents or rule violations, to parents and camp staff.
Memorizing all emergency procedures and enforcing camp rules.
Participating in staff meetings.
Camp Counselor Requirements:
Must be 18 or older
Experience working in camps, with children, or with specific activities may be preferred.
Physical ability to participate in activities, run, climb, lift, or support the weight of children.
Ability to pass a background check.
High level of responsibility and accountability.
Upbeat, engaging personality.
Strong communication, interpersonal, and leadership skills.
Complete the Spring Break Camp Counselor Job Application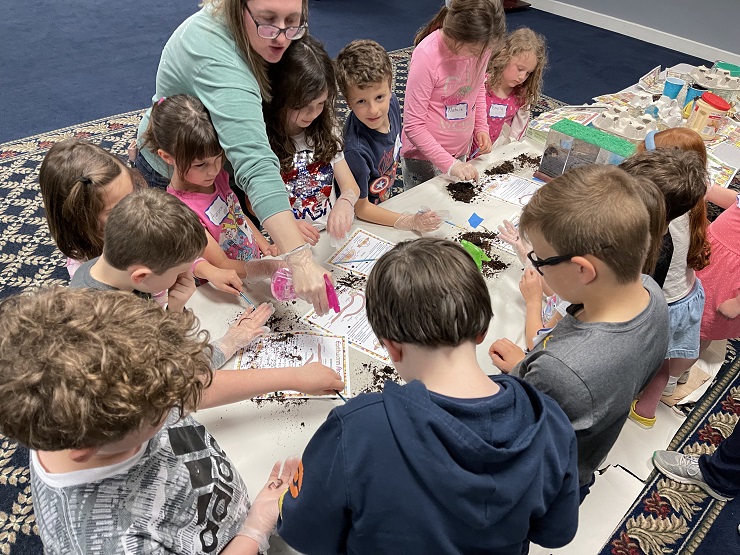 ADVANCE Adaptation: Leveling the Playing Field , Strategic Equity Initiatives at Murray State University
In a continuation of our ADVANCE work, Murray State University will adapt successful programs from institutions such as University of New Hampshire and University of Washington for use at MSU. Based on our 2017 Climate Survey, we know there are challenges that women STEM faculty face. Through MSU-LEARN, we will develop interactive theatre modules to address implicit bias in search, tenure and promotion processes. Through MSU-GROW, we will develop programs to improve the retention and advancement of women faculty. We will enhance work-life balance at MSU through MSU-LIVE strategies. This $1 million initiative is supported by the National Science Foundation.
Publication and Resources
McCarthy M, Balthrop D, Fuller C, Kemp R, Waddill P, Zhang Q. Differences and Deficits Affecting Women in STEM Faculty at Murray State University. Poster Presented at EMBO | EMBL | HHMI Conference: Gender
Roles and their Impact in Academia; 2020 Oct 13-15; Virtual
McCarthy M, Balthrop D, Fuller C, Kemp R, Waddill P, Zhang Q. "Emotional Labor in Higher Education". 2021 STEM For All Video Showcase COVID, Equity, & Social Justice; 2021 May 11-18; Virtual. View presentation
McCarthy M, Balthrop D, Fuller C, Kemp R, Waddill P, Zhang Q. "Interactive Theatre Addresses Implicit Bias In University Search and Tenure Processes". YouTube. 2020 Oct 9. Watch video
McCarthy M, Balthrop D, Fuller C, Kemp R, Waddill P, Zhang Q. "Emotional Labor in Higher Education". YouTube. 2020 Nov 16. Watch video
McCarthy M, Balthrop D, Fuller C, Kemp R, Waddill P, Zhang Q. "Achieving work-life balance for women in higher education". YouTube. 2020 Oct 14. Watch video

Contact Us
Committees and Announcements
Bob Jackson, President
Tim Todd, Provost
Robert Pervine, Associate Provost
David Eaton, Arthur J. Bauernfeind College of Business
Claire Fuller, Jesse D. Jones College of Science, Engineering & Technology
David Balthrop, College of Humanities & Fine Arts
Tony Brannon, Hutson School of Agriculture
Ashley Ireland,University Libraries
Cami Duffy, Office of Institutional Diversity, Equity & Access
Courtney Hixon, Human Resources
Susana Bloomdahl, President's Commission on Diversity & Inclusion
Melony Shemberger, Faculty Regent
Karen Graham, University of New Hampshire

Cristina

Villalobos

,

The University of Texas Rio Grande Valley

Joan Herbers, Ohio State University
Mary Anne Holmes, University of Nebraska Lincoln
Bobby Lee, West Kentucky Community & Technical College, Murray State Biology alumna
Lauren Schmidt Martin, Appriss, Murray State Math/CS alumna
Joyce Yen, University of Washington
ADVANCE 2022 Climate Study Recommendations
The ADVANCE PIs have made the following recommendations to Murray State based on the 2022 Climate Study:
Improve perception that work/life balance is a priority at Murray State.
Further develop faculty support network by institutionalizing the ADVANCE Mentoring Circles and other activities.
Continue to provide opportunities for leadership development for women faculty.
Revise/extend how service is counted in annual evaluation forms and Tenure & Promotion process.
Increase salaries to be comparable to peer institutions and establish mechanisms for annual increases.
Continue bias training and increase clarity in tenure & promotion processes.
Continue to improve recruitment activities for greater faculty diversity.
Increase exposure to policies about the extension of the probationary period (see Faculty Handbook).