Dr. Kate S. He
I am a plant ecologist and studied under the internationally renowned statistical and theoretical ecologist Dr. Laszlo Orloci. I have been trained to conduct research in the areas of: biodiversity analysis, invasion biology, species distribution modeling, landscape ecology, and biogeography. My research tools typically involve multivariate statistics, generalized linear models, biodiversity partitioning, matrix correlations, geographic information systems (GIS), and remote sensing. I have been searching for answers to questions such as 1) how the environments affect the structure and function of plant communities; 2) how we precisely identify the intrinsic factors that change biodiversity in a negative way; and 3) at what level of confidence that we can accurately predict the patterns of species diversity in time and space under difference scenarios including the presence of invasive species, anthropogenic disturbances, and global warming. The importance of research in these areas stems from the fact that it can provide scientists, governments, and society in general with a sound understanding of the urgency of protecting and managing our limited natural resources, which will lead to the development of more effective conservation strategies to alleviate the threats to biodiversity on Earth.
Education
University of Western Ontario - Statistical Ecology, Ph.D.
Northeast Forestry University - Plant Ecology, M.S.
Northeast Forestry University - Botany, B.S.
Major Research and Professional Interests:
Plant ecology

Biogeography

Ecological modeling

Invasion biology

Biodiversity analysis

Landscape ecology and remote sensing

Climate change and vegetation dynamics

Environmental and conservation biology
Courses taught at Murray State:
BIO 101 – Biological Concepts

BIO 216 – Biological Inquiry and Analysis

BIO 222 – Botany: Plant Form and Function

BIO 575/675 – Invasion Ecology

BIO 632 – Quantitative Ecology in R
Contact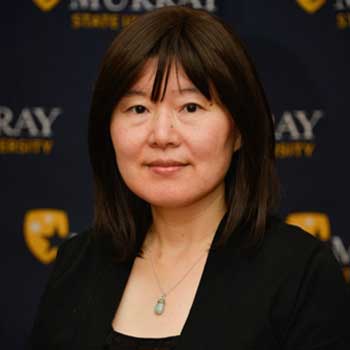 Dr. Kate S. He
Professor of Plant Ecology
Department of Biological Sciences