Prof. Christine Witkowski
Contact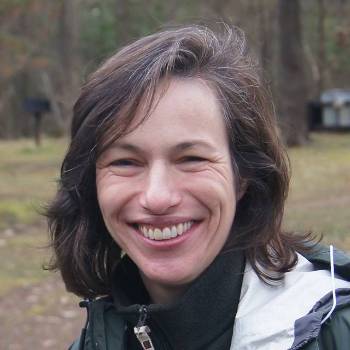 Prof. Christine Witkowski
Lecturer
Earth and Environmental Sciences
418B Blackburn Science Building, Murray, KY 42071
Education:
Ph.D. Candidate, Earth Sciences (2002-2004) Boston University
M.S., Geological Sciences (2002) University of Connecticut
B.S., Biology (1995) University of Connecticut
Biography:
I am a geologist with a diverse background including structural geology, metamorphic rocks, and paleontology, with considerable experience in innovative geoscience education and outreach. I particularly enjoy teaching introductory courses that spark an interest in the geosciences and lead students to a life-long awareness of their environment, or better yet, to pursue a career in the geosciences. I coordinate the EES 101 labs and mentor a crew of lab teaching assistants every semester to create a great experience for EES 101 students in the labs. I also work to increase the visibility of the Department of Earth & Environmental Science through a variety of outreach programs to the community and students from area schools, and I serve as advisor to the EES Club to encourage students to get involved in activities outside the classroom.
Teaching:
EES 101 Earth & Environment
EES 102 Earth Through Time
EES 103 Saving Planet Earth
EES 115 Dinosaurs
EES 120 Dangerous Planet
EES 306 Landscapes of the National Parks
EES 310 Rocks & Mineral Resources
EES 350 Field Techniques in Geosciences
EES 388 International Experience in the Geosciences
EES 433 Structural Geology
Awards:
Faculty Merit Award, Middlesex Community College (2014 and 2015)
Jonathan Daube Faculty Award, Middlesex Community College (2011)
Outstanding Teaching Fellow Award, Boston University (2004)
Outstanding Woman Scholar, College of Liberal Arts & Science, University of Connecticut (1995)
University Scholar, University of Connecticut (1993-1995)
Select Publications:
Witkowski, C.M. and McDonald, N.G., 2010, Window into the Jurassic World: Reconstructing ancient environments with fossils, tracks and traces at Dinosaur State Park, in LeTourneau, P.M., ed., Geological Society of Connecticut Field Trip Guidebook No. 1. (Field trip guide).
De Paor, D.G., Brenton, B.M., Cox, K.F., Duplantis, S.R, Egan, P.T., Kowalewski, D.E., Lancaster, P.J., Masaric-Johnson, C.A., Melanson, H., Orlando, A.J., Sauer, L.M., Witkowski, C.M., 2004, Structural mapping of the Eagle Crater outcrop on Mars: New Challenges for the Extraterrestrial Field Geologist, Journal of the Virtual Explorer, v. 15, http://www.virtualexplorer.com.au/2004/15/. (Virtual paper)
Crespi, J. M., Gourley, J. R., and Witkowski, C. M., 2002, New views on faulting, fabric development, and volume strain in the Taconic slate belt, western Vermont and eastern New York, in Karabinos, P., and McLelland, J., eds., New York State Geological Association and New England Intercollegiate Geological Conference Guidebook to Field Trips, p. B4-1:21. (Field trip guide)
Goldstein, A., Crespi, J., and Witkowski, C. M., 2002, Strain accumulation and fabric development in the Taconic foreland of the northeastern US: A comparison of finite and incremental strain, in Lebit, H., Luneburg, C., Ramsay, J. G., and Hudleston, P., eds., Geological Society of America Penrose Conference "Three-Dimensional Flow, Fabric Development and Strain in Deformed Rocks and Significance for Mountain Building Processes - New Approaches" Abstract Volume, p. 35-36. (Poster presentation)
Witkowski, C. M., and Crespi, J. M., 2002, Absolute finite strains from reconstructions of fractured pyritized graptolites and volume change in the Taconic slate belt, eastern New York: Geological Society of America Abstracts with Programs, v. 34, p. A-75. (Oral presentation; GSA Northeastern Section Meeting)