Executive Director Update Summer 2023
May 30, 2023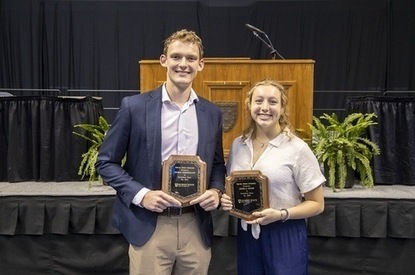 May Commencement is upon us again, and this year we have our largest graduating class ever: 72 Honors Diploma recipients, and 27 recipients of the Honors Focus. Once again, both of the Outstanding Senior Graduates are members of the honors College: George Timmermann and Jessica Stein.
The thesis defenses for the past month have also been impressive, from groundbreaking polymer chemistry to an original play script, from a new program of cancer patient education to statistical analysis of housing bubbles. These have topped off a busy end of spring; Honors Student Council gave a great All Campus Sing performance, we had an international student dinner with students from Pakistan, France, and Zimbabwe, and Honors had two and a half days of undergraduate research presentations at Scholars Week.
We're looking forward to a slower summer, with both the Commonwealth Honors Academy and Governor's Scholars Program on campus. If you are in the neighborhood, please drop by for a visit, or shoot us an email with an update on your life.
Dr. Warren Edminster
Executive Director
Honors College