MARC Research
The objectives of MARC are to provide faculty, staff, students, and members of the Murray State University service region experiences in remote sensing and GIS, to train and serve public and private sector interests, and act as a resource center for the promotion of spatial thinking, reasoning, and geospatial technologies.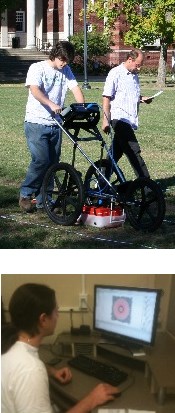 Students, faculty and staff are involved in a wide variety of research projects which utilize a wide array of geospatial technologies. Over the decades, MARC Associates have completed over 100 grants and contracts. Projects related to natural resources have included land cover mapping, archeological site analysis, forest inventory, oil, gas and mineral exploration, habitat analysis and mapping, erosion inventory and modeling, water quality modeling, wetlands mapping and environmental change detection.
Additional projects have comprised comprehensive planning, emergency preparedness, risk analysis, demographic modeling, labor market analysis and National Broadband Mapping.
Research has been conducted for numerous local, regional, state, national and international businesses, groups and agencies.
Graduate students have produced more than 70 theses utilizing geospatial technologies. As a result of their involvement at MARC, Geoscience undergraduate and graduate students have obtained positions in more than 140 businesses, industries and agencies worldwide.