Integrated Studies
Earn your degree
Have you completed two or more years of college credit? Do you dream of finishing your degree but worry about making time in your busy schedule?
Earn your bachelor's degree from Murray State through our one-of-a-kind integrated studies program.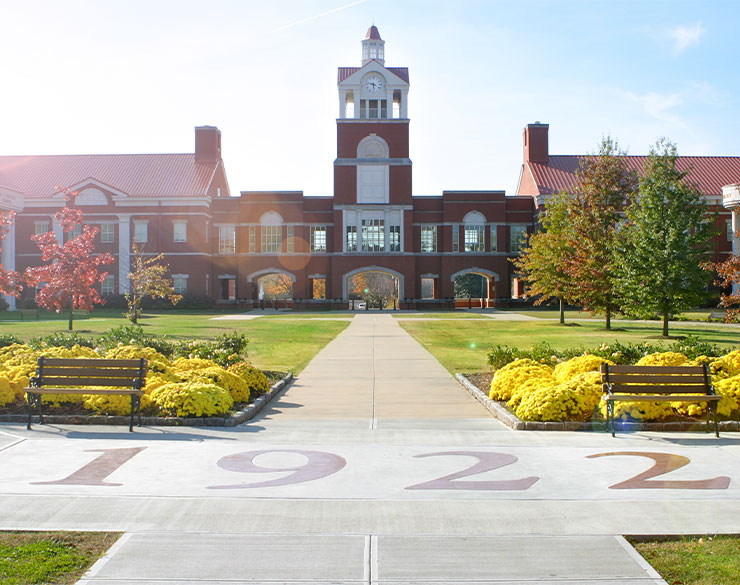 Flexible and convenient
This degree is perfect for adults, non-traditional students, and those in the military with previous college credit. Those who have significant life and work experience may even be able to earn college credit through a portfolio process. You'll take classes from the best of the best in the format that works for you through any combination of online courses as well as those on the Murray campus or regional campuses. Plus, we've designed our courses to work around schedules like yours to ensure you don't have to compromise between family, work and school. You can even start courses at five different times throughout the year!
Tailored field of study
Ultimately, you design your academic journey to meet your unique needs and interests. Some students build a field of study based on more traditional majors. Another option is an integrated studies pathway which has a more set curriculum but is available via distance learning for the busy adult learner. Others design an interdisciplinary plan that combines two or more areas of interest. The opportunities are endless.
To help you get started, explore our common fields of study and pathways below. If you are ready to see what you will need to finish your bachelor's degree, complete a short form to get in touch with an academic advisor.
Job opportunities for Integrated Studies graduates
Our graduates come from a diverse backgrounds. Every journey to the degree may be different, but each person has benefited from the opportunities available to those who have earned their bachelor's. Here is a small sampling of jobs held by Integrated Studies graduates:
Bank president
Child care director
College professor (Ph.D.)
Executive assistant to president
Human resources representative
Insurance agent
Law enforcement office
NBA player development coach
Paramedic
PC technician
Physician's assistant
Production manager
Sales manager
Small business owner
Fields of study and pathways
Agricultural Studies


agriculture, agriculture education

Applied Sciences


Civil/construction engineering technology, computer information systems, computer science, electrical and telecommunications technology, electromechanical engineering, engineering, engineering technology, graphic communications management, industrial and engineering technology, industrial technology and design, math, telecommunications systems management

Arts and Humanities


art, English, humanities, modern languages, music, philosophy, religious studies, theatre

Communications


Communication, journalism and mass communication

Commerce and Leadership


accounting, business and public affairs, computer information systems, economics, finance, legal studies, management, marketing, real estate

Educational Studies


Agricultural education, career and technical education, communication disorders, education, elementary education, guidance, middle school education, reading, secondary education, special education

General Studies
Health Care Administration
Health and Exercise Studies


Exercise science, physical education, recreation

Human Services


Communication disorders, criminal justice, family consumer science, health, nursing, nutrition, social work, youth and nonprofit leadership

Manufacturing Systems
Military Studies
Military Science
Natural Sciences


Astronomy, biology, chemistry, earth and environmental sciences, physics, science, safety sciences, occupational safety and health

Nonprofit Administration
Rural Tourism and Hospitality
Social Sciences


Anthropology, archaeology, economics, history, political science, psychology, sociology
Admission requirements
You must have previously earned at least 60 credit hours and have a minimum 2.2 grade point average (GPA). Current Murray State students changing their major to integrated studies must contact an integrated studies advisor and have previously earned 60 credit hours and have a minimum 2.5 GPA. New or transfer students must apply for admission to the integrated studies program online.
Degree requirements
You are probably closer than you think to earning your bachelor's degree! You must earn a minimum of 120 college credits to graduate. Of those, at least 30 hours must be taken from Murray State. Contact an advisor to see what you will need to complete the core requirements.
Minimum hour requirements
This degree is designed to be flexible. Be sure to talk with an advisor to see how you can tailor your degree to your specific goals!
The following are the minimum hour requirements to earn a Bachelor of Integrated Studies degree.
Total Earned Hours Required: 120
Hours Earned at Murray State, in Residency: 30 (courses that apply to residency include Murray State classes and credits earned by departmental challenge exams)
Upper-Division Hours: 39
Overall GPA: 2.0
Field of Study GPA: 2.5
Murray State Courses GPA: 2.0
Requirements will vary depending on your catalog year. Contact an advisor to discuss your degree plan!
View the current academic catalog
What's next?
It all starts with that first initial contact. Talk to one of our advisors below or complete this short form and we will let you know what it will take for you to finish your bachelor's degree here at Murray State.
Connect with us
Connect with us on social media — facebook