Admitted Student Kickoff
Admitted Student Weekend 2022 - February 4-6th, 2022
Due to inclement weather, this event has moved to an online format for those registered by Feb 2nd, 2022. Registration for this event is closed.
Admitted Student Kickoff — February 19th
This is a newly scheduled in-person event for all admitted students.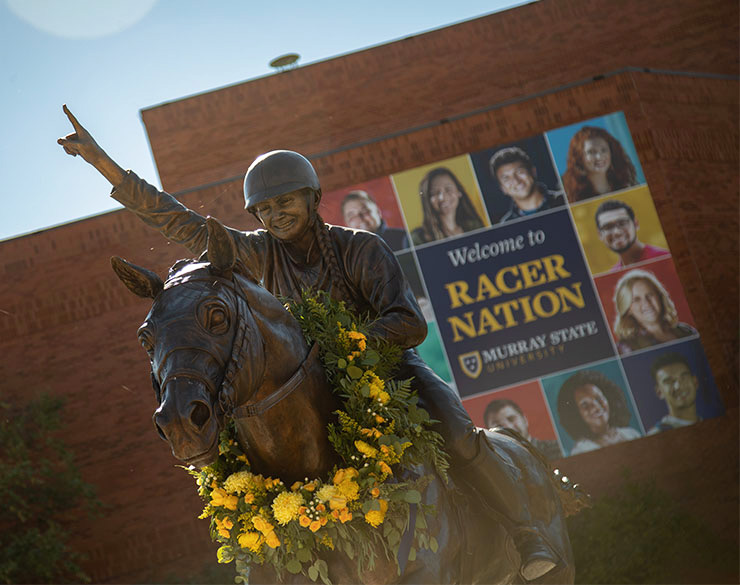 Registration now open
Admitted Student Kickoff is a rescheduled event. The event is free for students who have been admitted to Murray State University. You will receive valuable information about campus services and what it will be like to be a Racer. Plus, you will get a chance to register for Orientation to be held this summer. Sign up now to join Murray State faculty, staff, and current students to learn more about your future home.
Admitted Student Kickoff includes:
Registration for Racer Nation Orientation!
Learn more about Racer Nation Orientation from the 2022 Orientation Leadership team
Chance to meet with Student Financial Services
Join in Academic Open House sessions
Want to join Racer Band, a campus club, or a Greek organization? Learn more during our student involvement sessions
Learn about Housing and Residence Life
Event t-shirt and other Murray State giveaways
Other fun sessions
In-Person Campus Tours
Priority Registration for Racer Nation Orientation
Racer Nation Orientation is a mandatory event held in the summer for incoming freshmen and transfer students. The program has been designed to help you transition to college and enhance your success at Murray State. Attending orientation will be your earliest chance to register for fall classes.
2022 Orientation Dates
Session 1 – Honors Orientation* - April 15
Session 2 – April 16
Session 3 – June 2
Session 4 – June 4
Session 5 – June 15
Session 6 – June 17
Session 7 – July 7
Session 8 – August 4
*you must apply and be admitted into the Honors College to attend this session. Learn more about the Honors College.
Please note, there is a $130.00 orientation fee, payable by credit card, cash or check (made payable to Murray State University), which covers all costs for the student and any guests. Your registration will not be finalized until your fee is submitted. If your desired session fills up before payment is received, you will be directed to another date.
All Orientation fees are refundable until May 1 (minus a processing fee). If you have a scheduling conflict, you can change the date of your Orientation session to a session that is still available.
2022 Schedule
Be sure to check your email for full details about the sessions and locations.
All day (8:00 a.m. to 4:30 p.m.)
Event Check In
Walk-Ins/On-Site Admissions
Success Station
T-Shirt Pick Up
AP/Dual Credit Questions
Racer Nation Orientation Sign Up
8:00 a.m. to 9 a.m. — Donuts with Dunker and Friends
9:15 a.m. to 3:30 p.m. — Student Financial Service Appointments
9:15 a.m. to 10 a.m. — Interest Session #3
10:15 a.m. to 11 a.m. — Interest Session #4
11:15 a.m. to 12 p.m. — Interest Session #5
12 p.m. to 2 p.m. — Lunch
1 p.m. to 2:30 p.m. — Campus Tour (Departures at 1, 1:30, 2, 2:30 p.m.)
1 p.m. — "Go Racers" Athletic Facility Tour
1 p.m. — Meet Racer One - Murray State Jockey and Thoroughbred
1 p.m. to 2 p.m. — Multicultural Reception
2 p.m. to 2:45 p.m. — Special Lectures
3 p.m. to 4:15 p.m. — Academic Open House
Directions, Parking and Maps
Parking on campus
Visitor and guest parking permits are free. Visitor parking for our event must be requested by registering. If you have any questions, please contact the Parking Office at 270.809.4812 or via email at msu.parkingoffice@murraystate.edu
Welcome from the President
I am very pleased you've been admitted to Murray State University and have officially joined our Racer Family! In receiving admission to Murray State, you are being welcomed into a collegiate community that thrives on academic excellence within a student-centered, family atmosphere. Murray State has consistently been recognized by U.S. News & World Report as one of the top regional universities in the United States.
In addition to high academic quality, Murray State proudly provides a great overall collegiate student life experience. Through our academic programs, hands-on learning opportunities, small class sizes, unique Residential College system and personalized attention from faculty and staff, your Murray State experience will be both exciting and rewarding.
Congratulations on being admitted to Murray State and I look forward to seeing you on campus soon. Welcome to the Racer Family!
Sincerely,
Bob Jackson, Ed.D.
President
Contact Us
Admitted Student Weekend
Office
New Student Programs