Black Alumni Network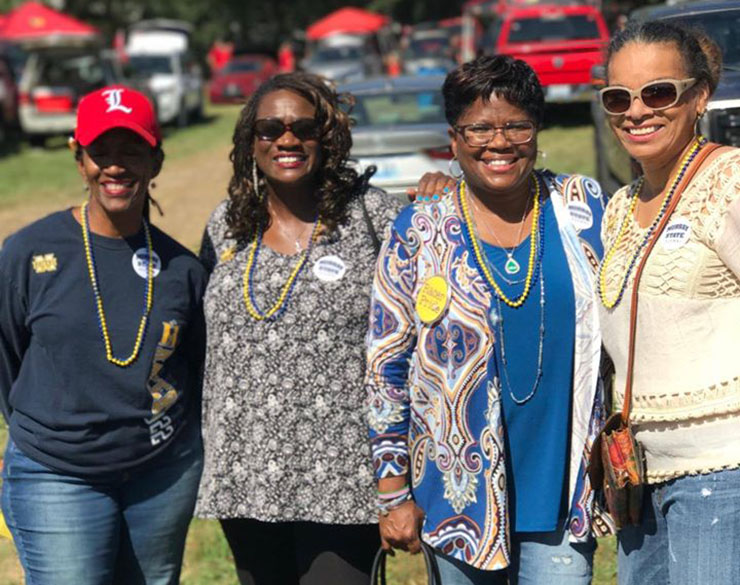 Black Alumni Network
The Murray State University Black Alumni Network is a recently formalized alumni affinity chapter formed out of the Black Alumni Reunion, which was established to connect Black alumni and provide support to current Black Murray State students. Anyone who has attended MSU is considered an alumnus and, as such, is eligible for membership in the Black Alumni Network. In an attempt to be inclusive, the Black Alumni Network encourages Black alumni, current students, their families, faculty and staff who identify as Black or have a heart for the Black Alumni Network mission to get involved with the group.
Join now
Black Alumni Network goals
foster a strengthened sense of community among Black alumni and Murray State University
provide and promote opportunities for Black alumni to grow personal and professional networks
empower and provide support for current Black MSU students through mentorship and scholarships
acknowledge the rich history, contributions, and struggles,while celebrating the accomplishments of Black MSU alumni
support efforts to recruit and retain a diverse faculty, staff, and student population
We need your support to implement our top 3 initiatives of 1) alumni engagement/networking, 2) scholarship support, and 3) mentoring. The Black Alumni Network supports programming, MSU initiatives, and other activities that foster inclusion.
Thank you for your consideration and continued support. For more information on becoming an active and engaged member of the MSU Black Alumni Family please contact us at blackalumnimsu@gmail.com.
Volunteer Opportunities
Current Black Alumni Executive Network Members include:
Daffney Moore ('97) – President
Pam Butler ('79, '81, '84) – Vice President of Membership
Felicia Ford ('96) – Secretary
Buffy Blanton ('96, '97) – Treasurer
Giving Opportunities

Help us provide a high-quality college education and future career outcomes for incoming Murray State University students by giving today to the Black Alumni Scholarship Fund! Your gift of $65 for 65 years will pay it forward for young people of color striving to find the type of success that you have earned through hard work, dedication and higher education, and assist us in meeting our goal of reaching the $25,000 endowment threshold for this important fund.
The Nancy Tyler Demartra Distinguished Black Alumni Award
The Nancy Tyler Demartra Distinguished Black Alumni Award is presented to Racer alumni who have made significant achievements and contributions to their communities, professions or the University since their graduation from Murray State. The recipients may have excelled in their respective careers, given immensely of themselves to their communities or served as great role models for other alumni and/or students to emulate. The award is named in honor of Murray State's first Black graduate, Nancy Tyler Demartra, who graduated in 1961 with a BA in elementary education and a master's degree two years later.
Nominate a Racer
Celebrating the milestones of Black History at Murray State
The first African-American student was Mary Ford Holland in 1955. Holland enrolled at the age of 48. She graduated in August 1961, earning her Bachelor of Science. She retired from teaching in 1972. The first African-American graduate, Nancy Tyler Demartra graduated on May 29, 1961 with a bachelor's in elementary education, and later earned a master's in education in 1963.