Angela and Stanley Stice
Feb 2, 2022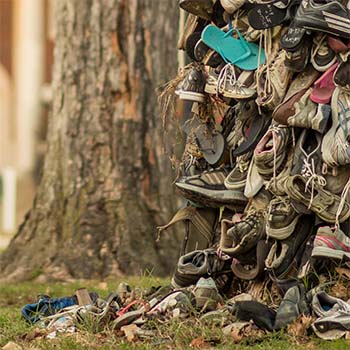 It was Fall of 1982, Stan was a junior and I was a freshman. He spotted me at Winslow Cafeteria and asked Terry Suggs did he know who I was. Terry told Stan that I lived in Woods Hall. So during registration Terry introduced us. While at Murray, Stan walked me to class and once we got stuck alone on the science building elevator and he told me that was a sign we should get married. I ate at football table waiting for Stan. Danny Lee Johnson was at the table stirring up trouble, but he was friends with Stan so he protected me from cafeteria "food fights". As students, we both were members of the Voices of Praise. Stan was All-OVC Racer football and a member of Phi Beta Sigma Fraternity.
We were engaged December 1984 and married July 13,1985. William Jordan sang at our wedding and many MSU Voices of Praise members attended. We had double wedding with my sister Michelle Wilkins Jackson, who also attended MSU. My sister's son Stanley Jackson Jr. dated and married Courtney (from Murray State as well). We are all still married.
I graduated from the MSU Nursing program and have enjoyed a 33-year career in nursing. Stan has been with GE, now Sabic Plastics for 35 years. We have 2 children Shante Trice, an occupational therapist and Stanley Trice III, a Chef at Victoria National Country Club. We have 3 grandchildren Jeremiah, Isabella, and Laila. We have our Jack Russell "Breezy" as well. We enjoy traveling to California where most of my family resides and Florida. We made our home Evansville, Indiana where most of Stan's family live.
We did nail our shoes to the MSU shoe tree and have many great memories of our time together at Murray State University.