Charlene and Dan Sheehan
Jan 28, 2022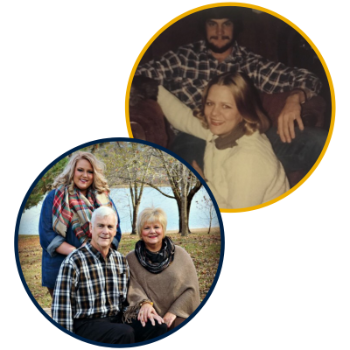 Dan came to campus as a transfer student after attending another university on a football scholarship. Good sense prevailed and he enrolled at Murray State in 1976. I was entering my sophomore year at the time majoring in communication disorders.
As poor college sweethearts, Murray State provided for us concerts, ballgames, poker games and Greek life, all of which allowed us, and our courtship, to grow and mature. Our lives centered around any and all campus activities, including intramural sports and academic opportunities like the Presidential Lecture Series. My favorite was Maya Angelo.
The Speech and Hearing Disorders Clinic offered me invaluable hands-on learning experience and fueled my desire to serve others. Dan graduated in 1978 with degrees in criminal justice and political science. I followed soon after in 1979, and completed my master's degree in 1986. We are grateful to live in a neighboring community, which allows us to continue to enjoy the beautiful campus, alumni events, athletics and lifelong friendships made at Murray State.