Derrick and Amy Bryan Watson
Feb 1, 2022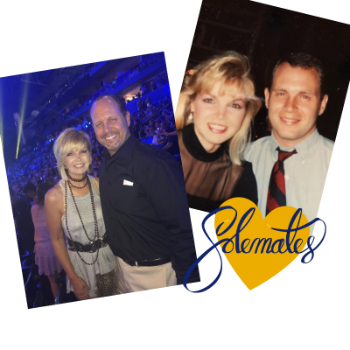 Derrick and I met between classes in the fall of 1985 outside Faculty Hall. As I walked out of math class clutching my books…you'll never guess who I literally ran into?
I mean, it was THE cliché, "accidentally bumping into the love of your life moment" that you might have seen in a romcom movie, and it happened just outside the door near the stairs. I was a little irritated at the inconvenience, but as I bent down to pick up my books there was another hand already gathering them up for me. I looked up and a handsome guy apologized and handed them back to me. Honestly, he even caught my breath a little. We both blushed and went our separate ways. I don't think I ever saw Derrick at Faculty Hall again and it took some friends for us to reunite.
Several years later, while still at MSU my friends, Wege Rushing Crigler and Chris Milton introduced us. Derrick told Wege he wanted to meet me and with Chris's help arranged the rendezvous at the Sigma Chi chapter room. It was a Thursday night after their weekly party and Chris walked me in to meet Derrick. Since it was late, the ONLY person in the chapter room was Derrick and when Chris and I walked in, you won't believe what Derrick did! He walked right past us and out the door! I thought, "That went well." Derrick told me later, "I was so nervous I just had to leave and get outta' there!" But Wege encouraged me not to lose heart and a month later I invited him to our next sorority dance. He accepted and we've been dancin' ever since.