Eric and Kennedy Baldwin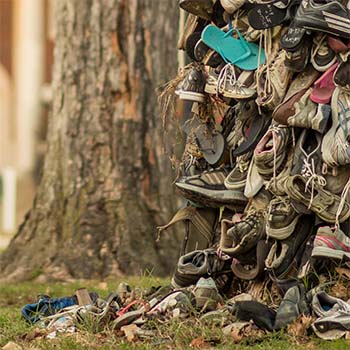 Eric and I met the very first day of our freshman year in our "transitions" class. After a few weeks, he got my number and we started doing homework together in the library. By mid-October, it became clear that we liked each other as more than friends, and we had our first official date at an Alpha Sigma Phi homecoming alumni party. He asked me to be his girlfriend a few weeks later! We dated all throughout college; we shared every homecoming, every formal, every spring break break, and so many other college experiences together.
In March of our senior year, he asked me to marry him on the steps of Pogue! We graduated that May, and got married that December at the historic Murray Women's Club. On the anniversary of our engagement, we nailed our shoes to the Shoe Tree. We've been married for a little over two years now and we have two perfect doggies. Murray State is our favorite place on earth and we will always be grateful for it bringing us together!