Jerry and Judy Rhoads
Jan 24, 2022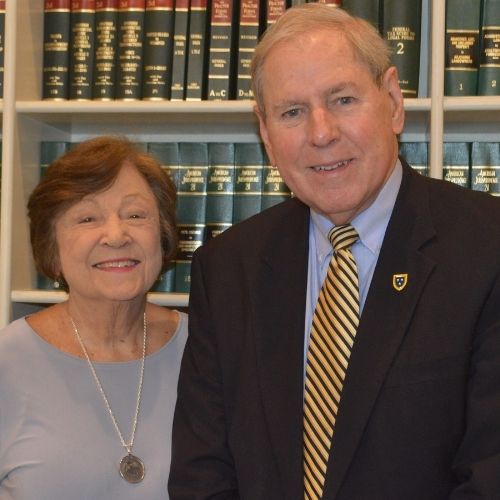 Jerry Rhoads ('63) and his wife, Dr. Judith Rhoads ('64), retired Madisonville Community College president, served as grand marshals for the 2020 Homecoming Parade of Banners.
Jerry and Judy both attended Murray State and have a long history with the university. Jerry Rhoads earned his bachelor of arts degree in 1963 studying foreign language, science and english. He quickly acclimated to the climate on campus and became involved right away in several organizations. He participated in student government and served as president of his junior class, in addition to playing on the Murray State tennis team and staying actively involved in his fraternity, Sigma Chi.
Dr. Judy Rhoads earned her bachelors in home economics from Murray State in 1964. She then went on to earn a masters in psychology from Austin Peay and a doctorate in human resource development from Vanderbilt. During her time as a Racer, she was a cheerleader and a member of Alpha Omicron Pi, where she held many leadership positions.
The couple could not exactly pinpoint the moment they met because they were always around each other in groups with their Greek organizations and their involvement on campus. One of their favorite hangout spots was called The Hut and was located where Tap 216 is currently. Judy recalls morning dates at The Hut getting fried donuts, two for fifty cents. One of Jerry's favorite Murray restaurants was The Triangle, and he and Judy loved getting hamburger steaks. They dated through their time at Murray State and even dated long distance while Jerry was in law school at the University of Kentucky.
In 1964, after Jerry's first year of law school, the pair married. Judy taught school at Lexington Catholic at that time while Jerry finished his law degree. They always made sure to accommodate each other in their career pursuits. After settling in Hopkins County and establishing his law firm, Jerry served in the Kentucky State Senate for 12 years. Judy served on the faculty at Madisonville Community College (MCC) for 18 years and as the dean of academic affairs at Owensboro Community College for five years prior to being named MCC's president, a post she held for 18 years until her retirement in 2016. Both have extensive careers in public service and higher education.
When Jerry was asked to serve as a regent at Murray State, it seemed like a natural step for him. "It gave me an opportunity to give back and to be more engaged with the governance of Murray State, to learn more about the university and to be a part of traditions and progress that we have made in so many areas," Jerry said. During his time as a regent, Jerry is proud of the national recognition the university has achieved for its academic excellence, as well as in campus life.
Homecoming holds many fond memories for both of them. As students in the mid-60s, sororities and fraternities made their own floats for the parade rather than teaming up. "It was an all hands on deck kind of deal," Jerry said. "We were in competition of course in every aspect." They would work long nights throughout Homecoming week in secret locations to finish the floats for the annual parade. Although this year will be different, they are looking forward to riding in the parade and seeing the student's creativity displayed on the banners.
As advocates for higher education, their advice is helpful to students and alumni the same.
"Stay involved on campus and take as many opportunities as you can," Judy said. "They will help you to grow, to become more, so that you will be in a position to give back once you get into your career and your marriage."