Jordan and Sacha Sharp
Feb 1, 2022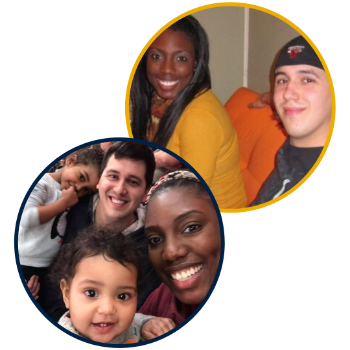 "In late 2008 Sacha and I signed up for Murray Idol. Neither of us thought we had a chance to advance, but we both ended up making it past the Residential College round and soon found ourselves about to perform in front of hundreds of people in Lovett Auditorium on a Friday night. Little did we know that signing up for and advancing in that competition would change our lives.
The night of the show Sacha wandered into the backstage room where I was tuning my guitar and we struck up a conversation. I didn't say it at the time, but she was the most beautiful woman I had ever seen, and I quickly looked her up on Facebook after the show. Neither of us won Idol that year, but we each ended up winning so much more that night. We started dating a few months later and after we graduated in 2010-2011, we moved to Washington D.C. to pursue our MA's.
We married in Potomac, Maryland, in 2014 and the next year we moved back to the Heartland so Sacha could pursue her PhD at Indiana University. As of May 2020, she is now Dr. Sharp!
We have been blessed with three beautiful children since moving to Indianapolis, including a brand new baby boy that was born in January. Since graduating with her PhD, Sacha has started work as an Assistant Professor in the Internal Medicine department at Indiana University School of Medicine. I work as a Data Analyst for the sports betting and gaming giant, FanDuel, and my colleagues know me as the resident Ja Morant fanboy.
If it wasn't for Murray Idol and Murray State University, Sacha and I can't imagine where life would have taken us both if we didn't find each other. We were able to put our shoes on the shoe tree back in 2017 along with our oldest daughter and we look forward to our next family visit to Murray so we can add our youngest daughter and new born son's shoes to the tree as well.