Mitchell and Julie Berry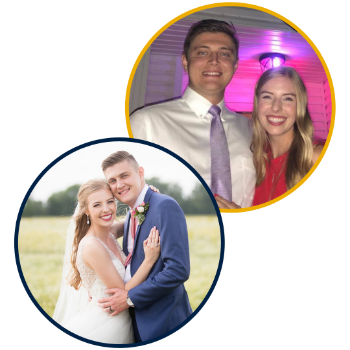 On a pretty warm Saturday in January 2016, Mitchell and I were both spending our time at a retreat to become Student Ambassadors on campus. I was mad at my best friend, Emma, because she left me for the weekend so I had to go to this meeting all by myself. I was a freshman who knew basically no one, and Mitchell was a junior who knew a lot of the people there. We did not notice each other or speak until the end of the day, when in front of the Wellness Center while someone else was giving their practice tour we began to talk about our majors, what year we were, and all the other basic information.
Then, what turned out to be the best thing that could've happened, the person who had picked me up was in a different group and left before we got back from our tour. Along with my backpack, keys, and wallet. Embarrassing. So I had to ask these two guys I had just met, Mitchell and his roommate Jason, if I could tag along with them until I could get ahold of this person I barely knew to bring me back my things. They had another girl with them so I knew they (probably) wouldn't kidnap me. They were going to Culvers, and who turns down Culvers? So I went along. There on one of the outside tables, Jason, Mitchell, Jaclyn and I all talked for a while and all exchanged Snap Chat names.
From that day forward, Mitchell and I have talked every single day as far as I know. February 1st he asked for my number, and I think the rest speaks for itself! What I thought was going to be a boring day of learning about the history of Murray State turned into me meeting my best friend and the man I get to spend the rest of my life with. We aren't sure when our first date was, but our first kiss was on February 14th and we officially started dating on February 29th, 2016. We spent the next few years at lots of Alpha Sigma Alpha and Sigma Phi Epsilon events, and being involved of tons of organizations. Mitchell graduated in May 2017 and spent a lot of time driving between Evansville, Indiana and Murray.
We got engaged in January of 2018, and Julie graduated in December of 2018. We got married June 8, 2019! We currently live in Evansville, Indiana where Mitchell works in real estate and Julie works in purchasing at Berry Global. Quite the poster child of a Murray State relationship if you ask me! Go Racers!