Phillip and Nicole Bryan
Feb 1, 2022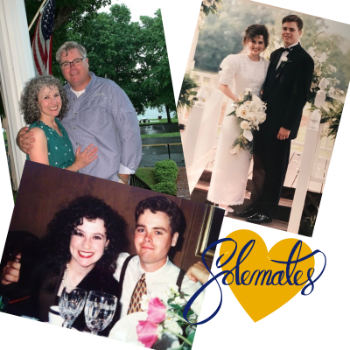 I first saw Nicole in 7th grade, on our first day at a new middle school during Homeroom. Cupid's arrow struck me immediately and I've been in love with her ever since. Ever hopeful but afraid I was destined to only friendship, I was surprised when she wanted to join me deer hunting. Our hearts forever changed that fall evening, when walking out of the field under the moonlight our hands found each other's and we've been holding them ever since.
Growing up on campus knowing many of the great MSU traditions, I knew since we were high school sweethearts we would not be able to place our shoes on the famed shoe tree. However we needed much inspiration from the love represented by that tree as we survived college, making many treasured memories along the way. As a student I was very active in the Student Alumni Association. I remember, during one of his visits back to campus, Dr. Deno Curris made the comment that "Today's Students are tomorrow's Alumni." At the time being an Alumni seemed like a lifetime away. Then in a blink of an eye, we were having our wedding's rehearsal dinner in the Commonwealth Suite of the Curris Center. Blink again and we were attending my Dad's retirement celebration in the Ballroom of the Curris Center on our daughter Lucy's 2nd birthday, just weeks away from flying to Cambodia and finalizing her adoption. We blinked once again and we were sitting in that same Ballroom attending our son Clay's Freshman Orientation…Wow, who were all these old people?
Since graduation we spent the biggest part of our lives in Owensboro, Kentucky where Nicole worked as a Labor Delivery Nurse and then transitioned to School Nursing, and I was a General Manager for LEE Building Products. We now live at Lake Barkley, very excited to be a little closer to family and friends at MSU. Nicole has continued as a school nurse, now at Concord Elementary in Paducah and I travel as a Regional Manager with the same company. Our son Clay graduated from M.S.U. last year with a B.S. in Occupational Safety and Health, now residing in Nashville working as a Safety Coordinator for Layton Construction Co. Our daughter Lucy also attended Murray State and is currently deciding her next steps. Nicole and I look forward to celebrating our 28th wedding anniversary this year, and what the future has to offer. But no doubt Murray State will be woven into that future, maybe even dinner at Winslow.