Ryne and Lacey Salyer
Feb 15, 2022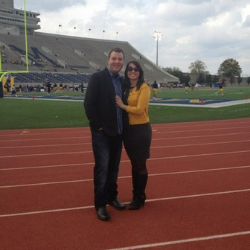 Ryne Salyer ('08, '09) and Lacey Harris Salyer ('09) met on a blind date at Murray State in 2006.
"My suite-mate at White College dated Ryne's roommate at the time," Lacey said. "She said, 'I have the perfect guy for you to meet.' Ryne played quarterback on the football team. I was so nervous, but I agreed. It was the best decision I ever made! We went to their house and they told us girls to pick a movie. We picked "Little Rascals." We enjoyed the movie and had the best time! We stayed friends for the next year and we started dating in January of 2008. We got married in June of 2012.
We celebrate our 10 year wedding anniversary this year! We put his football cleat and my pink heel on the Shoe Tree in 2013 during Homecoming. We can't wait to add our kids' shoes to the tree someday! We both love Murray State and we are so grateful for the university and the place we met! We love it so much that we named our dog Murray! We look forward to coming back for Murray's 100th Anniversary Centennial Homecoming this year! Go Racers!"