W. Earl and Carrie Brown
Jan 28, 2022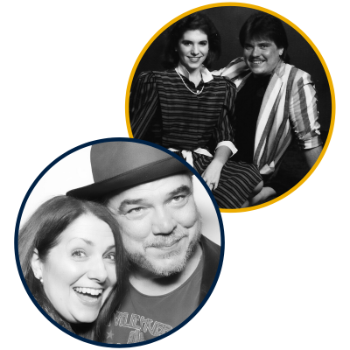 Carrie and I both grew up in Calloway County and were the first in our respective families to go to college. We were high school sweethearts... sort of. I was already at Murray State when we first starting dating, she joined me there a couple years later.
We both lived in Woods Hall (a coed dorm, something quite ahead of its time) and we each were heavily involved in extracurricular activities and clubs. Between Speech & Debate, Theater, MSU NEWS and MSU-11, we stayed rather busy during our time on campus. I graduated in 86 with degrees in Theater and Radio/Television; she completed her Organizational Communications degree in 89 while serving an internship as a hotdogger/PR spokesperson for the Oscar Mayer Weinermobile.
We were married in July, 1989 and spent our first few years in Chicago. As my career advanced, we moved westward. We have lived in Burbank, California, since 1993, where we raised our daughter, Anna, who is now a Senior in college in Oregon. I work in the film industry as an actor and writer; Carrie is the Director of Communication of the Direct-To-Consumer & International segment of The Walt Disney Company. While our dreams blossomed two thousand miles away, our roots are firmly planted on the campus of Murray State. We are Racers for life.