Richmond College
The mission of the Murray State Residential College System is to provide engaging living-learning communities for the Murray State resident and commuter students. This is helped by the participation of faculty and professional staff. We promote student retention by providing living-learning communities which foster student involvement, competition, leadership development, and service... all while encouraging an appreciation for diversity and individual differences. In essence, we are building community through Diversity, Retention, Involvement, Leadership, and Learning.
Through activity participation, students get to work with faculty and administrators to help shape social and academic programming. We support philanthropic and volunteer programs that put students in contact with the community beyond the University. We commit to nurturing the development of self-sufficient, responsible freshmen so they may have a successful college experience ending with graduation.
Richmond College is named in honor of James H. Richmond, the university's 3rd president. From 1936 until 1945 it was known as the Murray State Teachers College. Richmond Hall became known as Richmond College when the university established the campus-wide residential college system in 1996. Murray State was the first public university in the nation with a successful, comprehensive residential college program.
Crest, Mascot and Colors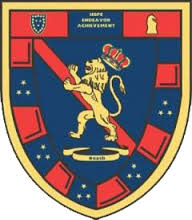 The crest includes a lion which signifies readiness to fight and protect. The crown is the crown of the heir. The shield is the official emblem of the university, the shape chosen for the Richmond coat of arms. Finally, the motto, "Reach," symbolizes that the members of Richmond College will always aspire to its morals and ethical code while striving to reach their high potential. Mainly composed of the color red, as well as dark blue, as those are the official Richmond colors.
Traditions and Annual Events
At Murray State, Intramural Sports are provided so that students can be active and enjoy playing a sport with friends. Playing a sport with fellow Richmond students is a great way to be involved. Below is a list of the sports provided in the fall and spring semesters.
Fall Semester
Softball
Flag Football
Golf
Basketball
Bowling
Homecoming 5K Run
Ping Pong
Swimming
Spring Semester
Basketball
Volleyball
Soccer
Inner Tube Water Polo
Raquetball
Tennis
IM Combine
The Residence Hall
The new Richmond Residential College opened in 2009. The four-story building houses 270 students in suites, double rooms, and single rooms. Richmond has two large recreation rooms, study rooms on each floor, laundry rooms, and a billiards room. Richmond has a total of 1300 associated members.
View Richmond Residential Hall page for more information about living in Richmond.
Connect with us!
Richmond College
Residential College
Murray State University
Richmond Residence Hall, Waldrop Drive, Murray, KY 42071


Snapchat: jhrichmondlions