Murray State Traditions
Murray State has a rich history of traditions that link generations of students. Come be a part of it.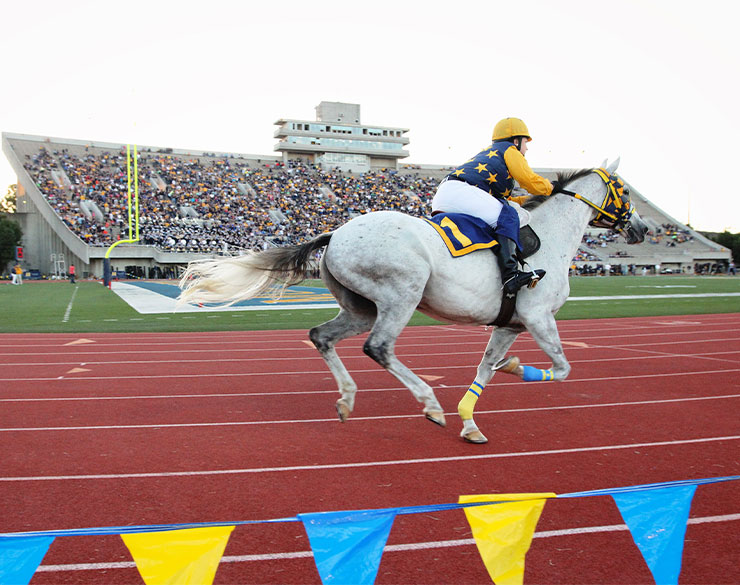 Racer One
Clear the track! For over 40 years, Racer One has been helping fans celebrate touchdowns with a victory lap around the field.
Since 1976, every home-game touchdown has been marked by a thoroughbred, nicknamed Racer One, running a celebratory lap on the running track around the football field. Violet Cactus was the first horse to fill Racer One's shoes, and when she died in 1984, she was buried adjacent to the north end zone at Roy Stewart Stadium, near where Racer One begins its victory lap. A different horse usually performs Racer One's duties each year, along with a student jockey.
Homecoming Parade
This annual campus tradition showcases the creativity of student organizations, celebrates the renowned Racer Band and honors the year's Grand Marshal.
This annual tradition welcomes decades of alumni home in celebration of Homecoming. Hand crafted parade floats, Racer One, candy and party favors and the Racer marching band all line up around the Murray square in celebration of the annual homecoming celebration, led by a notable alumnus as the Grand Marshal.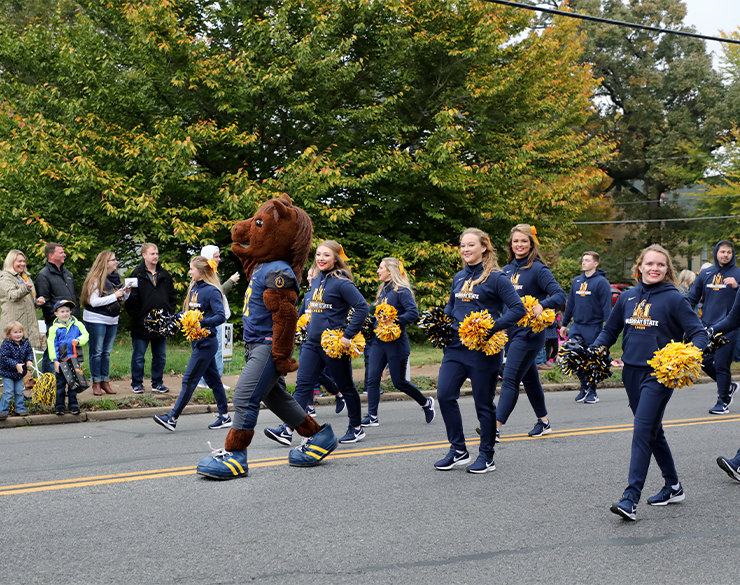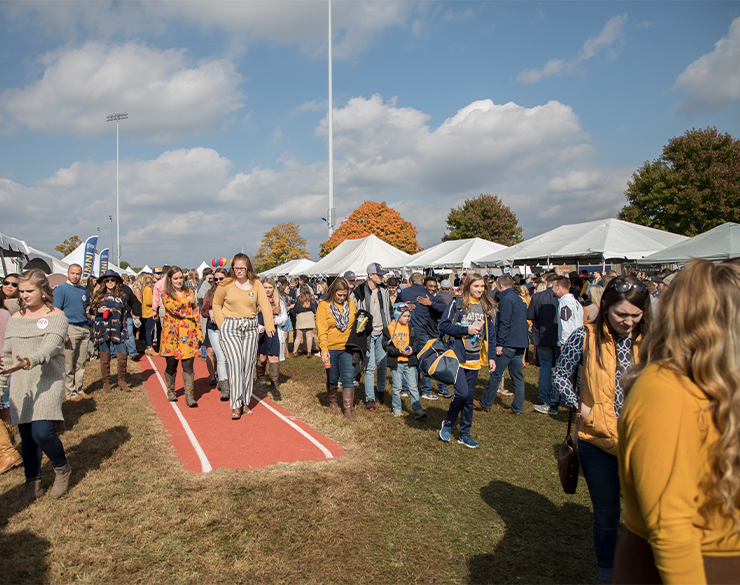 Tent City
The annual homecoming parade and Tent City festivities bring the campus community together to showcase our Racer spirit.
Since 1989, this tailgating tradition sponsored by the Office of Alumni Relations includes nearly 50 tents at Roy Stewart Stadium, representing a multitude of Murray State groups from Greek organizations and student clubs to academic departments and residential colleges. Thousands of alumni and Racer fans turn out to enjoy the festivities before the game.
Campus Lights
This beloved campus tradition is recognized nationally as the longest running student-produced musical in the south!
Started in 1938, Campus Lights is the longest-running musical in the south that is entirely produced and performed by students. Phi Mu Alpha Sinfonia, the men's music fraternity, started the production as a means to fund its charter fees. Today, along with the Sigma Alpha Iota women's music fraternity, it is an annual fundraiser for Murray State's music department scholarships. Recent productions have included "Annie Get Your Gun," "Bye Bye Birdie," "Godspell," "Fame," and "The Music Man."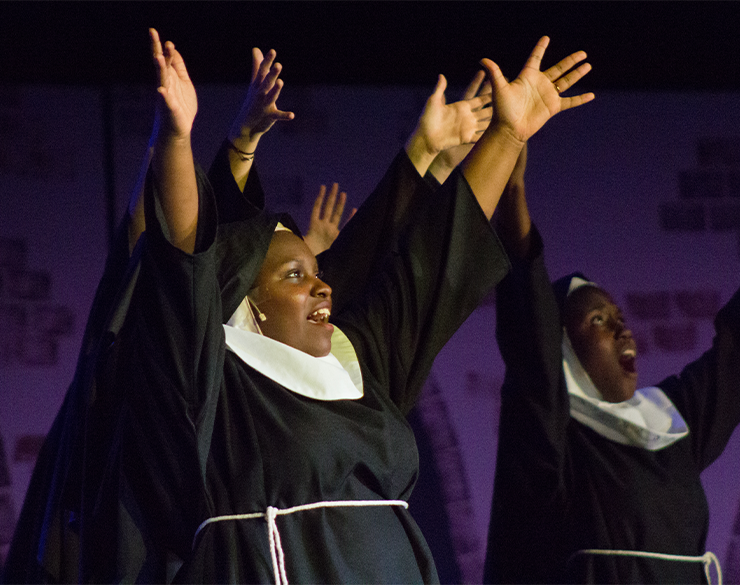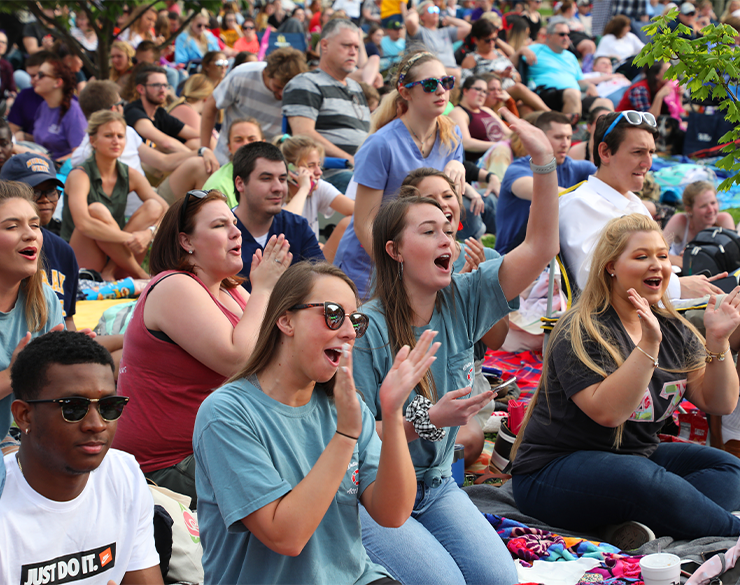 All Campus Sing
All Campus Sing showcases the musical and dance talents of student organizations across campus.
Each April since 1958, students, faculty, staff and local residents alike crowd the lawn in front of Lovett Auditorium for Sigma Alpha Iota's All-Campus Sing. Groups of students choreograph and perform brief musical numbers on Lovett's steps, with prizes handed out to the top performers in the categories of residential colleges, student organizations, fraternities, sororities and independent clubs. The event is now also partially sponsored by the Murray State Alumni Association and the Office of Student Affairs. The organizers encourage participants and spectators to bring old musical instruments to the show, which are then donated to area grade school music programs.
Shoe Tree
Love is in the air! A tradition since the late 1960s, Racer "sole" mates who meet on campus hang their shoes on the Shoe Tree, which is said to bring them a lifetime of good luck.
One of the most romantic college traditions in the country, Murray State's shoe tree is believed to have started around 1965. There are several rumors about how this unique campus tradition started—including as a student art project, the result of a student moving out of a residence hall and not wanting to take shoes home, and (the campus favorite) as a way to illustrate the devotion of love between two people who met on campus. Lovers usually write their anniversaries on their shoes as well. It is also common for people to return to nail a baby shoe to the tree when they've started their family. The current shoe tree is actually the third, as the first was struck by lightning and subsequently caught fire, and the second was taken down in 2015 as its limbs began to fall creating a safety concern.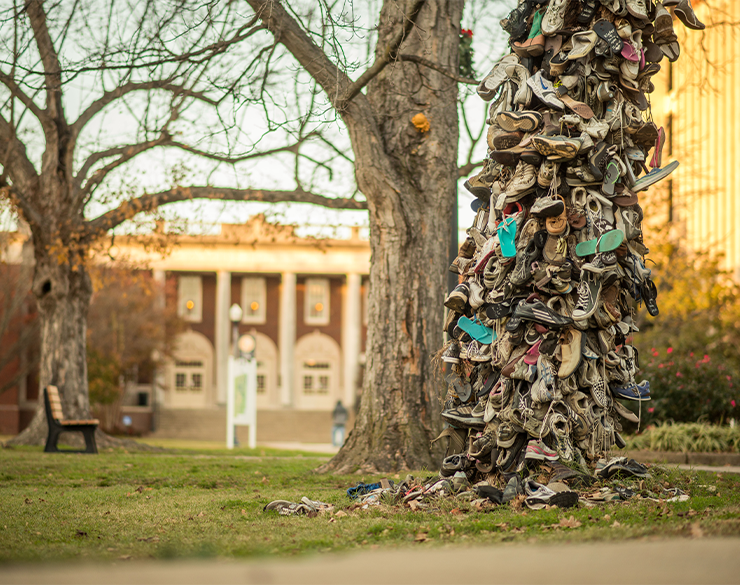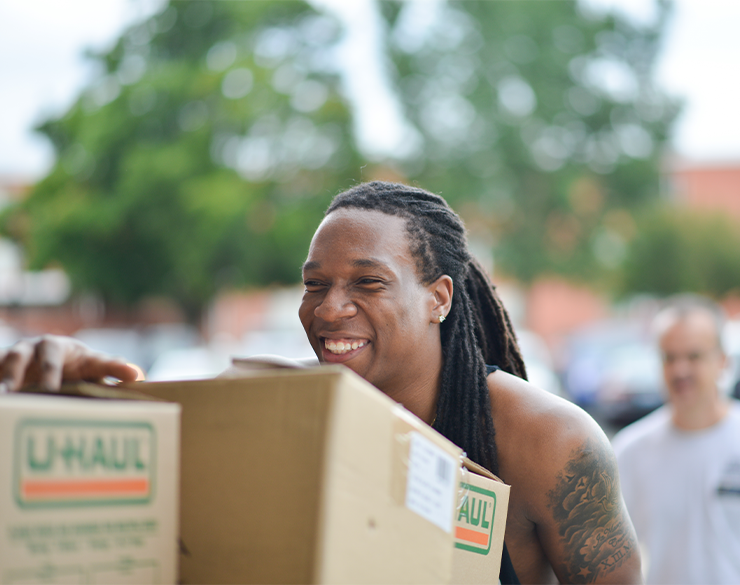 Great Beginnings
Great beginnings are the key to success. For more than two decades, Murray State University has been giving students the opportunity to acquaint themselves with Murray Life.
Faculty, staff, student organizations, and community members come together to help students move in to their new home away from home. Following move-in, there's a week of activities designed to familiarize new students, commuters and residents alike, with the University and welcome them to the community. These activities include Racer hospitality meet and greet, luncheons, city tours, campus tours, residential college lawn parties, presentations and informational skits, movie nights and an annual appearance by hypnotist Tom Deluca. The program has been welcoming new students to Murray since 1994.
Racer Nation Orientation
RNO (summer orientation) is a students' first step to becoming a Murray State Racer.
Racer Nation Orientation prepares students for their first year as a college student and provides an opportunity to become an active member of the Murray State family. Students schedule their classes for the fall semester and gain valuable knowledge which helps them transition to campus life, while also making life-long friends!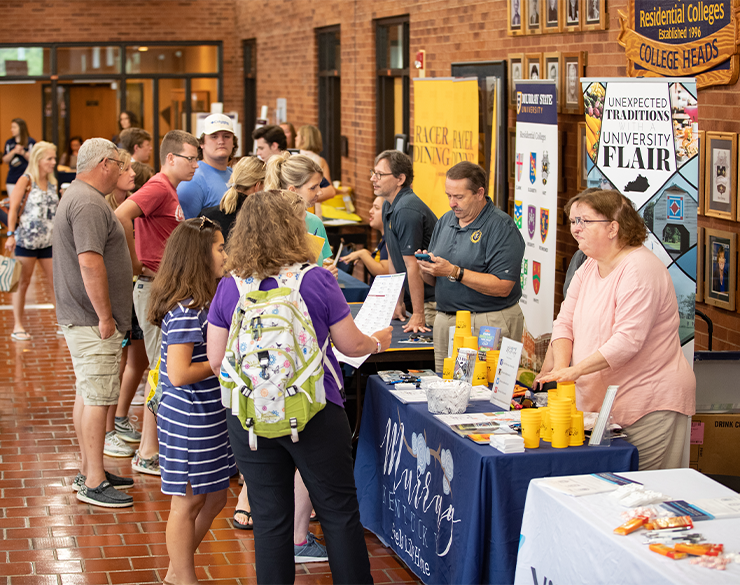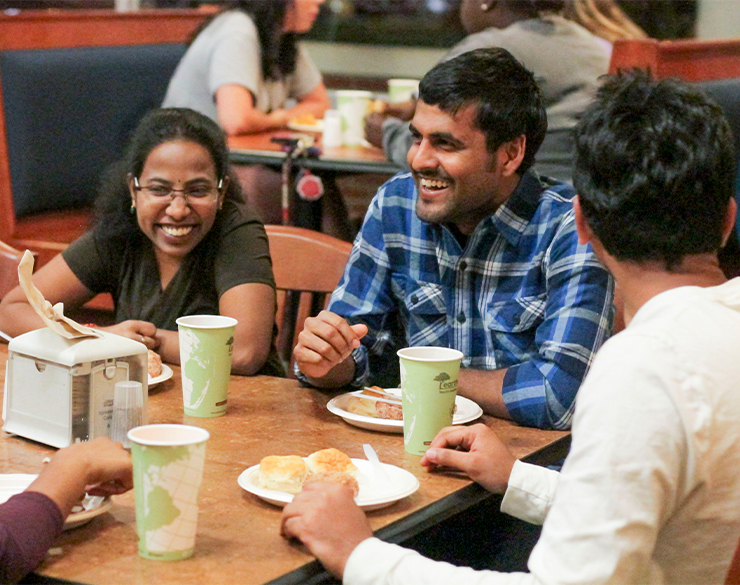 Midnight Breakfast
Pancakes or omelets? This campus tradition fuels students' late-night studying for final exams.
One of Murray State's newest traditions, Midnight Breakfast, offers students a hearty meal to fuel their late-night preparation for final exams. The Sunday night before finals week, thousands of students pass through the lines at Winslow Dining Hall and load up their plates with unlimited servings of scrambled eggs, hash browns, bacon, biscuits and gravy, French toast sticks, cereal and waffles. Faculty, staff and administration volunteers serve the students while offering words of encouragement as students head into finals week.