Commencement
Fall 2021 Commencement
Saturday, December 11, 2021 | 10 a.m., CFSB Center

Murray State University is excited to announce tentative plans for our Fall 2021 Commencement ceremony. All Fall and Winter 2021 degree candidates are invited to participate. The ceremony will be streamed live the day of the event.
Countdown to Commencement
Traveling to Murray?
Key Dates
November 3, 2021 - Senior Salute 10 a.m. - 5:30 p.m. Curris Center Art Gallery and Computer Lounge 1st Floor
November 4, 2021 - Senior Salute 10 a.m. - 5:30 p.m. Curris Center Art Gallery and Computer Lounge 1st Floor
December 8, 2021 - Name Card Pick Up 9 a.m. - 4 p.m. First Floor of Sparks Hall Registrar's Office
December 9, 2021 - Name Card Pick Up 9 a.m. - 4 p.m. First Floor of Sparks Hall Registrar's Office
December 10, 2021 - Name Card Pick Up 9 a.m. - 4 p.m. First Floor of Sparks Hall Registrar's Office
December 11, 2021 - Commencement ceremony begins promptly at 10 a.m.
About the ceremony
Ceremony details including parking, seating, and accessibility.
All members of the Murray State community, including employees, students and visitors are expected to follow the Racer Safe and Healthy Guidelines. Face coverings/masks are required, unless exempted with documentation by a medical professional.
All guests will be responsible for self-screening prior to entering the CFSB Center. If you have active symptoms, contracted, or have been exposed to COVID-19, please be mindful of the safety of others around you and enjoy the live stream from home.
Hand sanitizer stations have been placed around the arena for guest use. We encourage you to sanitize and wash your hands as often as possible. Seating will be limited and socially distanced.
Graduates are not permitted to remove their masks during the ceremony or while on stage.
The CFSB Center is located at 1401 State Route 121 North, Murray, KY 42071.
View this address on Google Maps
Degree candidate seating in the CFSB Center
All degree candidates will be seated on the main floor of the CFSB Center.
Guest Seating
The CFSB Center will be open for guest seating 60 minutes prior to each ceremony. All seating is general admission fand first come, first served. There is no reserved seating.
Gate entry and exits will be limited to A and B entrances only.
Security
For security and courtesy to others, please note the following:
All guests entering the CFSB Center are subject to visual observation by security personnel
Cell phones should be set to silent
Saving of multiple seats is prohibited
These items are prohibited and must be removed from the CFSB Center:
Guns, Explosives, Weapons, or Knives
Wrapped Items/Packages
Backpacks or Duffle Bags
Signs, Banners or Flyers
Noise-making devices
Laser Pointers
The CFSB Center is located at 1401 State Route 121 North, Murray, KY 42071.
View this address on Google Maps
Guests are encouraged to get an early start and allow ample time for delays and traffic congestion. Recommended route and parking road signs will be placed alongside the major entry points into Murray to assist motorists.
Parking is available in the Stewart Stadium parking lot, east of the CFSB Center, right off Highway 641. Shuttle busses for the Commencement ceremony will run 60 minutes prior to the start of the ceremony and until approximately one hour after the ceremony ends.
The parking lot located off of Gilbert Graves Drive will be available for patrons with accessibility needs. An accessible parking tag or special permission will be required to park in this location (for more information, please contact the Office of Institutional Diversity, Equity and Access, 270.809.3155,. TDD - 270.809.3361.). Guests with limited mobility may also be dropped off at this location.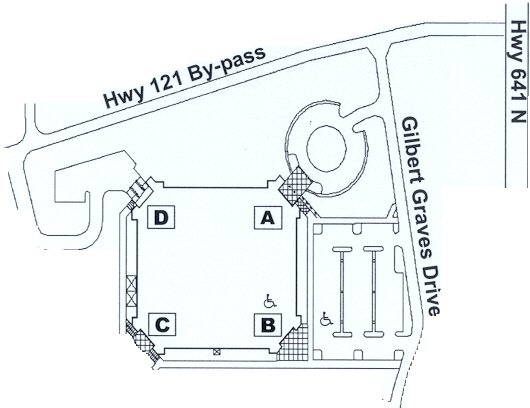 NOTE: SEATING IS AVAILABLE ON A FIRST COME, FIRST SERVED BASIS, THERE IS NO RESERVED SEATING.
We encourage you to arrive as early as possible. The ceremony will begin at the official start time, but the graduates will be lined up inside the lower lobby at entrance A approximately 30 minutes prior to ceremony start. The doors to the CFSB Center will open 60 minutes prior to the ceremony.
Those individuals/family members with limited mobility and their companion may be dropped off/exit vehicles on the circle drive of the CFSB Center. This is the first floor of the CFSB Center and the elevator is located just inside the doors to your left. The elevator will take them to the second level where there is accessible seating. CFSB attendants/ushers will be positioned throughout the facility to take questions and provide directions.
American Sign Language Interpreters (ASL) Interpreters will be positioned on the graduation stage for each ceremony.
Parking/Drop-Off Zone
As we approach our Commencement/Graduation Ceremony, we want to make you aware of transportation logistics. Electronic traffic signs will guide northbound and southbound travelers on Highway 641 to the Stewart Stadium parking lot.
Visitors are encouraged to enter the stadium parking lot off of 12th Street (Highway 641). Upper Lot B is reserved for handicap accessible needs — this lot tends to fill up quickly.
Shuttle buses
Shuttle buses will run from the stadium to the CFSB center beginning 60 minutes prior to each ceremony. Murray State Police will be present to assist with traffic flow; however, because we anticipate delays, we ask that you adjust your travel time accordingly.
Wheelchairs, Mobility Devices, etc.
Please note that Murray State University does not provide nor rent wheelchairs or other mobility devices nor can we store them. If you are interested in local vendors for such, you may make arrangements to secure a device or to inquire locally in the Murray area, contact Legacy Oxygenat 270.753.2001, located at 924 South 12th Street (behind Sirloin Stockade), Murray, KY 42071.
Tickets are not required for the commencement ceremony. The ceremony will be live streamed for family and friends not able to attend in person.
Photographs
There will be an official photographer taking each candidate's photograph. Two photographs will be taken during the ceremony. The first photograph will be taken on stage with the President. This photo will be taken with the graduate and President socially distanced. The second photograph is taken in front of the American, state of Kentucky and Murray State flags. Masks must be worn at all times and may not be removed for these photographs.
The photo information must be completed on the name card BEFORE the candidate enters the arena floor. All degree candidates must bring their cards with them as they proceed to the stage to receive their commencement scrolls.
Complimentary proofs will be e-mailed to the address provided by the candidate on the graduation card. Inexpensive, quality enlargements are available for purchase from Graduation Images. The customer service number is 1.800.261.2576.
Video
Commencement Exercises will be streamed live and recorded. The video will remain available on YouTube following the event.
The Commencement Exercise is a special and important occasion for Murray State University, its graduates, and their loved ones. Please be courteous and respectful of others in attendance.
Candidates for degree are asked to arrive at the CFSB Center, Lower Level Gate A 30 minutes prior to their ceremony start time to pick up their graduation/photo card.
Caps, tassels, gowns, residential college stoles, honors cords, and graduate hoods may be purchased at the University Store in the Curris Center. All degree candidates must be wearing their caps and gowns in order to participate in the Commencement Ceremony. Please be sure that the robe, stole, cords, etc., are all worn in a tasteful manner. If you have any questions regarding the purchasing of academic regalia, please contact the University Store at 270.809.4388.
A student must apply for graduation and be recommended for the degree to the Board of Regents of Murray State University before any degree is conferred. Degrees are awarded in December, May, August and at the end of the Winter term. Formal commencement exercises are held at the end of the spring and fall semesters. August graduates are included in the May ceremony of the same year. Names and academic honors for August graduates are only listed in the May program.
Students should apply for graduation by the dates listed below:
Undergraduate Students (Associate/Bachelor's)
Graduation term: May,
Application deadline: November 1 of previous calendar year
Graduation term: August,
Application deadline: March 1 of same calendar year
Graduation term: December,
Application deadline: April 1 of same calendar year
Graduate Students (Masters/Specialist/Doctorate)
Graduation term: May,
Application deadline: February 15 of same calendar year
Graduation term: August,
Application deadline: March 15 of same calendar year
Graduation term: December,
Application deadline: September 15 of same calendar year
Degree applications are available on myGate on the Academics tab. For more information, please visit our support article.
Ceremony Honors
Ceremony honors are calculated prior to the commencement ceremony and do not include the most current semester's coursework; therefore, the ceremony honors are not considered official honors and will not appear on the academic transcript or diploma. Since ceremony honors do not include the current semester's coursework, these honors may differ from the official academic honors that are calculated when the degree is conferred.
Official Academic Honors
The official academic honors are calculated when the degree is being awarded and includes all coursework for the degree. Only official academic honors are listed on the transcript and diploma.

Baccalaureate degree candidates are considered for graduation honors if they meet ALL of the following criteria:
Earn a minimum of 40 semester hours in residence at Murray State University
Obtain at least a 3.40 cumulative overall GPA (includes all Murray State work and transfer work)
Obtain at least a 3.40 cumulative institution GPA (includes only Murray State work)
Honors are assigned based on the GPA criteria listed below. It is important to note that if the overall GPA falls in one category and the GPA at Murray State falls in another category, the grade point average in the lowest category will be the deciding factor (assuming that all other criteria have been met).
3.40-3.59 GPA Cum Laude
3.60-3.79 GPA Magna Cum Laude
3.80-4.00 GPA Summa Cum Laude
History
The wearing of academic apparel is a time-honored tradition of great dignity. It apparently evolved from the ecclesiastical garb of the late Middle Ages. Regular use of the academic gown and hood dates back to the 13th century at the University of Cambridge (1284). During Colonial times the custom was begun at King's College in New York, now Columbia University.
Gown
The gown is usually of black material, although the doctor's dress gown of the chief British universities is scarlet. In this country the gown for the bachelor's degree has pointed sleeves and
is designed to be worn closed. The gown for the master's degree has an oblong sleeve open at the wrist. The gown for the doctor's degree has bell-shaped sleeves. There is no trimming on the bachelor's or master's gown. The doctor's gown is faced down the front with black velvet with three bars of the same across the sleeves, or the facings and crossbar may be of velvet of the color distinctive of the subject to which the degree pertains.
Hoods
The hood signifying completion of a graduate degree is worn around the neck to hang down the back. It is edged with the color of the degree, while its lining bears the colors of the institution which granted the degree. The colors of Murray State University are gold on a field of royal blue.
Cap
The cap is a square mortarboard in most American universities. But in British, Canadian and some European universities, it is a round, soft, flat hat. At these universities the cap may be black for all ranks and degrees, or it may be a gold thread for doctor's and the color of the degree for bachelor's and master's. Only the doctor's cap may be of velvet.
Tassel
There is no general rule for the positions for the tassels on the mortarboard. However, numerous institutions have adopted the practice during commencement exercises of requiring candidates for degrees to wear the tassels on the right front side before degrees are conferred and to shift them to the left at the moment when degrees are awarded to them. Tassels may be black or the color appropriate to the subject. Colors used by Murray State graduates are:
Apricot - Nursing; Brown - Art and Theatre Arts;
Crimson - Advertising, Electronic Media, Graphic Communications Management, Journalism, Public Relations and Television Production;
Citron - Social Work and Non-Profit Leadership Studies;
Dark Blue - Philosophy;
Drab - Accounting, Business Administration, Computer Science, Computer Information Systems, Economics, International Business, Management and Marketing;
Golden Yellow - Biology, Chemistry, Geology, Mathematics, Psychology, Telecommunications Systems Management, Water Science and Wildlife Biology;
Light Blue - Education and Communication Disorders;
Maize - Agriculture, Animal Health Technology and Pre-Veterinary Medicine;
Maroon - Nutrition, Dietetics and Food Management;
Orange - Engineering Technology, Engineering Graphics and Design, and Occupational Safety and Health;
Pink - Music;
Sage Green - Exercise Science and Recreation and Leisure Services;
Silver -Organizational Communication;
and White - Criminal Justice, English, History, Integrated Studies, Foreign Languages, Political Science, Public Administration and Sociology.
The Stole
The symbol of life membership in the residential colleges is the stole, worn around the neck. The colors used by the residential colleges are:
Maroon/Blue fringe - Clark;
Navy/Gold fringe -Elizabeth;
Gray/Black fringe - Hart;
Royal/Gold fringe - Hester;
Purple/Silver fringe - Regents;
Red/ Gold fringe - Richmond;
Green/Gold fringe - Springer Franklin;
Maroon/White fringe - White.
The stole is intended to be a permanent part of the academic regalia of all life members of the residential colleges and is to be worn proudly in all academic processions and ceremonies.
The Mace
In the Middle Ages a mace was a heavy, armor-breaking club with a metal head, carried to protect a king. As the years passed, it became increasingly decorative and evolved into a symbol of office. At Murray State University, the mace is carried at the head of all academic processions to symbolize order and authority. Our mace was designed and crafted by the Department of Industrial Education in 1968. It is made of hand-carved mahogany with a gilded handle and an octagonal head topped with a torch flame. A polished brass band around the top of the head is inscribed "Murray State University 1922." The mace bearer is The Distinguished Professor of the Faculty. Each year Murray State University students who have been elected to Who's Who Among Students in American Colleges and Universities nominate candidates for this award. The selection is made by a committee of faculty and faculty emeriti, many of whom are former recipients of the award.
The Flag
The official flag of Murray State University is a field of gold on which is inscribed in navy blue the shield and name of the University. Flags were originally used in warfare beginning with the Crusades. Today, in the United States, each institution usually designs and adopts its own flag, and when carried in processions or used for decorative purposes at convocations, commencements and such, the school standard is subordinate to the state and national emblems.
Shields and Banners
The Murray State Shield consists of a blue background with three gold stars enclosed in a double gold border. The three stars representing hope, endeavor and achievement symbolize the Murray State University experience past, present and future. The emblem is taken from the heraldic coat-of-arms of the family of William Murray, Earl of Mansfield and Lord Chief Justice of Great Britain in 1756. The Earl of Mansfield is an ancestor of the Murray family for which the city of Murray and the University are named. Residential College shields were crafted in 2004 by students in the department of art. Academic banners and residential college shields are carried by graduating seniors.
Excellence Begins Here- Murray State University
The Murray State University Class of 2021 represents the commitment to excellence and pursuit of superior educational achievement which are essential to the mission of the university. This year's graduating class joins over 75,000 active Murray State Alumni otherwise known as "Racer family" throughout the world.
Murray State University emphasizes student-centered learning and educational experiences that include first-year experience, study-abroad programs, service learning, research and creative projects, residential colleges and student organizations.
The university has instituted a comprehensive assessment of learning outcomes for each degree. Assessment results are used to enhance the quality of the university's academic programs. Murray State is accredited by the Southern Association of Colleges and Schools Commission on Colleges (SACS-COC) to award associate, baccalaureate, master, specialist, and doctorate degrees. Six associate programs, 61 baccalaureate programs, 36 master's programs, four specialist degrees, three doctoral programs, 18 undergraduate certificates as well as 15 graduate certificates and 111 minors compose the Murray State curriculum.
The Mission Statement of Murray State University makes a commitment to prepare graduates who can function in a culturally diverse, technologically oriented society and increasingly interdependent world. Opportunities to study in Asia, Australia, Central and South America, Africa, and Europe continue to be an integral dimension of the university experience. Approximately 300 Murray State students studied abroad in more than 20 countries in 2019. More than 190 students representing several different nations are enrolled in Murray State's undergraduate and graduate programs.
Murray State University is committed to fostering an exciting and challenging learning environment for its graduates.
The Arthur J. Bauernfeind College of Business has a long and recognized tradition of excellence in preparing students for productive careers in the ever-changing professional environments at both the national and international level. The college has two international accreditations: (a) ACSB-International—The Association to Advance Collegiate Schools of Business and (b) the Accrediting Council for Education in Journalism and Mass Communications (ACEJMC).
Knowledgeable faculty in the departments of Accounting; Computer Science and Information Systems; Economics and Finance; Journalism and Mass Communications; Management, Marketing and Business Administration; and Organizational Communication and Leadership are accomplished in all phases of modern business operations and have extensive experience delivering high quality educational programs. The college offers seven graduate programs. In addition to traditional programs in all departments, the undergraduate Bachelor of Science in Business and the graduate MBA, MSIS, Organizational Communication, and TSM programs are also available 100 percent online.
The college strives for academic excellence by: (1) engaging students in the acquisition of fundamental knowledge; mastery of professional skills and the application of knowledge and skills to emerging issues, technologies, and professional practices in a student-centered learning environment; (2) providing students with quality undergraduate and master's degree programs embodied in relevant curricula and innovative learning environment; (3) encouraging students in intellectual and social development by providing a high degree of student and faculty interaction both inside and outside the classroom, cultivating leadership, developing an appreciation for ethical issues, sustainability, and diversity in the global market place; (4) Providing students with global perspectives in the classroom, while also encouraging both students and faculty to pursue opportunities for international travel and learning; (5) Developing and encouraging academic outreach, engagement, collaborative relationships with alumni, business and industry, public schools, government agencies and non-profit organizations, as well as colleges and universities at home and abroad; (6) Supporting a commitment to quality teaching, service and continuous improvement that is enhanced by broad faculty involvement in Basic Research, Applied Research, and Pedagogical Research.
The College of Education and Human Services is committed to the success of our students. This is the next generation of leaders who will impact the workforce in the most positive of ways. For those educated to be a new teacher or administrator, a school or clinical counselor, a speech-language pathologist, a social worker in the area of mental health or child welfare, or a criminal justice practitioner in law enforcement or forensics, this is a college of diversity and opportunity.
The instruction found in this college is eclectic and appeals to those who desire a challenging academic experience grounded in practical application and service learning that recognizes the complexities of each individual learner. Instruction varies and may include traditional classroom learning, hands-on experience in clinical and laboratory settings and extensive service in the school systems as certified educators. In fact, today's new teachers will have already spent more than 800 hours in classrooms prior to graduation.
Within this college, emphasis is placed on rigor, service, and cutting-edge knowledge and practice in environments of problem-solving, collaboration, and innovation. Our expert faculty and staff provide these opportunities in conjunction with our partners in the community, school systems, and other unique learning environments found regionally, nationally, and internationally. Graduates of this college are well equipped to make a difference in the world, often by working with individuals and organizations to create positive changes in society.
The College of Humanities and Fine Arts strives to foster awareness and appreciation of the humanities, fine arts, and social sciences among students, the university community, and the public. The college is a learning community dedicated to the pursuit of knowledge and its application through civic and professional leadership.
Students and faculty members act as advocates for the humanities, fine arts, and social sciences in a variety of ways, ranging from teaching and scholarly work to performance, exhibition, and consultation. To this end, the college actively promotes research and creative activities among its faculty and students.
The college seeks to provide a personalized learning experience promoting the free and rigorous pursuit of knowledge, respect for differing points of view and cultures, appreciation of personal expression in all its artistic forms, awareness of the role of an educated citizenry in a democratic society, and understanding of the role values play in thought and action. The college aims to develop students who think critically and creatively, communicate effectively, and participate actively in their communities. Thus, the College of Humanities and Fine Arts is committed to preparing well-educated, thoughtful, and contributing citizens of the world.
The Jesse D. Jones College of Science, Engineering and Technology (JCSET) is proud of its record of excellence in teaching and research in the departments of biological sciences, chemistry, earth and environmental sciences, mathematics and statistics, occupational safety and health, and the School of Engineering. The college's instructional mission is a top priority, and its faculty are recognized as gifted educators who are dedicated to quality classroom, laboratory, and field experiences. JCSET faculty are also recognized scholars whose state-of-the-art research in environmental, life and physical sciences, engineering and mathematics are funded by agencies such as the National Institutes of Health, National Science Foundation and the Environmental Protection Agency.
JCSET students have the opportunity to work side-by-side with faculty as they investigate some of the most intriguing problems facing the scientific community today. These research programs enhance the learning environment for our students, and many have published the results of their research in national journals and presented their work at regional and national conferences. Our students have the opportunity to gain valuable hands-on experience through meaningful internship programs, and many students participate in a wide range of study abroad opportunities. Teaching and research capabilities have been enhanced with the construction of a new science complex on Murray State's Gene W. Ray science campus, offering modern and well-appointed facilities for Murray State's students.
The college is also proud to be the home of two statewide programs of distinction. The Watershed Studies Institute, a Commonwealth Center of Excellence, contributes to the on-going development of critical research initiatives in biological, earth and environmental sciences. With outstanding students and a faculty dedicated to excellence in teaching and research, the Jones College of Science, Engineering and Technology provides its graduates with the educational foundation on which to build a successful and fulfilling future.
The Hutson School of Agriculture maintains its long-standing tradition of academic excellence. A knowledgeable and innovative faculty makes it possible for students to receive more than just a degree by enhancing their education through hands-on experiences. Agricultural student enrollment has dramatically increased to now include over 1000 students. However, even with this growth, the school continues to pride itself in providing each student with personal and individual attention needed to make their college career a success. The Hutson School of Agriculture offers associate, baccalaureate and master's degrees in agricultural science and animal technology. Degree options are available with specialization in agronomy, agribusiness economics, agricultural education, agricultural systems technology, horticulture, animal/equine science, veterinary technology, pre-veterinary medicine, and agriscience technology with emphasis in communications, emerging technology, environmental/health, public service leadership, and agriculture technology.
Through the use of state-of-the-art technology in the classroom and at the Breathitt Veterinary Diagnostic Center, E.B. Howton Agriculture Engineering Building, Equine Instructional Facility, A. Carman Pavilion, Pullen Greenhouse Complex, and the five university farm laboratories, students in agriculture have the opportunity to keep stride with modern agriculture. These opportunities allow students to take their education to a higher level and provide them with a competitive edge in the job market. Murray State University agriculture graduates can be found in a wide variety of job careers all across the country providing leadership for an even brighter agriculture future. Each agriculture student receives a comprehensive education with career-related experiences at the university farm laboratories and/or in the agriculture industry through student internships.
The School of Nursing and Health Professions offers programs designed to improve health outcomes in society. Baccalaureate degrees are offered in dietetics/food management, exercise science and health pre-health professional, nursing, and public/community health. The Master of Science degree is offered in dietetics. The Doctor of Nursing Practice is delivered using distance education and on-site for the family nurse practitioner option and in Madisonville and Morehead, KY for the nurse anesthesia program. The nurse anesthesia program is offered in collaboration with Baptist Health, Madisonville. One of the hallmarks of the School of Nursing and Health Professions is the hands-on practice and practicum experiences that encompass a wide variety of settings according to which specialty the student selects. Nursing graduates may enter into practice in the acute care setting, public health arenas, private practice settings, or nursing education/leadership positions. All nursing programs are approved by the Kentucky Board of Nursing and accredited by national bodies.
Within the Department of Applied Health Sciences, graduates of all programs have expansive experiential learning activities making them very employable to enter their field of choice or prepare them for graduate school opportunities. Preparation to become a licensed athletic trainer with a graduate degree can now be accomplished in a five- year period. In the pre-health professional program within exercise science, many graduates pursue graduate work in occupational therapy or physical therapy.
Graduates of the dietetics internship are eligible to be credentialed as a registered dietician. One of the fastest growing areas is the public/community health program. The faculty of the SONHP are dedicated professionals who provide quality education that is current and effective to meet the health needs of the region, the Commonwealth, and the nation.
University Libraries make the historical, creative, scientific, and intellectual achievements of humankind accessible to our community of users so that they may write and speak with informed purpose. Library faculty and staff are committed to teaching students to successfully navigate our information-rich environment through collections and learning spaces available in Waterfield Library, Pogue Library, Wrather Museum, and our online web presence.
Murray State University's Center for Adult and Regional Education was organized for the purpose of carrying the facilities of the institution beyond the Murray classroom. It provides for the intellectual growth of those mature learners who find it impossible to come to the campus for all of their study. Center for Adult and Regional Education provides distance learning courses, online courses, regional campus courses, consultants, and other types of public services throughout the 18-county service region and beyond. There are several units housed within Center for Adult and Regional Education.
Murray State University offers a variety of courses and degree programs at our Regional Campus sites located in Henderson, Hopkinsville, Fort Campbell, Madisonville and Paducah. Each regional campus is fully staffed to assist students in returning to school in their hometown area. The Bachelor of Integrated Studies (BIS) degree program is designed for adults with previous college credit. Adults find the Integrated Studies program appealing because of its flexible degree requirements and alternative methods of earning additional credits. Murray State's Online Learning unit offers a variety of online courses and degree programs both at the undergraduate and graduate level. Courses can be completed entirely online and are taught by Murray State's topnotch faculty.
The Army Reserve Officers' Training Corps (ROTC) is a college-based, officer commissioning program designed as elective-curriculum taken along with required college classes. It focuses primarily on leadership development, problem solving, strategic planning, and professional ethics.
In the fall of 1986, Murray State initiated a university-wide Honors Program, and in 2015 was transitioned to an Honors College. Honors students take general education Honors seminars, meet foreign language, science, and math competencies, study abroad, write an Honors thesis, and maintain a 3.2 grade point average to qualify for either the Murray State University Honors Diploma or the Honors Focus.
Throughout the nearly 100 years of service, Murray State University has strived for excellence in academics for our students from both near and far and excellence in service to our region.