Instructional Resources for COVID-19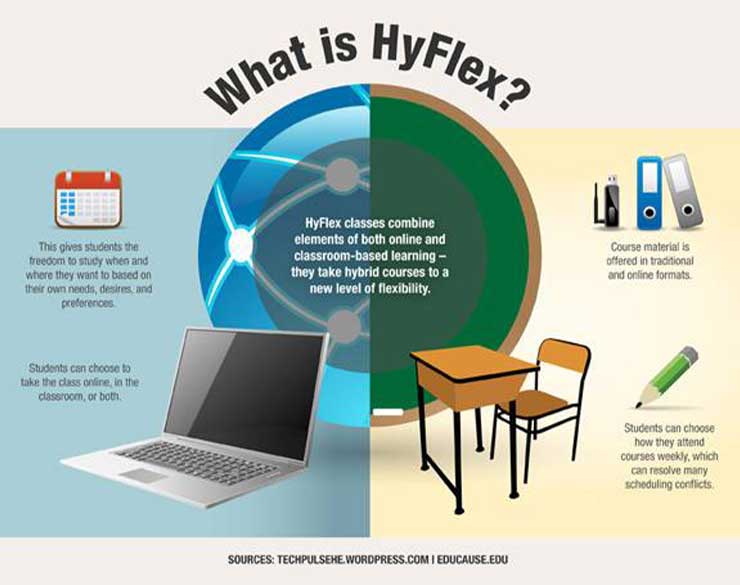 Hyflex instruction: A response to COVID-19
HyFlex is a course design and approach that combines in-person and online teaching and learning, both synchronously and asynchronously. The flex in the names comes in student flexibility in how they engage with the course. HyFlex is not self-paced. Whether students choose to engage synchronously or asynchronously, or bounce back and forth, they follow the schedule you prescribe for the course. You may hear other names for this type of instruction. Synonyms for HyFlex include flex learning, convergent learning, multi-options, flex hybrid, and blend sync.
The flexibility of HyFlex will be critical to Murray State's restart efforts. In the event that a student or faculty member needs to quarantine, they can still engage with the course. HyFlex can be a means to limit in-person attendance for some courses, which will aid in adhering to health and safety guidelines set forth by the White House, the CDC, and the Commonwealth of Kentucky.
Students choose how they engage with class sessions depending on their needs and/or preferences. Here are some common examples of synchronous and asynchronous delivery:
Synchronous: "live" face-to-face classroom, online Zoom session, or other online modality where the students are together in real-time
Asynchronous: view recorded class session, the student interacts with the course material on their own time
For both modes of delivery, students will do the same homework, exams, etc.
How do I implement HyFlex in my classroom?
You have much flexibility in how you choose to implement HyFlex into your classroom. In essence, you will be giving students freedom in how they choose to attend and interact with your course. Be mindful of your learning outcomes as you plan interaction in physical and virtual spaces. Here are some examples of how this could work:
Lecture to a group of students in your classroom while streaming the live lecture using Zoom to those who are at home.
Lecture online via Zoom. Those who are able to attend the live session watch online. The recording of the lecture is available to students online and they have the opportunity to interact with the material on their own time.
Remember to be flexible yet clear with your expectations. Communicate attendance options and schedules with students. Preferably, share this information before the class starts and always indicate your required meeting times on the course schedule within myGate. Some students are in different time zones, do not have reliable internet access, or have work schedules that will prevent them from attending live course meetings. Health crises or quarantine can also affect students' availability. Finally, share your recorded meetings and material promptly so asynchronous viewers are not at a disadvantage.
New classroom technology at Murray State
To enhance the availability of technology for online or blended courses, new technology has been purchased and implemented across the campus. More instructions on using this technology can be found in each of the classrooms.
Each classroom will have:
A webcam on a small tripod. This will connect to the computer via USB connector. Plugging the camera into the computer will install or find the correct drivers to make the camera work. You may need to assign the camera to a particular application (Zoom, Studio, etc.) that you are using if there is more than one choice available (if you have a camera on your laptop for instance.) This can be used to either show yourself, or be positioned to show class members.

A document camera. A document camera can be used to show printed material, or physical objects. It can also serve as a "whiteboard" by writing on paper and projecting this. (note: Zoom also has a digital whiteboard that you can write, draw or type on.)

USB headsets. Every faculty member will receive a headset consisting of an integrated microphone and headphone pair. The microphone is a focused pattern that will cut background noise and feedback if a speaker is in use.
Additional technology in some rooms:
USB hub. This has multiple USB inputs and connects to your USB port on the computer. This allows you to connect multiple USB devices into a computer that has limited USB inputs.

Speakers. Some rooms will have either speakers mounted in the room, or small speakers available for use.

Some rooms have projectors mounted in the room.
Please contact your technology coordinator for more information.
Additional HyFlex resources
Still have questions?
Can't find what you need? We are here to help! You can contact the Murray State Online Champion in your area or one of the following:
Additional online instructor resources
A great online course is delivered by outstanding teaching, not technology. Sit down face-to-face or schedule a virtual meeting with the Faculty Development Center to learn strategies to deliver your content in exciting and engaging ways. Contact Dr. Firm Faith Watson at fwatson2@murraystate.edu or 270.809.4595 and get started today.
Online course payments
Learn about online course development and revision stipends as well and payments for instructors teaching as part of their overload or as an adjunct at Online Instructor Support.
Using Zoom
Zoom is a video conferencing tool that can be used in online courses.
The following articles have been compiled as they exemplify quality online teaching practices:
Digital textbooks
Are you using a textbook that uses Pearson Revel? Murray State can connect to Revel within Canvas. Contact Peter Terry in Information Systems at pterry4@murraystate.edu or 270.809.3929. To find resources beyond using Pearson or other publisher-provided courseware, connect with the Research and Instruction Librarian assigned to your college/school. If you don't know your Librarian, find their information at University Libraries Faculty. They can help select textbooks and other course materials that can be made available to students free of charge.
Subject librarians
Subject librarians can provide a wealth of information regrading resources for online courses. Find a librarian who is an expert in your content area on the library's website.
Copyright
It is important to follow copyright rules in online courses. Visit Murray State's Copyright Resource Guide for more information.