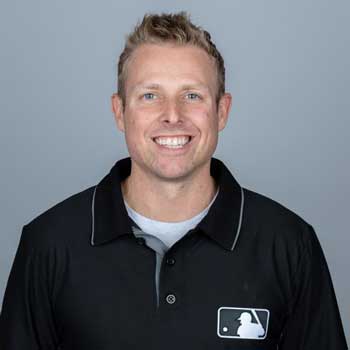 Baseball's Biggest Stage with MLB Umpire Tripp Gibson — In episode 10, we talk to Murray State alum Tripp Gibson.
2005 Murray State alumnus Hal Harrison Gibson III, better known as Tripp, has come a long way since his days growing up and playing baseball in Graves County, Kentucky. He, his wife and their two sons now call the Pacific Northwest home. However, from the first of March through the end of October each year, his stretches there are few and far between. After serving as an umpire in the Major Leagues for nearly 10 years, this year's call of duty was extended even later into the fall when Gibson got the call this October to, for the first time, officiate the World Series.
From umping Murray State Racer baseball games while still a student himself, to working his way up through the minors, and finally launching a storied career in the MLB, Tripp talks to us about what it is like to take his turn on baseball's biggest stage. We'll learn what it takes to get there, the special skills required to make an MLB umpire one of the best, how one handles the pressure of calling balls and strikes during a World Series no-hitter and how he was able to use his national platform to direct the country's attention and resources toward Mayfield, Kentucky, after the deadly tornado destroyed his beloved hometown in December of 2021.