Center for Banking and Finance
Mission of the Center for Banking and Finance
The mission of Murray State University 's Center for Banking and Finance is to enhance the educational opportunities of students and finance professionals with the Murray State service area.
This mission will be accomplished through the continuing fulfillment of two broad objectives. The first objective is to improve students' banking knowledge, skills, and employment opportunities. This objective also includes increasing the number of internship opportunities available to students, which allows Murray State students the ability to showcase their skills and talents while providing financial institutions a steady flow of capable and energetic employees.
The second objective is to provide professional training and development to area financial service professionals. This will allow the Center to build on already strong relationships between Murray State and financial institutions located within our service area.
Any ideas or suggestions regarding conferences, training, speakers, etc. are welcomed and should be directed to Dr. Steve Lacewell at 270.809.4285 or via email at slacewell@murraystate.edu.
Area in Finance with Commercial Bank Management Option
The Area in Finance with a Commercial Bank Management Option is designed to prepare students for employment with a commercial bank, bank regulatory agency, and/or graduate school. It also gives them a strong foundation for careers in other areas of finance. The classes were formulated through much interaction with the Center for Banking and Finance Advisory Board, which consists of executive bank officers and regulators. This degree was first made available in the spring of 2016.
Note that this degree consists of 6 bank-related classes. Additionally if the student completes an internship in banking for the required finance elective they will graduate with 21 hours of banking classes.
Activities of the Center for Banking and Finance
The Center for Banking and Finance sponsors an annual banquet, typically held each spring semester, for bankers, students, faculty, and staff. The event is attended by approximately 100 bankers and speakers are brought in from various areas across the country. The Center's Advisory Board Meeting is held the same afternoon as the banquet.

Dr. Lacewell serves on the faculty of both the Barret Graduate School of Banking and the LSU Graduate School of Banking, held each year on the campuses of Christian Brothers University in Memphis, TN and Louisiana State University in Baton Rouge, LA respectively.

Dr. Lacewell makes several finance-related presentations each academic year. Most of these concern investing, retirement planning, credit cards, student loans, and other bank or personal finance topics. During a typical year he speaks to 500 students and members of the community.

Dr. Lacewell, representing Murray State University and the CBF, regularly attends various programs sponsored by the Federal Reserve Banks of St. Louis and Atlanta. Several of these programs involve accompanying students to the various events. Some of these events include "A Day at the Fed" and the "Examiner Institute".

Dr. Lacewell regularly presents papers at national and international conferences concerning various bank and finance related topics.

Dr. Lacewell, representing the COB, the Economics and Finance Department, and the CBF, is a founding member of F.R.E.E., which stands for Financial Responsibility Empowers Everyone. This is a financial literacy program for university students and the advisory board consists of faculty, staff, and most importantly students. They help plan and market various events. The CBF and F.R.E.E. have held several financial literacy programs since the organization was founded in 2015 and approximately 1,000 students have participated in the various events.

Dr. Lacewell regularly publishes in academic journals and trade publications.
Internships and Permanent Employment
Lacewell and the CBF take an active role in developing internship opportunities for Murray State students. The CBF has helped secure approximately 50 internship opportunities for students since 2013. Examples of internships include banks, investment firms, insurance companies, and government agencies. If anyone has internships available or would like to know more about how simple it is to sponsor an internship please contact Dr. Lacewell at 270.809.4285 or at slacewell@murraystate.edu.
Dr. Lacewell and the CBF are also involved in facilitating permanent employment opportunities for both new graduates and experienced financial professionals. This is about building relationships and having our graduates exceed expectations in the workplace. Examples of employers include:

Local, Regional, and Money Center Banks across the country and around the world

The Office of the Comptroller of the Currency

The Federal Deposit Insurance Corporation

The Federal Reserve Banking System

The Federal Reserve Board of Governors

Various State Regulatory Agencies

Investment Banks

Brokerages and Financial Advising Firms

Insurance companies.
If anyone has permanent employment opportunities available please contact Dr. Lacewell at 270.809.4285 or at slacewell@murraystate.edu.
Advisory Board
An extremely important component of the CBF is its Advisory Board. The Advisory Board for the Center for Banking and Finance Banking includes representatives from several banks located within the Murray State service area as well as bank regulatory agencies. Advisory Board members are typically senior officers within their respective organization.
The Advisory Board members serve as ambassadors for Murray State and the CBF. Various members of the Advisory Board mentor students participating in internships at their banks and make presentations to banking classes. The Advisory Board meets periodically to provide Dr. Lacewell and other University representatives with ideas to improve the banking curriculum and CBF programs.
The following institutions have previously been or are currently represented on the Center for Banking and Finance Advisory Board:
1st Kentucky Bank

Bank Cadiz

BB&T

CFSB

Federal Reserve Bank of St. Louis

FNB

Heritage Bank

Independence Bank

Paducah Bank

Regions Bank

The Murray Bank

US Bank
Dr. Lacewell's Bio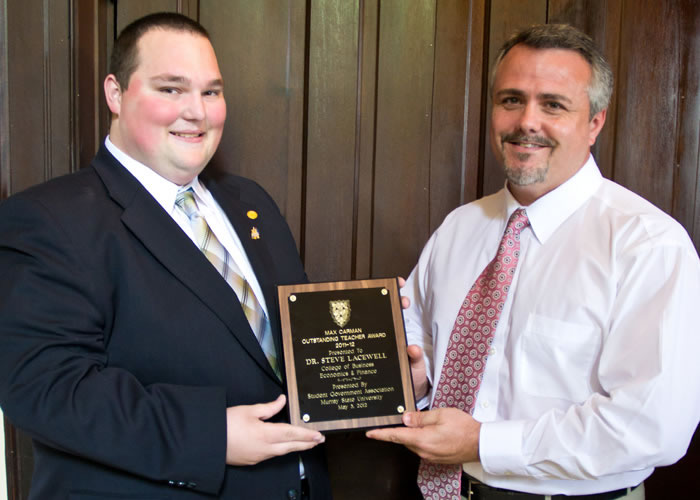 Dr. Stephen K. Lacewell is Director of Murray State University's Center for Banking and Finance and Professor of Finance in the College of Business and Public Affairs. He joined Murray State in August 1999 as a visiting assistant professor and was named Director of the Center for Banking in 2002.
After earning his undergraduate degree from The University of Tennessee at Martin in 1990 with a major in economics and a concentration in finance, Dr. Lacewell continued his education at Murray State University earning his MBA with a finance concentration in 1991. Dr. Lacewell was then employed by the Office of the Comptroller of the Currency (OCC) in Atlanta, GA and Memphis, TN. Dr. Lacewell then accepted a position as executive vice president at a commercial bank in Illinois and later in Kentucky. During this time Dr. Lacewell was teaching night classes at various universities and decided to return to school full-time to obtain his MSBA and Ph.D. in finance from Mississippi State University.
As a researcher Dr. Lacewell has published in various journals and has presented his research at academic conferences across the United States. His research specialty is in the commercial banking area but he has also published in the areas of bankruptcy and financial pedagogy.
Dr. Lacewell serves on the faculty of the Barret Graduate School of Banking and the LSU Graduate School of Banking. In the consulting area Dr. Lacewell has developed and conducted various management training and development seminars for financial institutions and has worked with corporations on various financial issues.
Dr. Lacewell lives in Murray, KY with his wife, Melissa, and their two children, Taryn and Greyson.
View Dr. Lacewell's Curriculum Vitae
Professional Links