Center for Computer and Information Technology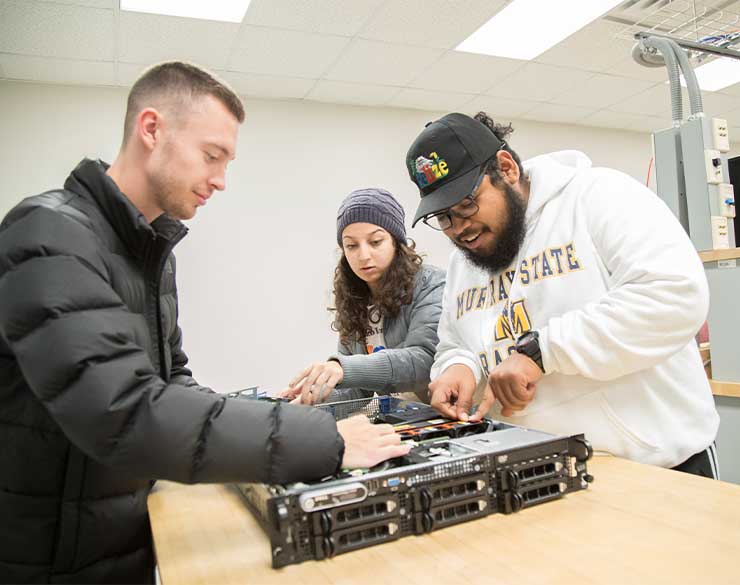 We help you find the program that leads to your dream career.
You know you want a career in technology but aren't sure which program will lead to the job want. At Murray State, all students interested in studying a technology field start in the Center for Computer and Information Technology. You will take the core courses and we'll help you find the focus area that can best help you find your dream.
Find the career you want.
Pen tester

Software developer

Hacker

Game developer

Cybersecurity

Data scientist

Network administrator

Coder

Database administrator

Systems analyst

Technology entrepreneur

Computer engineer
Experienced faculty. Hands-on learning.
Our faculty don't just teach, they do. Our faculty have real-world experience from working in the IT industry and bring in industry partners to give students hands-on learning opportunities.
Our graduates succeed.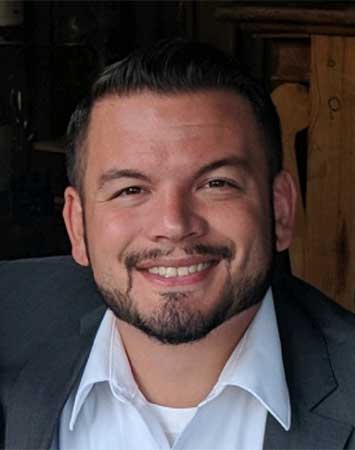 "The one thing I have heard from every employer so far, boils down to this "Wow, how do you know all that?" TSM was, and still is, probably the most well-rounded program for Information Systems that I, or anyone I've worked with, has heard of. ... People are continually amazed that our graduates just don't know "about" IT, they can hit the ground running and be valuable from Day 1."
Forrest Carver '09
Bachelor of Science in TSM, Current career: Principal, Cyber Operations and Assessments, MITRE Corporation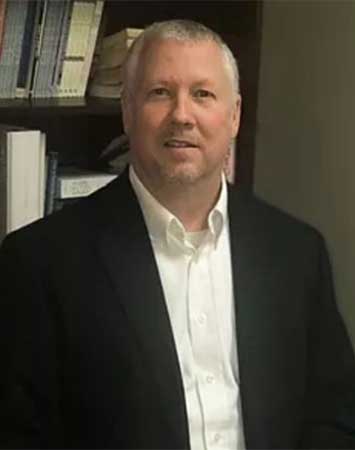 "Murray State University's Computer Science Program is known throughout US. I knew that MSU offered the curriculum, the environment and the professors that would be both challenging and rewarding. MSU allowed me to not only grow as a student, but also a person and to advance my technical skills. Ultimately, MSU provided me with a great foundation to enter the workforce and become a productive team member."
Andy Adams '92
Bachelor of Science in CSC, Current career: Information Technology Manager, Four Rivers Nuclear Partnership, LLC
CIT focus areas at Murray State University
Computer Science
The computer science program explores techniques to make hardware devices (computers, robots etc) perform tasks they've never done before, but were always capable. These may be new ways of representing or transferring data from one source to another, fitting more data in less space, encrypting data etc.

Learn more about Computer Science.
Computer Information Systems
The computer information systems (CIS) program will produce business computing professionals who can use their soft skills together with the knowledge in business, computing, and data analytics to help organizations improve their performance. The CIS program is internationally accredited by the Association to Advance Collegiate Schools of Business, also known as AACSB International.

Learn more about Computer Information systems.
Cybersecurity
Cybersecurity is a program in which students learn to identify and counter cyber threats against information systems, computers, mobile phones, networks and data. Cybersecurity is the most in-demand and highest paying specialty within the Information Technology (IT) career field. Murray State's Cybersecurity program has been designated as a National Center of Academic Excellence in Cyber Defense Education (CAE-CDE) by the National Security Agency and the Department of Homeland Security.

Learn more about Cybersecurity, part of the CNM Program.
Cybersecurity and Network Management
The Internet, networks, information technology and modern telecommunications systems connect our world. Broaden your understanding of these systems through the graduate-level telecommunications systems management program at Murray State. The program combines both technical and project management courses to help you understand the technologies involved — and what it takes to effectively build, upgrade or maintain modern network-based information technology.

Learn more about the CNM Program.
Data Analytics
Data Analytics is useful for those wanting to get a general understanding of the now-popular "Data Science" career path. The choice of courses gives students a sense of preparation needed for a more thorough immersion in Data Science. The knowledge domains span Computer Science, Statistics, Business and Information Systems.

Learn more about Data Analytics, part of the CIS Program.
Game Development
The game development program covers technical areas in game programming languages in addition to focusing on learning the necessary design skills in animation and illustration, computer graphics, computer science and creative writing. As students make their way through the certificate program, they will encounter opportunities to create two- and three-dimensional graphics to bring their games and stories to life.

Learn more about Game Development, part of the CSC Program.
Network and Systems Administration
Network and Systems Administration track prepares students for a career in the administration of enterprise Information Technology (IT) systems, including servers, networks, storage, database and end-user systems, to help fulfill corporate missions. Students will be able to plan, procure, install, upgrade, configure, maintain and operate information and communication technology resources reliably and securely to meet business objectives.

Learn more about Network and Systems Administration, part of the CNM Program
Wireless Communications
Wireless Communications emphasize the broad set of fundamental skills that are useful and necessary for a successful career in the wireless industry. Wireless Communications uses hands-on learning to provide the technical proficiency needed for the professional practice of engineering in the wireless industry.

Learn more about Wireless Communications, part of the CNM Program.
MS in Information Systems
The Masters of Science in Information Systems provides students the the information to create, organize, design, secure and manage information resources within an organization. Skills provided by the MSIS program includes systems analysis, software design/architecture, information management, project management, communication skills, business problem solving skills, business intelligence, interpersonal and team skills and analytical and critical thinking skills.

Learn more about MS in Information Systems.
MS in Cybersecurity Management
The Cybersecurity Management Master of Science program is a 30-credit hour program that prepares students to enter or transition into cybersecurity leadership roles.
Interested in CIT?
Contact Us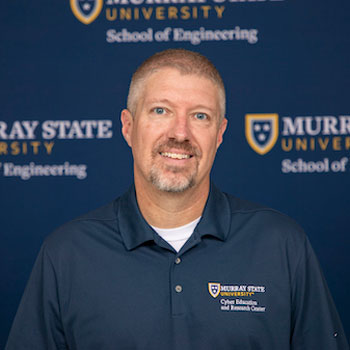 Dr. Michael Ramage
CIT Director
Center for Computer and Information Technology
207 Industry and Technology
Katie Kriesky
Administrative Assistant
Center for Computer and Information Technology
207 Industry and Technology
Connect with us
Subscribe to our Murray State CIT Youtube Channel
Like us on Facebook @CIT at Murray State University
Follow us on Twitter @murraystateCIT
About the Center for Computer and Information Technology
Murray State University received funding in 1998 for a Program of Distinction in telecommunications, using resources made available through the Regional University Excellence Trust fund. Specifically, a Center for Cybersecurity and Network Management (CTSM) was established through which the University is to address regional and national public and private sector needs. As technology has evolved, so has Murray State's approach to technology education. As of June 2019, CTSM has changed its name to the Center for Computer and Information Technology (CCIT) and expanded its focus to support all aspects of computer and information technology education at Murray State University.