Sandy J. Miles, Ph.D.
Professor of Human Resource Management
Tom W. Hutchens Endowed Professorship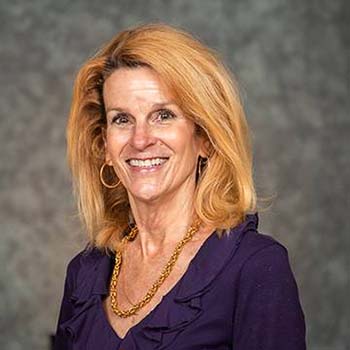 Dr. Sandy Jeanquart Miles is the Hutchens Distinguished Professor. She earned her Bachelor's degree from the University of Wisconsin Green Bay, and her Masters and Doctorate degrees from Southern Illinois University at Carbondale. She is certified as a Senior Professional of Human Resources (SPHR), and Global Professional of Human Resources (GPHR) through the Human Resource Certification Institute. She has earned the distinction of Academic Fellow, through Charted Institute of Personnel Development (CIPD) in London, U.K., based on her professional impact to the local, national, and global communities. In addition to teaching and research in the area of Human Resource Management, her responsibilities include overseeing the Human Resource program. Under her guidance the program evolved into a degree program and has since been certified as aligning with the SHRM Educational Guidelines (2009, 2011, 2014).
Dr. Miles has conducted substantial research in the human resource management area. Current research is in the area of organizational capital, recruitment, employee branding and employee voice. Requests for this research emanate from global scholars including Canada, Germany, England, India, Australia, China, Iran, Pakistan, and Sweden, and is available for purchase on the Harvard Business website. This stream of research was a key to her invitations for speaking engagements across the globe, as well as being invited to serve on the Editorial Review Board for Business Horizons, published by Indiana University and a board position (2012-1014) for EIP Council (Council of Entertainment Industry Professionals) dedicated to elevating the ethical standards in the entertainment industry. She has also given numerous presentations and has consulted with many companies throughout her career.
Her research along with the recognition for building a quality HR program resulted in her being invited to serve on the U.S. Technical Advisory Group (TAG) for International Organization for standardization (ISO), Technical Committee (TC) 260. ISO TC 260 is commissioned with setting global standards in the human resource management area with over 40 countries involved. She has been an elected delegate for the U.S. since 2011, and convened the work group of global recruitment experts representing 20 different countries to publish one of the first global standards (ISO 30405: Recruitment). Dr. Miles also played a key role in the development of the human governance standard, hosting the final editing committee of global experts at the Paducah campus. She was selected as one of nine global experts to serve on the ISO/TC 260 Chairman's Advisory Group (CAG), and also serves as the Convener/Secretary Support team to the HR metrics group. Her global expertise and experience, resulted in her being nominated and elected to serve as Vice Chair to the U.S. Technical Advisory group for ISO TC 260.
Earlier in her career, she held several positions with Kentucky's Society for Human Resource Management's (SHRM) state council for 10 years, including state director, district director and newsletter editor. She also served on the SHRM Area II Board of Directors, covering nine states, Puerto Rico, St. Thomas and Bermuda. She is past president of Four Rivers Society of Human Resource Management (FRSHRM) and a charter member of the executive team earning the SHRM charter for the FRSHRM.