Driving Directions
The William "Bill" Cherry Agricultural Exposition Center is located on College Farm Road in Murray, Kentucky one mile west of the Five Points intersection of 16th & Chestnut Streets and the Murray State University Campus. The Expo is across the street from the Calloway County High School.
To Murray, Kentucky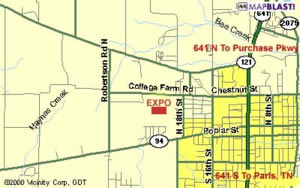 Driving to Campus:
Murray State is located in western Kentucky, approximately four hours by car southwest of Louisville, two hours by car northwest of Nashville, Tenn.
From the Northeast via the Bluegrass Parkway:
Take the Bluegrass to the Western Kentucky Pkwy. Continue west to I-24 and proceed west to the Purchase Pkwy. See under FROM THE EAST OR WEST VIA I-24.
From the East or West via I-24:
Take the exit for the Purchase Pkwy (Exit 25A) and proceed south approximately 15 miles. Exit onto Hwy 641 (sign marked "Murray State University" - Exit 41) and drive south to Murray. Continue south to Chestnut Street and turn right (west). Drive until you come to a five-way stop light. Continue straight on College Farm Road. The Exposition Center will be on your left approximately a mile down College Farm Road.
From the East or West via I-40:
Take I-40 to Highway 641 and proceed north to Murray. Continue to the intersection with Main Street (Route 94) and turn left (west). Drive approximately 4 blocks to 15th Street and turn right. Follow 15th street to College Farm Road. Turn left on College Farm Road & proceed until you see the Exposition Center on the left.