Racer Instrumental Music Academy
REGISTRATION FOR 2023 CAMP IS CLOSED. CHECK BACK IN THE WINTER FOR 2024 INFO.
June 11-17, 2023
Open to instrumental music students entering 9th grade through recent 12th grade graduates.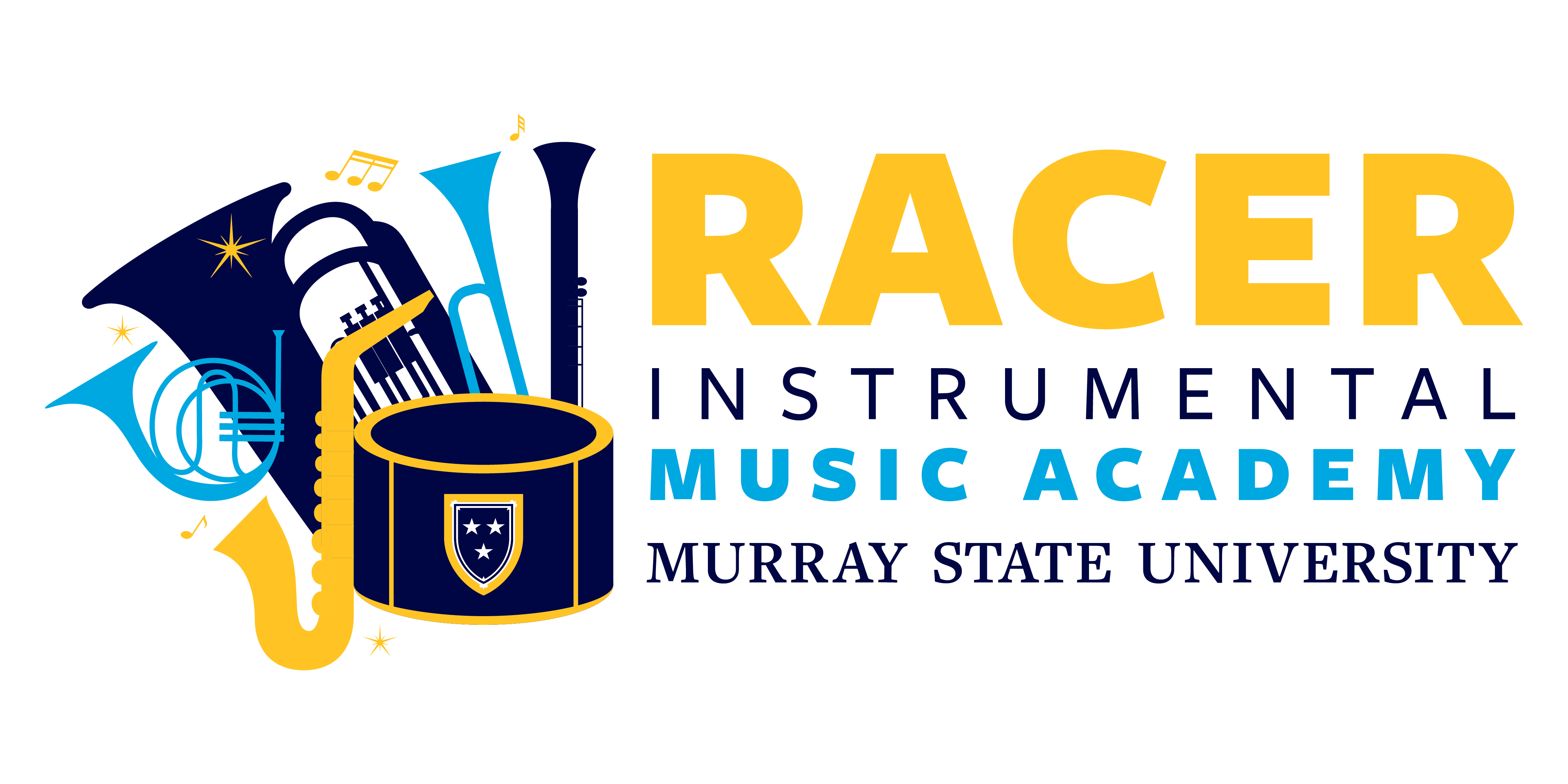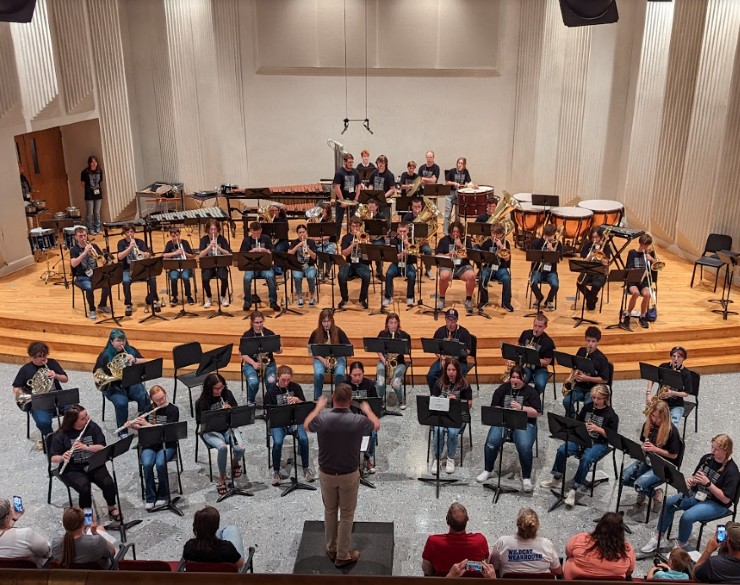 Immersive Learning
Racer Instrumental Music Academy (RIMA) is a week-long summer music camp at Murray State University. Be part of a large concert band and prepare a variety of fun and challenging band literature, culminating with a final Saturday morning showcase concert. Students will improve ensemble performance skills, focusing on intonation, balance, blend, tone quality, and musicianship.
Campus Living
Resident campers will get an early taste of college life in the residence halls and will be provided with a full meal plan during their stay. Commuter campers are welcome to join meals, but will go home each night and return to campus in the morning. Each day, campers will walk to and from their courses.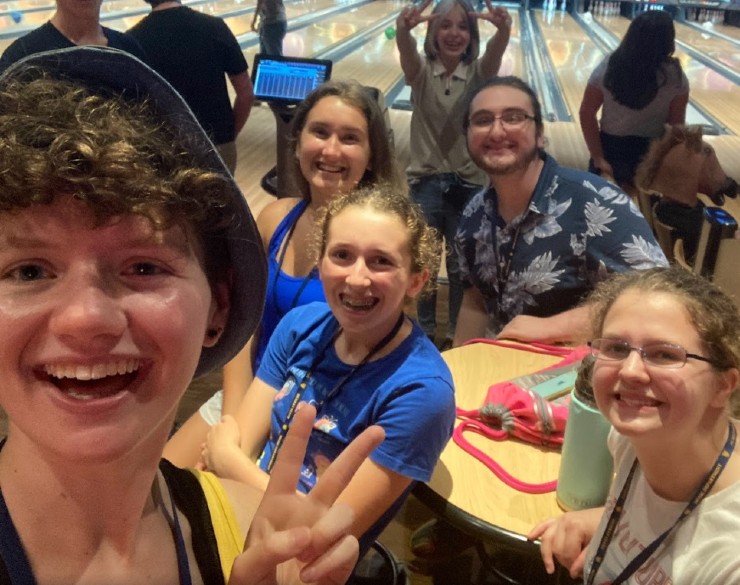 Evening Activities
Under the guidance of faculty and residential counselors, evening social activities will include swimming, bowling, karaoke night, talent shows, scavenger hunts, games, dance, concerts, and recitals.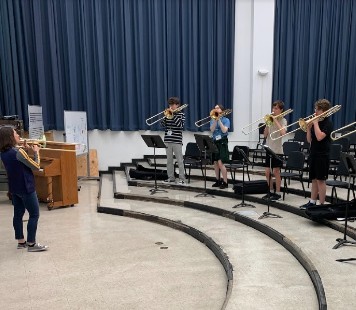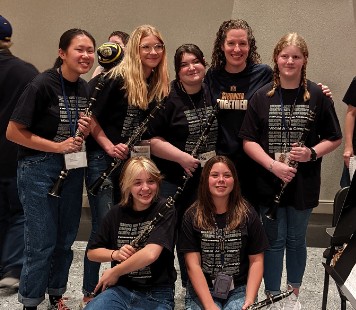 About the Program
Summer Camp Tuition
$525 for resident campers (stay in a double-occupancy dorm room, participate in all activities, and receive three meals per day in the campus cafeteria).
$425 for commuter campers (participate in all activities and receive three meals per day in the campus cafeteria if desired)
$125 deposit will reserve your spot at camp. The deposit is non-refundable. Instructions on paying your remaining balance will be emailed to you in the coming months.
Deadline to register is May 12, 2023. Cancellations must be emailed to the Camp Registrar (rkrztonpresson@murraystate.edu) by May 12, 2023 to qualify for a partial refund (minus a $125 fee). No refunds will be issued after May 12, 2023.
Summer Camp Scholarships
2023 All-State Participants can receive a $100 scholarship.
First, register and pay your $125 deposit.
Then email the Camp Director at tfrench10@murraystate.edu to verify your attendance at one of the below All-States and receive your scholarship.
Once you've received your scholarship, you can pay the remaining amount of your tuition.
KMEA All-State Participant (Kentucky)
ILMEA All-State Participant (Illinois)
IMEA All-State Participant (Indiana)
MMEA All-State Participant (Missouri)
TMEA All-State Participant (Tennessee)
Sunday:
2:00 - 3:30 pm CHECK-IN and Move-in to Hester Residential Hall
3:00 - 4:45 pm Chair Placement Auditions - Fine Arts Center
5:00 - 5:45 pm DINNER and Faculty/Staff Introductions - Lovett Stage
5:45 - 6:30 pm Murray State Campus Tour
6:30 - 7:45 pm Large Band Rehearsal – Lovett Stage
8:00 -10:00 pm Meet & Greet - "Getting to know your fellow musicians"
**10:00 pm** Mandatory Dorm Meeting - Large Meeting Area
Monday – Friday:
7:30 - 8:20 am BREAKFAST - Winslow Dining Hall
8:30 - 8:55 am Morning Warm-ups - Instrument Locations
9:00-10:10 am Large Band Rehearsal - Lovett Stage (Wed & Fri in Band Room)
10:15-11:30 am Chamber Ensembles - Instrument Locations
11:30-1:00 pm LUNCH - Winslow Dining Hall
1:00 - 1:55 pm Musicianship Seminar - FA 546
2:00 - 2:50 pm Sectionals - Instrument Locations
3:00 - 4:30 pm Large Band Rehearsal - Lovett Stage (Wed & Fri in Band Room)
4:30 - 5:30 pm FREE TIME/Private Lessons
5:30 - 6:30 pm DINNER - Winslow Dining Hall
7:00 - 8:30 pm Evening Activities (Recitals, Bowling, Talent Shows, etc.)
8:30 -10:00pm FREE TIME
Saturday:
7:30 - 8:00 am BREAKFAST - Lovett Walkway
8:00 - 9:15 am Large Band Dress Rehearsal - Lovett Stage
9:30 -10:15 am CHECK-OUT of Dorms - Hester Residential Hall
10:00-10:45am WARM-UP ROOM: Band Room (VAC Concert in PAH)
*11:00 am* CONCERT - Lovett Auditorium (enter through front)
Concert Band: Be part of a large concert band and prepare a variety of fun and challenging band literature, culminating with a final Saturday morning showcase concert.
Chamber Ensembles: Participate in small chamber ensembles concentrating on chamber music literature. Emphasis will be placed upon developing chamber ensemble performance skills.
Master Classes: Participate in studio master classes designed to foster musical growth through the art of performance in a positive and supportive atmosphere. Topics of study may include: concept of sound, embouchure, breathing, phrasing, intonation, styles, technique, solo repertoire, recordings, pedagogy, and equipment.
Musicianship Seminars: Learn various musical topics throughout the week taught by Murray State Faculty including How to Practice, Overcoming Performance Anxiety, The Healthy Musician, Careers in Music, and more.
Private Lesson: An opportunity to take private lessons with Murray State wind and percussion faculty. All private lessons will be an extra cost to the camper ($20 for a 30 minute lesson). Email the Camp Director to book a private lesson.
Taught and coached by Murray State music faculty, students will learn the art of instrumental performance through master classes, music seminars, chamber ensembles, and private lessons.
When campers arrive on Sunday, they will participate in a chair placement audition. This audition will determine their placement in the large band. Faculty will select audition music and students will have the opportunity to practice the repertoire and prepare for the audition before arriving. Click your instrument below to view your audition music.
Saxophone - Soprano, Alto, Tenor, or Bari
What's the difference between resident and commuter campers?
Resident campers will stay in a room in the residence hall with a roommate. Camp counselors are located in nearby rooms and the residence hall has a front desk that's staffed 24/7 if you need assistance. Resident campers will be given a room key they are responsible for keeping all week. If the key is lost, the camper's family is responsible for the replacement fee. Commuter campers will return home each evening and commute to campus in the mornings. Commuter campers should contact the Camp Director to arrange a daily arrival/departure plan. Commuter campers are welcome to join all three meals in the cafeteria, but some choose eat breakfast and/or dinner at home. Commuter campers are welcome to join for evening activities.
Can I room with my friend?
There is a space on the registration form for roommate requests. You may list your friend's name there. We honor all possible roommate requests. In the event your roommate request can not be granted, we will do our best to place your rooms near each other. Residence halls have several communal spaces where campers may socialize. Generally, we try to place campers of similar genders and ages near each other in the residence hall, but it is not guaranteed. Final placements are not made until after registration closes due to varying camper numbers, building layouts, and other factors. If you have a question or requested room placement, email the Camp Registrar. Each residence hall has ADA-accessible rooms. Email the Camp Registrar if you would like an accessible room.
Do I turn in my medication?
Generally, campers are responsible for keeping and managing their own medications. If you would like assistance (such as a daily reminder to take your medication), please contact the Camp Director to discuss options for how RIMA staff can support you during your stay.
Can I park on campus?
Yes. Adults can park near the residence hall during opening day check-in. Some campers may have their own vehicle. You may drive yourself to campus and park near the residence hall. Campers are not permitted to drive during the week and keys may be collected by RIMA staff. Commuter campers may be dropped off or may drive themselves. Contact the Camp Director to determine where you should park your vehicle for your daily commutes.
Avoid a ticket! REGISTER YOUR VEHICLE TO PARK ON CAMPUS
Is the Saturday concert open to the public?
Yes! We welcome family and friends to celebrate with us. The performance will take place in one of our performance halls on campus. Convenient parking is located near 15th St. & Olive Blvd.. Be sure to register your vehicle using the link above.
Contact Us
Dr. Todd M. French
Camp Director
Rose Krzton-Presson
Camp Registrar
Contact Rose with questions about registration, room assignments, and other pre-camp matters.