Springer-Franklin College
The mission of the Murray State Residential College System is to provide engaging living-learning communities for the Murray State resident and commuter students. This is helped by the participation of faculty and professional staff. We promote student retention by providing living-learning communities which foster student involvement, competition, leadership development, and service... all while encouraging an appreciation for diversity and individual differences. In essence, we are building community through Diversity, Retention, Involvement, Leadership, and Learning.
Through activity participation, students get to work with faculty and administrators to help shape social and academic programming. We support philanthropic and volunteer programs that put students in contact with the community beyond the University. We commit to nurturing the development of self-sufficient, responsible freshmen so they may have a successful college experience ending with graduation.
Crest, Mascot, and Colors
Springer-Franklin's mascot is the Terrapin. Our colors are green and white.
The Residence Hall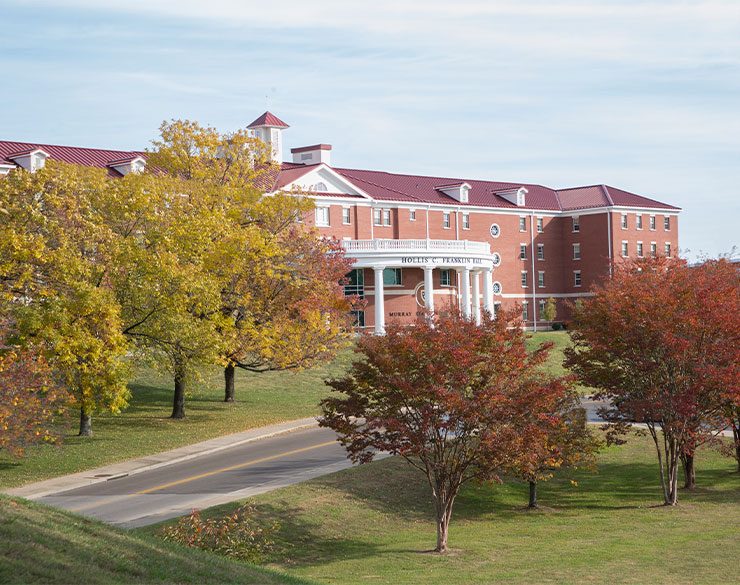 H.C. Franklin Hall is home to many of the Honors students on campus and houses their weekly Honors Student Council Meetings.
The Original H.C. Franklin Hall opened in 1962 and was after Mr. Hollis C. Franklin. Franklin was a member of the Board of Regents from 1947-56. In fall of 2016, the Original H.C. Franklin Hall was closed as the New H.C. Franklin Hall had completed construction and was opened to residents.
The Original O.B. Springer Hall opened in 1964 and named after Mr. O.B. Springer. Springer was a graduate of Murray State and and was a member on the Board of Regents from 1950-58 and 1960-70. In the late fall of 2016, O.B. Springer Hall closed and Old H.C. Franklin Hall was re-claimed as O.B. Springer II. Springer II closed in spring 2021.
In the fall of 1997, the two merged to form Springer-Franklin Residential College.
Wanna know more about housing? Visit the Housing page for general information or visit Franklin Residence Hall page for more information about living in Franklin.
Traditions and Annual Events
Annual LBL Hike
Every fall, we gather up as many Terps and Terp friends as possible and head out to LBL early in the morning. Dr. Johnston leads us on a short hike through the woods and we wrap up near the lake to enjoy a beautiful view! After we're all finished, we head to Gatti's Pizza to get some lunch and socialize with everyone who joined us!
Homecoming
Homecoming is a Murray State tradition that all Residential Colleges take part in. Springer-Franklin decorates the lobbies of both Springer and Franklin according to the year's theme in hopes of winning the Lobby Decorating Contest! We also participate in the Homecoming Parade during the morning of the game and we have a booth filled with themed food items at Tent City before kick-off!
Freekee Teekee
Freekee Teekee is Springer-Franklin's end of the year cookout and celebration. We have Hawaiian themed decorations, tons of food and drinks, and fun activities ranging from bouncy houses to water balloon fights! It's a great way to celebrate the previous and take a fun break before finals!
Intramural Sports
Springer-Franklin Residents are very involved in Intramural Sports on campus. Our Men's, Women's, and Co-Rec teams have collected a number of championships throughout the years. If you're interested in participating, reach out to our Springer-Franklin Athletic Directors!
Awards & Legacy
Here are some amazing achievements from our Terps!
Residential College Council of the Year - '15, '16, '19

SAI's All-Campus Sing Residential College Champs - '11, '12, '13, '14, '15, '16

Residential College Association Spirit Flag - '16, '17

National Residence Hall Honorary Golden Globe Winner - '15

Academic Team Champions - '17, '18, '19

Intramural Sports Championships:

Softball: Women's - '18, '19

Football: Women's - '14, '15, '16, '17, '18; Co-Rec - '19

Basketball: Co-Rec - '20

Volleyball: Women's - '17, '18, '19; Men's - '19

Soccer: Women's - '17, '19

Innertube Water Polo: Men's - '16, '17, '18

Tennis: Men's - '17

Racquetball: Women's - '18; Men's - '19

Spikeball: '19

Kickball: Men's - '19

Cornhole: Co-Rec - '20
Connect with us!
Hollis C. Franklin College
Residential College
Murray State University
5500 HC Franklin College, Murray, KY 42071