Murray State University Centennial
Since 1922
In 1922, Murray, Kentucky, was chosen by the state legislature as the home of the western Kentucky normal school, known today as our beloved Murray State University. For 100 years, Murray State students have been provided a collaborative, opportunity-rich living and learning community that fosters personal growth and professional success through a high-quality college experience.
In a year that promises to be like no other, let this be your guide to get involved and celebrate our Centennial together. From special events, giving campaigns, volunteer opportunities and exclusive merchandise, available at the University Store inside the Curris Center, we know you will find a way to commemorate this tremendous milestone with us.
Over the course of ten decades, Murray State has been building a global alumni community. We cannot wait to see what the next 100 years has in store for our University and for our Racer Family all over the world. We are future-thinking. We are trailblazers. We are Racers.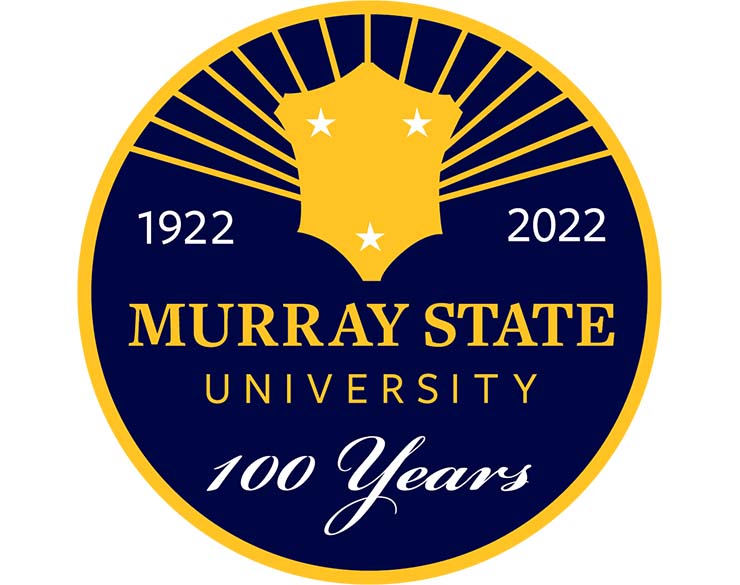 The Finest Place We Know
Murray State University's centennial book, "The Finest Place We Know," celebrates its 100-year story by looking back on the people, places, and events which have shaped the institution's history. This comprehensive, keepsake pictorial history features hundreds of images from the Pogue Special Collections Library and is accompanied by stories that explore the institution's founding and growth over the past century.
Published by the University Press of Kentucky, the book is written by Murray State President Dr. Robert L Jackson and co-authored with Sarah Marie Owens, library specialist with Pogue Special Collections and University Archives, and Dr. Sean J. McLaughlin, the archives and museum director at Murray State University.
"The Finest Place We Know" is available through numerous online book retailers and the University Bookstore in the Curris Center and online.
A portion of book sale proceeds will go toward supporting Murray State University's Pogue Library.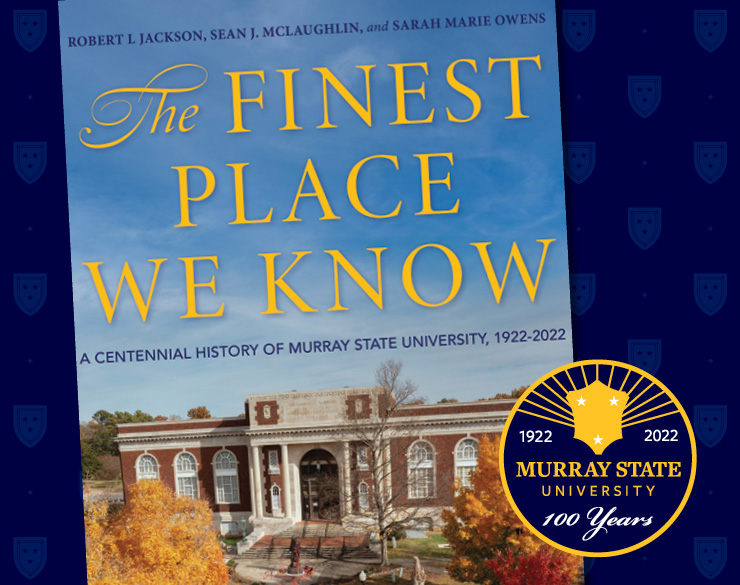 Event schedule
Make plans to join us for Centennial events and activities throughout 2022 as we celebrate our birthday all year long!
Events and event details are subject to change. Follow Murray State University on social media for further details regarding upcoming events throughout the year.
Check out the new Racer Alumni Podcast: Stories From the Finest Place We Know. Listen online or on your favorite podcast app.
Want to stay up-to-date on all things centennial all year long? Make sure we have a reliable email address on file for you by updating your contact information quickly and easily with the Office of Alumni Relations.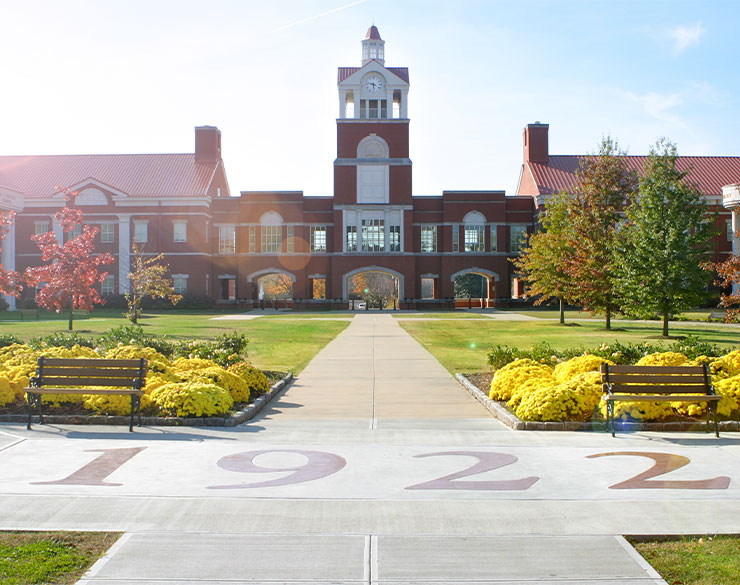 Murray State University's story began with the spirit of giving.
In 1922, the Murray and Calloway County community came together to give $117,000 in cash and real estate in an effort to win the bid for a Normal school in west Kentucky. This was remarkable for the times - 1,352 donors made an average gift of $82.10 with $2,500 the largest cash gift received. Additionally, 350 families opened their homes with the promise to board up to 2,000 students should Murray be selected for the location of the school. This incredible philanthropy was shared with the Normal School Commission in Frankfort on May 31, 1922 - with more gifts continuing to be made and counted ahead and following the presentation. Later that year, on September 17, 1922, Murray was chosen to be the site for the Murray State Normal School.
After 100 years, our alumni, community and friends continue to give to support Murray State and our students. In that spirit, we encourage you to consider making a special gift through one of the following special Centennial fundraising campaigns for 2022.
Murray State Announces $100 Million Fundraising Campaign
A special announcement made by Murray State President Dr. Bob Jackson at the Murray State University Centennial Presidential Gala informed the nearly 400 event attendees of the public launch of the "Be Bold: Forever Blue and Gold Centennial Campaign", a $100 million fundraising effort.
The campaign will strive to reach $100 million of support for the University. $50 million will be directed toward student access including new scholarship endowments and enhancing the traditions of a Murray State total college experience. Another $50 million will be raised to support academic excellence and the strategic modernization of campus facilities, with a focus on new funding prioritizing teaching and learning, restoring original campus buildings, creating new green spaces and investing in athletics programs and facilities.
To make a gift to the University and help support the Be Bold: Forever Blue & Gold Centennial Campaign, call the Murray State Office of Development at 270.809.3001 or give online. All gifts across the University moving forward will count in the campaign.
Learn more about Murray State University's Centennial.
We are givers. We are philanthropists. We are Racers.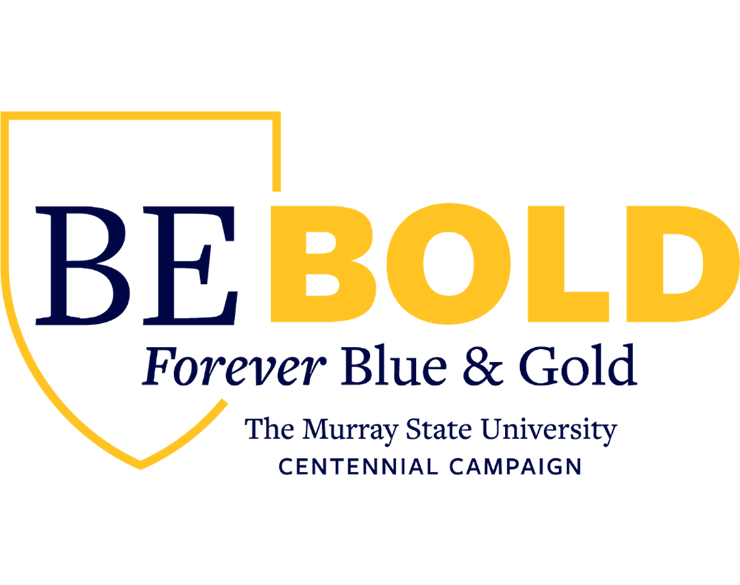 Murray State University through the years
Scroll through the decades to see some of our favorite memories.
The Founding Era, 1922 — 1936
SWIPE
Early sketch of the normal school campus from the architects at Joseph and Joseph.

Dr. Rainey T. Wells, Kentucky legislator, founder, and second president of Murray State Normal School.

Dr. John W. Carr, first president of Murray State Normal School.

Murray State Normal School's first board members with President Carr: Laurine Wells Lovett, Tom Stokes, Prentice Thomas, and James Wilson (from left to right). Absent is Dr. McHenry Rhoads, State Superintendent of Public Instruction, and first board chair.

Students of the first senior class at Murray State Normal School and Teachers College, 1926.

Administration Building, 1923, now Wrather West Kentucky Museum.
Surviving Hard Times, 1936 — 1948
SWIPE
1936-37 Men's Basketball Team. Claude "Mac" McRaven is seen in the back row, second from left.

The war brought hardships on the home front as basic commodities Americans took for granted were in short supply. Seen here is Prof. Price Doyle's ration book.

The first campus pool, Health Building.

Uniformed Navy cadets.

Dean of Women Anna Mayrell Johnson (right) and close friend Jane Haseldon.

President Ralph Woods (left) and Dr. Ray Mofield on WPAD radio.
The Postwar Boom, 1948 — 1966
SWIPE
Dr. Ruth E. Cole, director of Nursing Education.

Mary Ford Holland, grade school teacher and the University's first Black student.

Legendary baseball coach Johnny Reagan, 11-time OVC champion.

Nancy Tyler Demartra was the first Black student to graduate from Murray State in May 1961.

Lobby pay phones were rarely an ideal spot for private conversations, so residence-dwellers cheered the introduction of dorm room telephones in 1963.

The Hut, early 1960s.
The Boomers Come of Age, 1966 — 1981
SWIPE
Students Gene Murray and Linda Edwards celebrated the state legislature's decision to elevate Murray State to university status in 1966 with this improvised signage

Volleyball was one of several women's sports added in the late 1960s and early 1970s.

Program for the dedication of Waterfield Library, 1978.

Violet Cactus, the original Racer One, takes a touchdown lap.

Carla Coffey (top center) and Coach Margaret Simmons (bottom center).

Art auction at the Clara Eagle Gallery, 1970s.
Innovation and Modernization, 1981 — 1997
SWIPE
Taiwanese students at Tent City.

Dr. Marvin D. Mills, Sr., professor of occupational safety and health.

Pi Kappa Alpha's Epsilon Alpha chapter was the first national social fraternity installed on campus in 1958. Mr. MSU Alan Zacharias leads the Pikes at 1983's All Campus Sing.

Murray State education major teaching Belizean students.

Concentrating on a putt at Miller Memorial Golf Course.

Coach Frank Beamer hoisted by his players after a win.
A New Millennium, 1997 — 2013
SWIPE
Groundbreaking for the Regional Special Events Center (later known as the CFSB Center). The multi-purpose facility opened in 1998 and is the current home of Racer Basketball.

Murray State's Paducah regional campus building.

Edward Breathitt's Rainey T. Wells monument was added to the campus quad in 1997.

The Arboretum at Murray State.

Damage outside Waterfield Library, 2009 Ice Storm.

The Lovett Live! concert series produced by Racer Live Productions and Murray State's music business students featured nationally-known performers in an intimate setting. Seen here is Holly Williams in 2013.
Preparing for A New Racer Century, 2013 — present
SWIPE
Dr. Jesse D. Jones, Distinguished Alumnus.

Senior Engineering students with their E-Vehicle project.

Ja Morant, NBA Rookie of the Year.

New laboratories and research equipment provide numerous opportunities for our students and faculty.

In April 2021, the Department of Music hosted the first concert on the site of the future Woods Park, a new green space being developed at the corner of North 14th and Olive Streets.

Murray State University Board of Regents with President Bob Jackson. The Board accepted an invitation from the Missouri Valley Conference during a special meeting held at Wells Hall on January 7, 2022.