Lovett Auditorium
Historic Lovett Auditorium
Located in the heart of the campus of Murray State University, just off Olive Boulevard and 15th Street, historic Lovett Auditorium is one of the four original structures on campus, since 1926. World-renowned performers, artists and speakers have graced the stage of Lovett Auditorium. With a seating capacity of approximately 2,500, Lovett has hosted thousands of events, attended by millions of people.
Lovett Auditorium has hosted top events and performances from Dave Matthews to The Yard Birds, David Letterman, and Conway Twitty, Bill Engvall, Ben Stein, Little Big Town, and others. Broadway Shows, symphony concerts, opera, dance recitals and nationally known speakers have also found a home at Lovett, along with countless thousands of graduates who have walked across its stage to receive their diplomas.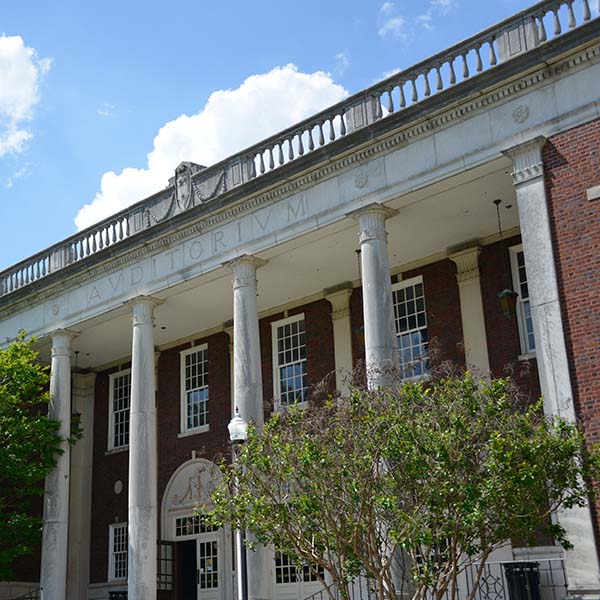 Show Us How You Lovett Giving Campaign
Murray State University, along with the College of Humanities and Fine Arts, launched the "Show Us How You Lovett" fundraising campaign to support renovations for Lovett Auditorium.
During the campaign, donors have a unique, once-in-a-lifetime opportunity to purchase naming rights to brand new seats within Lovett Auditorium's "Trustees Hall", named after the Board of Trustees of the Murray State University Foundation, Inc.
Reservations
Lovett Auditorium is fundamentally a student-run performance venue. Meaning, the auditorium is primarily operated by students; giving them hands on experience in music performance and stage production. This falls in line with the University's focus of experiential learning.
As such, there will be times when the auditorium will not be available for event rental. Typically, we do not schedule events during finals week or during university breaks. You can find a list of future academic dates at Tentative Academic Calendars.
For questions on availability or to discuss reserving the space, please complete the Lovett Auditorium Availability Request form.
Lovett Auditorium
College of Humanities and Fine Arts