Organizations
Accounting Society
The Accounting Society is one of two student organizations sponsored by the Department of Accounting at Murray State. It was founded to complement and enhance accounting students' academic experiences. The objectives of the organization are:
to provide members with the opportunity to interact with the accounting faculty, other accounting students and practicing accountants,

to encourage the development of leadership skills through the acceptance of responsibilities, and

to assist in career planning, resume preparation and interviewing skills.
Membership is open to all interested students regardless of class standing or grade point average. Members include both undergraduate and graduate students.
Beta Alpha Psi - Epsilon Nu Chapter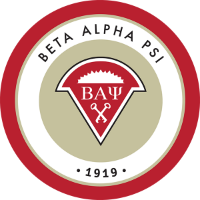 Beta Alpha Psi is the national honorary and professional fraternity for accounting students. Only schools that have achieved AACSB accreditation are permitted to establish Beta Alpha Psi Chapters. Beta Alpha Psi is committed to the professional and academic development of collegiate accounting students and is dedicated to the promotion of outstanding academic achievement with emphasis on a sense of ethical, social & public responsibility.
THE EPSILON NU CHAPTER of Beta Alpha Psi at Murray State University has an exceptional history of being one of the top chapters in the country. We currently have received a Superior Chapter Award for over 30 years, which very few chapters may claim.
Advisors: Dr. Amanda Grossman and Dr. Wayne Tervo
Calendar
To subscribe to the calendar, click the "+ Google Calendar" button on the bottom right and sign in with your Racermail (or Gmail) account. Now any changes we make to the calendar are instantly visible when you log in and view the calendar.