Student Organizations
Department of Management, Marketing, and Business Administration encourages and supports students to be actively involved with their peers in an environment which enable them to enhance their study. Student Organizations in the department aims to foster leadership opportunities for their members.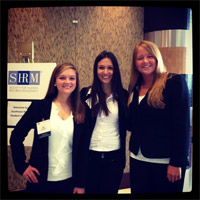 The Society for Human Resource Management (SHRM) is a professional organization dedicated to the professional advancement of human resource (HR) management. Murray State University's Student SHRM Chapter provides innovative opportunities for students to learn more about the HR profession and network with area professionals through the Four Rivers SHRM Chapter meetings, seminars, job shadowing and internships, as well as collegiate competitions. In Spring 2013, the Murray State SHRM student chapter placed second in the SHRM Case Competition held in Washington D.C.
Benefits:
Information Resources: SHRM Online, HR Week, HR Insight, and Echo

Networking opportunities at the National, and Local Levels

Job Bank

Scholarships available through National SHRM as well as a special incentive through the local Four Rivers SHRM

Participation in the SHRM games

Meeting HR Professionals in the area

Learning about real life experiences and current issues involved with the Human Resource Management Profession

Leadership Opportunities
For more information, contact the SHRM Student Chapter Faculty President Teri Ray at tray@murraystate.edu.

Like us on Facebook
The Management and Marketing Club's purpose is to:
foster the study of both the management and marketing fields

develop more exact knowledge and definition of marketing principles

increase understanding of applications of management techniques

enhance the understanding of common management and marketing problems

improve marketing and management skills

encourage and uphold sound, honest practices, and to instill ethical principles for use in the management and marketing fields

promote relationships between students, faculty, staff, and businesspeople in the fields of management and marketing

enable students to gain skills in order to enrich the fields of management and marketing
Both graduate and undergraduate students are welcome in the Management and Marketing Club, as well as all majors. Contact msu.mgtmtmkt@murraystate.edu for more information.
The purpose of the LSC Club of Murray State University is to provide a forum and venue for professional networking opportunities, to advance the educational and career goals of its members, and to foster esprit de corps among its members through scheduled meetings, social, and recreational activities.
In academic year 2016-17, club members will have the opportunity to plan and participate in field trips both locally and regionally. Additionally, industry experts will be invited to club meetings to present and discuss their roles and perspectives regarding the field of Logistics and Supply Chain.
If you are interested in joining the LSC Club, please contact either Dr. Jeremy North (jnorth@murraystate.edu) or Dr. Teresa Betts (tbetts@murraystate.edu).