Events and Clubs
Reading Series
The Murray State Reading Series, sponsored by the Department of English and Philosophy and organized by its creative writing faculty, brings visiting authors to the Murray State campus for free, public readings and class visits each academic year. Among these authors are Pulitzer Prize and National Book Award winners, Guggenheim and NEA Fellows, Rona Jaffe Award winners, members of the Fellowship of Southern Writers and recipients of countless other awards and distinctions.
The Department of English and Philosophy is committed to the Murray State mission of promoting diversity, global awareness and intellectual curiosity, and the Reading Series is a program especially able to fulfill that mission. The Reading Series has an exemplary history of bringing writers of all backgrounds, ethnicities, voices and writing styles to Murray State in order to broaden the perspectives and experiences of the students and community members who attend our events. All reading series events are free and open to the public. Please join us for one of our events this year.
2021-22 Reading Series
B.J. Wilson (poetry) / Thursday, September 30, 2021 at 7 p.m. via Zoom. Watch Reading.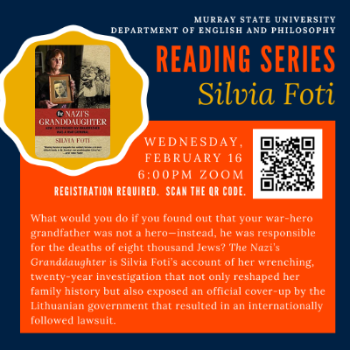 Shakespeare Festival
The Murray Shakespeare Festival welcomes Shakespearan actors to campus for special performances. The 2020 Festival featured actors from Kentucky Shakespeare performing "Hamlet."
For more information, contact Dr. William "Rusty" Jones at 270.809.2397 or wjones1@murraystate.edu.