Master's in Clinical Psychology
Outstanding Features
Focus on assessment, diagnosis and treatment of psychological disorders

Yearlong clinical practicum (600 hours) providing psychological assessment and treatment of adults, children, and families

Clinical coursework in intellectual and personality assessment, individual adult and child psychotherapy, and couples and family therapy

One-to-one supervision by licensed psychologists in the Department of Psychology

Student offices housed within the Department of Psychology

Graduate assistantships available
Your kind of program
The clinical program will provide you with the very best in graduate instruction both in and outside of formal classroom settings. The program is accredited by the Master's in Psychology and Counseling Accreditation Council (MPCAC) and prepares you for certification to practice psychology as a licensed mental health professional. You will receive training that enables you to work in a variety of settings like community mental health centers, psychiatric hospitals, prisons, comprehensive care centers, and schools. Some of our graduates also choose to teach at two year academic institutions. As a graduate student in the clinical psychology program, you will receive hands on-training in the department's Psychological Center. You will also have the opportunity to work with faculty on the many exciting research projects being conducted in the department. Read what our alumni have said about the graduate program.
Program structure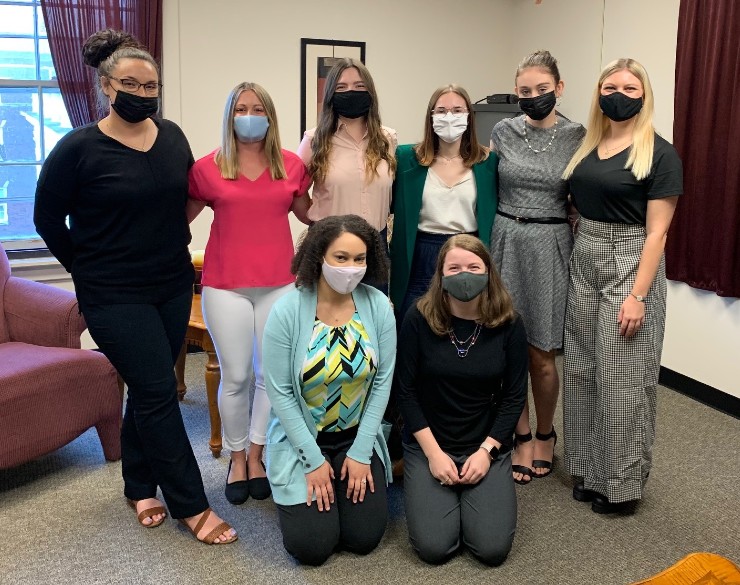 The clinical program is based on the philosophy that the master's degree is first and foremost a degree in psychology and that students should achieve a broad base of knowledge in the field. Thus, you will take five psychological foundations courses which prepare you to enter the field of psychology and also provide the general psychology courses required by state licensing boards. You'll also receive intensive instruction in psychodiagnostics, which emphasizes the administration, scoring, and interpretation of a variety of intelligence and personality tests. The psychotherapy curriculum is primarily cognitive-behavioral in nature although a variety of techniques and orientations are presented. You will learn how best to conduct psychotherapy with adults, children, families, and couples. You will also develop skills in designing and evaluating research by completing a master's thesis.


CIP 42.2801
ACCREDITED BY: Master's in Psychology Accreditation Council
MEMBER OF: Council of Applied Master's Programs in Psychology
THESIS TRACK ONLY
Total Course Requirements (49 hours)

Foundations of Behavior
PSY 620 Graduate Seminar in Professional and Ethical Issues
PSY 621 Biological Bases of Behavior
PSY 622 Cognitive Bases of Behavior
PSY 623 Social Bases of Behavior
PSY 624 Developmental Bases of Behavior
Clinical Foundations
PSY 645 Clinical Measurement and Evaluation I
PSY 664 Psychopathology
PSY 665 Clinical Measurement and Evaluation II
PSY 667 Practicum in Psychology (6 hrs)
PSY 670 Psychotherapeutic Procedures
Two of the following courses:

PSY 671 Behavior Therapy
PSY 672 Family Therapy
PSY 673 Acceptance and Mindfulness-Based Therapies
PSY 674 Adult Trauma Therapies
Research Foundations
PSY 651 Correlational Research and Design Statistics
PSY 652 Univariate Research Design and Statistics
PSY 698 and PSY 699 Thesis
Other Degree Requirements
Comprehensive examination over the course work
Oral defense and examination of the thesis
For the Master of Arts only, competency in an approved foreign language
The listed requirements provide an example of what is applicable to most students entering Murray State University at the present time. Criteria as they may relate to individual students may vary. The primary source is the Murray State Bulletin applicable at the time of the student's enrollment.
Admission requirements for the program
Clinical Practicum
To gain experience conducting therapy and psychological evaluations, a supervised two-semester, 600-hour clinical practicum is required. As a clinical psychology student you will serve your practica at the Murray State Psychological Center, an on-campus treatment center that provides therapy and assessments for children, adults and families from the community as well as for university students and staff. In addition to gaining experience conducting therapy and assessments, you will receive 2-1/2 hours per week of supervision with our Ph.D. licensed clinical psychologists. This allows for a fine-tuning of your clinical skills as well as an added assurance that as a clinician you are providing the best and most ethical services to the Center's clients. Clinicians who have graduated from our program often comment that the Murray State clinical practicum left them better prepared for work in the field of psychology than their peers who graduated from other institutions.
For more information, contact
Dr. Laura Liljequist
Graduate Coordinator, Clinical Psychology Master's Program
Department of Psychology, Murray State University
270.809.2992
401 Wells Hall, Murray, KY 42071-3318