Student Researchers
Current Masters Student(s)
Kyler J. Rogers
Masters Student
Beckers Lab (Joined Lab in Spring 2019)
Research overview: I am broadly interested in parasitoid ecology and exploitation in communication systems. Specifically, I study the host-parasitoid relationship between Neoconocephalus katydids (host) and the fly Ormia lineifrons (parasitoid). I'm driven to understand if O. lineifrons exhibit any host preferences, how the parasitism rate(s) of host species change over the course of their season, and how parasitoid development differs among host species. Unlike other well-characterized host-parasitoid systems, there is still much to learn from this evolutionarily relevant system.
Kyler J. Rogers's Graduate Thesis: Characterizing the Host Usage and Development of Ormia lineifrons (Diptera: Tachinidae)" (MS #1272)
Current undergraduate student workers:
Madissen Prinster

Leah Reibold

Dana Williams

Sammy Hartnagel
Former students:
Daniel Orr (working for USDA)

Katherine Murphey (Ph.D. student at University of Missouri)

Nicolas Blumenberg (Masters student at Western Kentucky University)

Samantha Stevens

Mary Krahulec

Jordan Kelly

Rihab Jarray

Nicholas Norman (Graduated summer 2017 from Murray State)

Courtney Burden

Hannah Adamson

Ashton Hurst

Jacob Pease (Graduated summer 2018 from Murray State)

J. Caleb Coomes (Graduated summer of 2019 from Murray State; will start Med school in fall 2019)

Jessa Pollard (Graduated summer of 2019 from Murray State)

Aaron Sikkel
Student Research Examples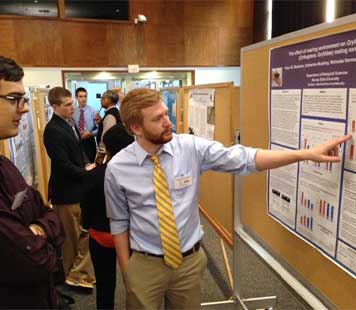 Nic Norman explaining his results at the Meeting of the Kentucky Academy of Science in Louisville, KY (11/2016).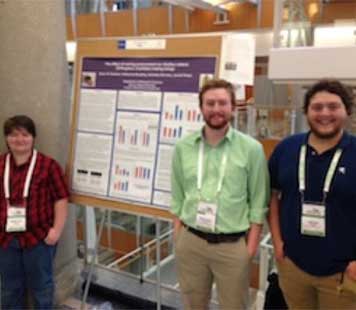 (L-R) Kai Murphey, Nic Norman, Jacob Pease at Annual Meeting of the Animal Behavior Society in Columbia, MO (8/2016).