EMT at MSU-Fort Campbell
Build your skills in emergency medical care
The EMT basic course, OSH 101 (Emergency Medical Training), typically represents the first component of the emergency medical care system. Upon completion of the EMT course, students will be able to provide basic life support to victims of emergencies as well as minimize discomfort and further injury.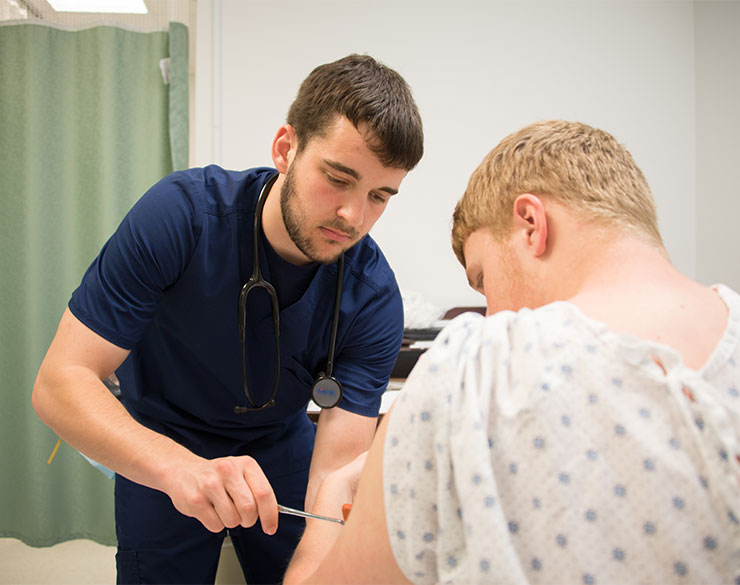 In addition, the program includes training in the uses of the following equipment and materials: suctioning devices, airways, bag mask resuscitation devices, oxygen equipment and delivery systems, sphygmomanometer and stethoscope, splints of all types (including backboards) and bandages.
This course has been designed so that, upon successful completion, the student will be able to:
• Recognize the nature and seriousness of a patient's illness/injuries to assess needs for emergency care.
• Administer appropriate emergency medical care to stabilize the patient's condition.
• Lift, move, position and otherwise handle the patient in such a way as to minimize discomfort and further injury.
Purpose and Prerequisites
OSH 101 (Emergency Medical Training) prepares the EMT to work under the direction of a physician and nurse in providing pre-hospital care and prepares the student EMT to assume the role of a recognized professional who has a vital part in providing good health care to the public.
• Applicants must reach their 18th birthday by completion of the course.
• Complete all items on the admission application.
• The applicant must have a valid/current professional/rescuer's health care provider CPR card by first observation. This card covers one and two persons, infant and child CPR (recommended).
State Certification and National Registration
• Successfully pass skills examination before a State Certifying Board of Examiners (exam applications available from instructors).
• Pass an examination provided by the National Registry of EMTs.
• Absences not to exceed three in order to maintain state certification eligibility.
• Valid driver's license is required to qualify to serve as an ambulance driver.
• Kentucky certifiers must present a copy of a high school diploma or equivalent to the EMT instructors.
• Non-Kentucky residents must present a copy of a recent criminal background check within the first 10 calendar days of the start of class.
EMT Course Details
The EMT Certification course (OSH 101) is offered at least two times per year at MSU-Fort Campbell to all active-duty soldiers, retirees, civilians, family members and units/battalions.
The 16-week course meets in the evening from 6 to 9 p.m. for a total of 130 hours, plus 10 observation hours at an emergency room or ambulance service. Upon completion of the OSH 101 course, students will earn a total of six credit hours and have the opportunity to receive state certification and national registration.
Military tuition discounts
Murray State honors qualifying men and women of the U.S. Armed Forces with a new initiative to support military students earning their degree with little or no out-of-pocket cost.
Waived course fees, online fees and graduation fees
Free textbooks
Murray State waives remaining tuition costs not covered by Department of Defense Tuition Assistance program
Free admission application ($40 savings)

Learn more about military rates
Contact Us
Contact MSU-Fort Campbell for more information.
Fort Campbell Campus
Murray State University