Military and Veterans
Our mission is your success.
Murray State University welcomes veterans who have served and continue to serve our country. US News has ranked Murray State University 9th in 2022-23 as the Best Colleges for Veterans. Also as a Military Friendly School, we are ready to support our military families during their transition to student life. We work hard to help you get the education you deserve and plan for the future you want. Let us help you prepare for the next chapter of your life. When you are ready for this all-important step, we are ready for you.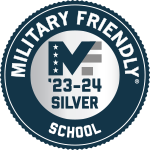 Tuition Discount
Murray State is proud to offer military tuition discounts, including in-state tuition rates, waived fees for courses, online classes and graduation, free textbooks and admission applications plus waived tuition costs not covered by the Department of Defense Tuition Assistance program.
Learn more about the Tuition Discount program
Support for Veterans, Service Members and Dependents
Beyond academics, we strive to accommodate and support veterans through our Veteran Student Organization, psychological center and more, offering counseling from PTSD-trained staff along with tutoring, disability, career planning and health services.
Learn more about Veteran & Military Student Success
Study at Fort Campbell
We offer a variety of courses and programs taught by Murray State's talented faculty on post at Fort Campbell. Our programs are offered in convenient formats and start times, including evenings and online.
Learn more about studying at Fort Campbell
ROTC program
The Army Reserve Officers' Training Corps (ROTC) is a college-based, officer commissioning program designed as an elective-curriculum taken along with required college classes. Classes start at a 100 level that start your freshman year and progress to 400 level classes by senior year. Opportunities are also available for graduate students also interested in becoming an officer in the Army. Instead of starting at the 100 level, you will be placed in to the 300 level classes.