Murray State University recognizes faculty recipients of Open Access Initiatives Award
By Alex Pologruto | Nov 12, 2021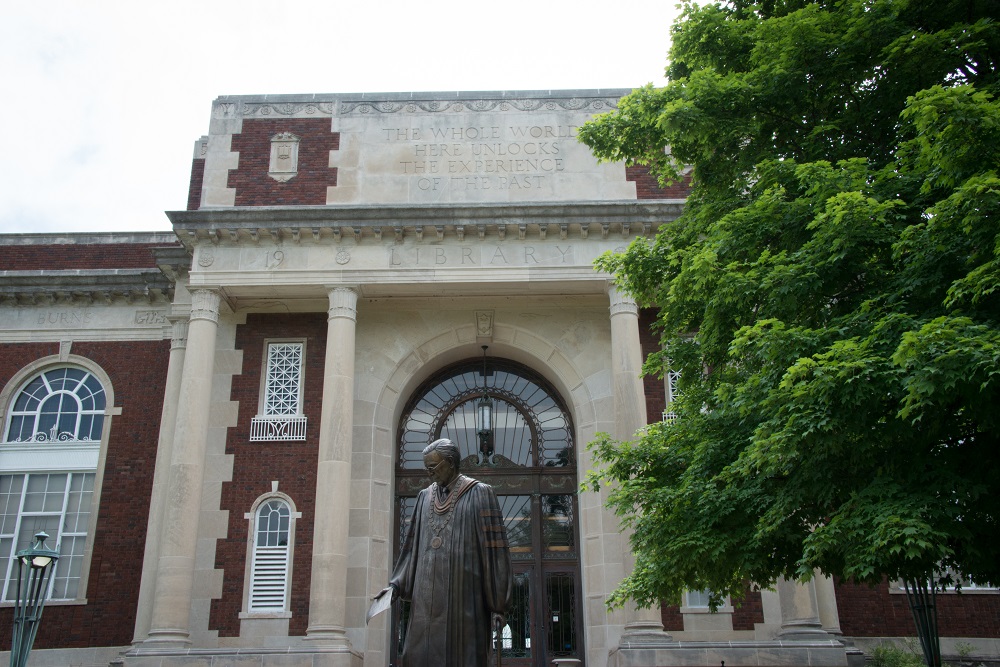 MURRAY, Ky. — The annual Lana Porter Open Access Initiative was established at Murray State University by the generous alumna and donor Lana Porter to acknowledge and support faculty, staff or students who have made significant contributions to scholarship via open access formats. This award seeks to recognize efforts that allow the dissemination of new information that is digital, online, free-of-charge and free of most copyright and licensing restrictions to archive and promote the scholarship of Murray State faculty, staff and students.
Lana Porter, `65, `72, is the founder and CEO of L&M Enterprises and a retired AT&T executive. She is a current board member for the Murray State University Foundation and for the Leadership Women nonprofit organization. She received the Murray State University Alumni Association's Distinguished Alumni Award in 2002.
Applications for the award are generally accepted early in the fall semester and then awarded to the recipients before the end of the semester. Recipients are chosen by the University Libraries' Scholarly Communication Committee based on the applicant's open access publishing achievements.
The 2021 Lana Porter Open Access Initiatives winners are awarded a stipend to be used for research materials, conferences, travel or other projects during the academic school year. The award is given in the spirit of encouraging recipients to continue producing scholarships in an open access format.
This year's Lana Porter Open Access Initiatives Awardees are Murray State faculty Drs. William Mulligan, James Humphreys, Ismail Karabas and Christopher Lennon.
Mulligan, Professor Emeritus in the Department of History, holds research interests with the Irish Diaspora, early America and the United States social and industrial history. Humphreys, also in the history department, holds research interests in African-American history, early American history, government, modern European history and southern United States history.
Both faculty members collaborated on a project in partnership with the University Libraries to digitize the back issues of the Journal of the Jackson Purchase Historical Society.
Wrote Mulligan and Humphreys: "Commitment to open public access is consistent with our mission to present to the public information on the history of the Jackson Purchase region in ways that are convenient and inexpensive for them. Since the Society started in 1956, all of our meetings have been free and open to the public. While there is a membership charge, and the journal is sold slightly above cost, we also share information through our website and a Facebook page. On the Facebook page especially, we share information about the activities of other historical and genealogical organizations and current occasional writings about Kentucky history that people in the region might not otherwise find. On the website we have links to digital versions of all histories of the region that are available in digital format. Access to our website and our Facebook page are free and are not limited to members. So open access is really a continuation of what we have been doing since 1956 with the adoption of another new technological vehicle to fulfill our mission."
Karabas, an assistant professor of marketing in the Department of Management, Marketing, Business Administration, and Logistics & Supply Chain Management, holds research interests in services marketing and advertising. His nomination packet included seven peer-reviewed articles published or forthcoming via an open access format, one peer-reviewed teaching case and a project under review at a peer-reviewed open access journal.
Says Karabas: "I disagree with the notion that I spend years on a given subject to discover a worthwhile phenomenon, only to place the findings behind a paywall. Open access scholarship makes science available to the general public and a science-based lifestyle is needed for the wellbeing of a society. As elaborated further in the book Nudge (by Thaler and Sunstein), simple encouragement to individuals can make a big impact in their life and that is the reason why my works are open access. In addition to consumer welfare, my research also provides insights for businesses to help them optimize their operations. Following a publication with implications for businesses, I often reach out to local and national media to help the findings reach more managers. Finally, research is cumulative. Scholars read others' work to learn from and develop further. Considering not every scholar has the same level of access to paid journals, making my research open access helps my field to grow."
The research of Lennon, assistant professor of microbiology in the Department of Biological Sciences, focuses on the biological importance and biotechnological application of inteins. His nomination packet included five peer-reviewed articles published in an open access format since coming to Murray State in 2019. Lennon has also published many open access articles prior to his tenure here, demonstrating a long-standing commitment to freely-available research.
Wrote Lennon: "I am strongly committed to open access publishing as it makes the knowledge generated by the tireless work of academic researchers freely available to all. This not only increases the potential impact of this knowledge, but it removes the inequity in access experienced by many scholars at less wealthy institutions, both in the United States and abroad. Further, as research is often funded by federal and state tax dollars, the dividends of this investment should be freely available to the taxpayer. Finally, in this time where misinformation is abundant and easily accessible, it is important that we remove barriers to the high-quality work generated at Murray State and other academic institutions. As Herodotus wrote, 'The only good is knowledge, and the only evil is ignorance.'"
"The key, critical process to any institution of higher education is the teaching and learning procedure of faculty, staff and students," said A.J. Boston, scholarly communication librarian in the Office of Research & Creative Activity. "Murray State University's faculty is dedicated to leading these efforts which ultimately change the lives of students. The University is honored to award the distinguished faculty for their service. Congratulations to this year's awardees, and thank you to all of the nominees for their time and effort in applying, and for the continued support in open access research on Murray State's campus."