2023 Clinton and Mary Opal Moore Appalachian Writer's Residency
By Alex Pologruto |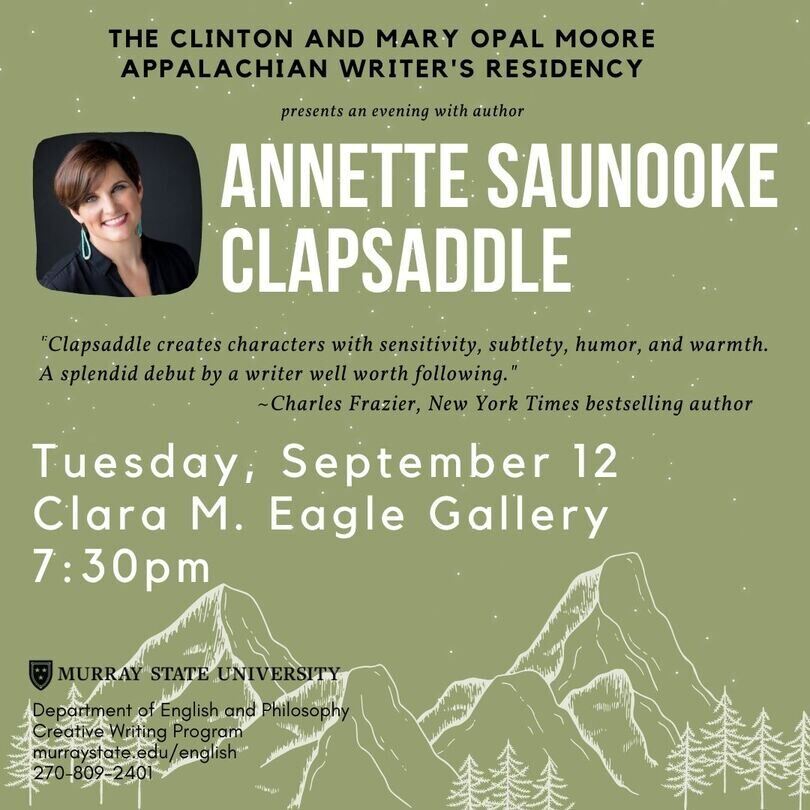 MURRAY, Ky. – The Department of English and Philosophy at Murray State University is pleased to announce the continuation of The Clinton and Mary Opal Moore Appalachian Writer's Residency and this year's author recipient, Annette Saunooke Clapsaddle.
The residency was originally established for 2017-2022 with gifts from Shirley Moore Menendez, John C. Moore, Tom Moore, Nancy Moore Waldrop and Jayne Moore Waldrop in honor of their late parents and their family's eastern Kentucky roots. Clinton Elster Moore (1916-2008) and Mary Opal Moore (1922-2015) were born in eastern Kentucky – Pike and Letcher counties, respectively – but left the mountains in the early 1950s when they moved to far western Kentucky. They settled in Paducah where they remained for the rest of their lives, but they always considered Appalachia their home.
The Moore Residency was created to strengthen literary connections between Appalachia and western Kentucky while enhancing the creative and professional growth of students in the creative writing program at Murray State. It commemorates the Moores' east-to-west journey in hopes of fostering creativity and understanding between two distinct regions in Kentucky connected by the Cumberland River. The Clinton and Mary Opal Moore Appalachian Writer's Residency takes place during the fall semester and includes a one-week stay for the writer in a private cabin owned by the family and overlooking Lake Barkley.
The inaugural visiting writer for the Moore Residency was Robert Morgan, author of eleven books of poetry, three books of nonfiction and eight books of fiction, including Gap Creek, which was a New York Times bestseller and was chosen by Oprah Winfrey as a selection for her book club. Other residency recipients have included novelist, playwright and arts activist, Robert Gipe; Affrilachian author and NAACP Image Award winner, Crystal Wilkinson; and New York Times bestselling author and current poet laureate of Kentucky, Silas House.
Thanks to the continued generosity of the Moore siblings, the Clinton and Mary Opal Moore Appalachian Writer-in-Residence will continue through 2026. This year's recipient is Annette Saunooke Clapsaddle, whose debut novel, Even As We Breathe (University Press of Kentucky, 2020) was a finalist for the Weatherford Award and named one of NPR's Best Books of 2020. In 2021, it received the Thomas Wolfe Memorial Literary Award.
Silas House praised Even As We Breathe as "a remarkable and important debut novel that announces a major new voice in southern literature, and one that we have waited far too long to hear. Clapsaddle offers us characters we will never forget, a palpable sense of place and an intricate plot, but most of all she allows us to luxuriate in her rich language, which is evident from the first sentence to the last."
An enrolled citizen of the Eastern Band of Cherokee Indians, Clapsaddle holds degrees from Yale University and the College of William and Mary. Clapsaddle's work has appeared in Yes! Magazine, Lit Hub, Smoky Mountain Living Magazine, South Writ Large, Our State Magazine and The Atlantic. After serving as executive director of the Cherokee Preservation Foundation, she taught high school for over a dozen years. She is the former co-editor of the Journal of Cherokee Studies and serves on the Board of Directors for the Museum of the Cherokee Indian and is the President of the Board of Trustees for the North Carolina Writers Network. Clapsaddle established Bird Words, LLC in 2022 and works as an independent contractor and consultant. In 2023, in partnership with Museum of the Cherokee Indian, Clapsaddle launched Confluence: An Indigenous Writers' Workshop Series that seeks to bring indigenous writers to the Qualla Boundary (Cherokee, North Carolina) to work with aspiring writers several times throughout the year.
Clapsaddle will read from her work on Tuesday, Sept. 12 at 7:30 p.m. in the Clara M. Eagle Gallery located on the sixth floor of the Price Doyle Fine Arts Building on Murray State's campus. The reading is free and open to the public.
"We are indebted to the Moore family for their continuation of the Clinton and Mary Opal Moore Appalachian Writer's Residency," said Dr. Carrie Jerrell, associate professor of creative writing at Murray State. "The gift brings such a distinguished group of writers to campus not only for our creative writing students to hear and learn from, which enriches their educational experience, but for the regional community to enjoy as well."
For more information about the residency please contact Carrie Jerrell at 270-809-4723 or cjerrell1@murraystate.edu; or Kala Allen-Dunn, director of development for the College of Humanities and Fine Arts, at 270-809-3940 or kallendunn@murraystate.edu.