Murray State University announces spring 2023 Outstanding Senior recipients
By Shawn Touney | Apr 27, 2023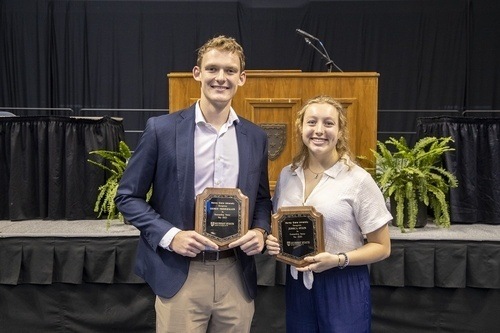 MURRAY, Ky. – Murray State University has named Jessica Stein and George Timmermann as the recipients of the spring 2023 Outstanding Senior recognition. Students recognized with this honor are known for their academic excellence and professionalism.
Stein is the daughter of Melaine and Patrick Stein of Louisville, Kentucky. She will receive her Bachelor of Science in Biology with a Chemistry minor on the Pre-Optometry track in May. She holds a 3.91 overall GPA and is an Honors student.
After graduation, she plans to attend the Indiana University School of Optometry in Bloomington, Indiana, to pursue a Doctor of Optometry degree.
Stein has been actively involved throughout her time at Murray State. She is a Presidential Fellow, Dean's List recipient and a member of the University's Honors College. A member of the women's cross country team, Stein was named to the Ohio Valley Conference (OVC) Honor Roll from 2019-21, received the OVC Academic Medal of Honor in 2020, and competed for Murray State during three Ohio Valley Conference Championship meets and two NCAA Division I Southeast Regional meets. During her Murray State tenure, Stein has completed nearly 400 hours of biological research and is part of Beta Beta Beta, the biological honors society. She works at Jarvis Vision Center as a medical technician and optician.
"My time at Murray State has likely given me the best undergraduate experience that I could have received," said Stein. "It has provided me with all of the tools, support and opportunities that I could dream of, along with lifetime friendships and connections. I wouldn't be where, and who, I am today without the community of Murray, both within and outside of the University, and they will forever hold a place in my heart. Shoes Up, Roll Ponies, and Go Racers, always!"
Timmermann is the son of Marybeth and Michael Timmermann of Greenville, Illinois. He will receive his Bachelor of Science in Polymer Chemistry and Materials Science in May with minors in Mathematics and Physics. He holds a 3.93 overall GPA and is an Honors student.
After graduation, he plans to attend Washington University in Saint Louis, Missouri, to pursue a PhD in chemistry.
Timmermann has been actively involved as a Murray State student. He is a Presidential Fellow, Dean's List recipient and member of the University's Honors College. Timmermann is President of the Student Members of American Chemical Society Club, organizing and leading chemistry-related events including tutoring, American Chemical Society monthly meetings and social events. He is a student ambassador within the Honors College, Department of Chemistry and the Office of Recruitment while meeting and providing tours to prospective students and their families. Timmermann has been involved in undergraduate research in chemistry for eight semesters and two summers, is published in the American Chemical Society Applied Polymer Materials journal and is working towards a second publication this summer.
"My time at Murray State University has been the greatest college experience I could have possibly asked for," said Timmermann. "I have been so fortunate to be able to benefit from both the extremely friendly small-town culture and the highly competitive education and research experience that Murray State University provides. I am deeply grateful for the amazing friends and mentors I have had at Murray State, and I will always be proud to be a Racer! Shoes Up!"
Stein and Timmermann were recognized at the Senior Breakfast on April 26 at the CFSB Center. The spring 2023 commencement ceremonies will take place on Saturday, May 13 at 9 a.m. and 1 p.m. at the CFSB Center. Please visit murraystate.edu/commencement for additional information.